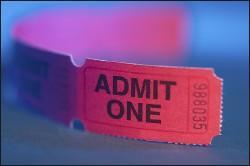 The Irish-inspired punk group the Pogues performed at 9:30 Club last March. A year later, the band is back at 9:30, this time for two nights: Monday, March 16, and Tuesday, March 17. Tickets ($55) go on sale Friday, November 28, at 10 AM.
DJ Lil'e will spin for the Black Cat's '80s/'90s/'00s dance party on Friday, December 19. The postpunk band the Opposite Sex will also perform. Tickets ($10) go on sale Friday, November 28.
The musical Rent goes on tour next year, stopping at the Warner Theatre Tuesday, May 26, through Sunday, May 31. Two members of the original cast, Anthony Rapp and Adam Pascal (main characters Mark and Roger), will star. Tickets ($40 to $80) go on sale Friday at 10 AM.
R&B singer/songwriter Eric Roberson was recently nominated for best underground artist at the BET-J Virtual Awards. See him at the Black Cat on Sunday, January 18. Tickets ($22) go on sale Friday.
The DC-based group the Dance Party brings its high-energy pop show to the 9:30 Club on Saturday, December 27. Tickets ($15) went on sale this morning.
More>> After Hours Blog | Arts & Events | Happy Hour Finder | Calendar of Events