Want to really impress your guests during the inauguration? Order a batch of Lara Stuckey's handmade Barack Obama sweets.
Stuckey, owner and head designer at Fluffy Thoughts Bakery in McLean, has been baking treats with Obama's likeness since before the election, when she sold cupcakes to raise funds for his campaign. Now, with the election in the bag, she's selling Obama cupcakes and cake toppers to inauguration-crazed crowds looking for a celebratory sugar rush.
A few inaugural-ball hosts have contacted Stuckey to make desserts for their events, and she's taken tons of orders from private individuals hosting house parties to celebrate the inauguration. Her most popular item is the Obama cupcake ($4). Using Shepard Fairey's iconic Obama image, Stuckey and her small team of two create each Obama face out of white chocolate screened with the image. Then they add color and hand-pipe the design for a finished look. The process takes ten minutes per cupcake.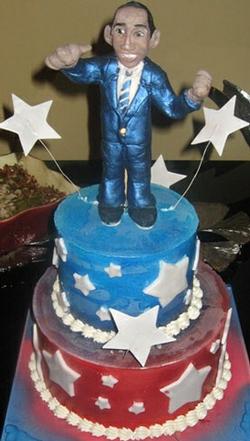 Stuckey also makes an Obama cake topper out of painted sugar. As with her cupcakes, she molds each sculpture by hand—meaning no two are exactly alike—then paints Obama's face and suit. The process takes hours, so Stuckey charges accordingly: $150 for each sugary miniature Obama.
Stuckey will take inauguration orders through Friday, but after that, she won't be answering her phone. "We'll be working around the clock this weekend, piping chocolate all night long," she says. "I probably won't want to see the stuff for at least a month afterward."
Obama has yet to sink his teeth into one of Stuckey's creations, but she hopes he'll stop in sometime for a sample. "We wanted to take some cupcakes down when he moved in to the Hay-Adams, but I figured they wouldn't let us through security," she says. "I'm hoping some day he'll taste our cupcakes. We did a lot to help fundraise."
Earlier:
Barack Obama-Inspired Cheese
More>> Best Bites Blog | Food & Dining | Restaurant Finder