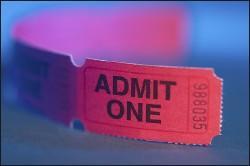 Tickets to Monday's Rock the Vote show at the 9:30 Club featuring the Beastie Boys and Sheryl Crow have already sold out, but a second show with an entirely new lineup has been scheduled for Inauguration Day. The show will feature Michael Franti, Talib Kweli, the Dresden Dolls, the Honey Brothers, and Jamie Burke, along with "others we can't talk about yet," so expect some surprises. Tickets ($50) went on sale this morning.
Talib Kweli will return to Washington about a month later for a performance at Sonar in Baltimore on Friday, February 13. Jean Grae, DJ P-Funk, and Busy Bee will also play; tickets ($20) are on sale now.
Ani DiFranco started a record label, Righteous Babe Records, and has released 20 of her own albums since 1990. The most recent, Red Letter Year, came out in September. She's touring less often because she had her first child a year ago, so catch her while you can at the 9:30 Club on Friday, March 6. Tickets ($40) went on sale this morning.
Lady Gaga will tour throughout Europe as the opener for the Pussycat Dolls before headlining her own set of shows in the US beginning in March. See her perform her hit single "Just Dance," among other songs, at the 9:30 Club on Thursday, April 2. White Tie Affair will open; tickets ($25) went on sale this morning.
The husband/wife duo Mates of State and indie-pop group Black Kids will coheadline a tour throughout the month of April, which kicks off in Richmond before making a second stop at the 9:30 Club on Saturday, April 4. Tickets ($20) went on sale this morning.
Morrissey, of the former UK band the Smiths, will spend a large part of the year playing intimate venues throughout the US and UK in support of his tenth solo album, Years of Refusal (set for release on February 17). He'll perform at Warner Theatre on Saturday, March 14; Eli "Paperboy" Reed & the True Loves will open. Tickets ($49.50 and $59.50) go on sale Friday, January 16, at 10 AM.
E! Entertainment Television's Chelsea Handler hosts her own pop-culture talk show, Chelsea Lately, and she has one of the highest-rated shows on cable for her 11:30 PM time slot. She also has released two books, and the most recent, Are You There, Vodka? It's Me, Chelsea, debuted at the top of the New York Times nonfiction bestseller list. The funny lady's got a few gigs lined up this spring, and she'll perform at Warner Theatre on Friday, April 17. Tickets ($39.50 and $45) go on sale Friday at 10 AM.
The British indie-rock band Bloc Party is touring in support of its third album, Intimacy, which was released last August. The New York-based band Longwave will open the show at the 9:30 Club on Sunday, March 22. Tickets ($35) go on sale Saturday, January 17, at 10 AM.
More>> After Hours Blog | Arts & Events | Happy Hour Finder | Calendar of Events