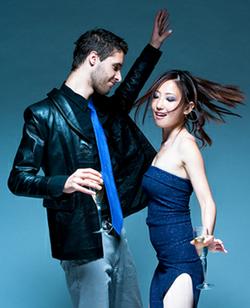 SALSA
Habana Village offers salsa lessons Wednesday through Saturday. Wednesday and Saturday nights are targeted at beginners, while Thursday and Friday are advanced. The charge is $10 per person.
Monday is salsa night at Lucky Bar, with monthlong progressive lessons at 8 followed by a dance party. Lessons are free, but a strict dress code excludes sneakers, hats, and baggy pants.
Salsa nights at the Clarendon Grill, every Monday from 7 to 9, are among the more popular in the area. Beginners' lessons are at 7, intermediate/advanced at 9. Following the lessons, there's an open dance-floor party with a DJ or musical group. Cover charge $5.
Zanzibar on DC's Southwest waterfront has free salsa lessons every Thursday from 7 to 8, and there's a $5 cover charge to enter the club.
Salsa and bachatta lessons take place every Tuesday at 8 at eCitie Cafe & Bar in the Tysons area. A $10 cover charge for the lessons also gets you a free drink at the bar. Beginners start at 8, more advanced dancers at 8:45.
LINE DANCING
The gay country/western bar Remingtons on Capitol Hill holds two-step, waltz, and other partner-dance lessons every Monday night at 8:30. These tend to be progressive lessons that extend over a two-to-four-week period, while Wednesday line-dancing classes are exclusively one night; $5.
Nick's Restaurant and Nightclub in Alexandria hosts line-dancing lessons in its front dance room every Tuesday, Friday, and Saturday at 7:45. If you're more of a partner dancer, country couples lessons are also offered Tuesday and Friday nights at the same time in the back room; $5.
BELLY-DANCING AND OTHER LESSONS
The Adams Morgan restaurant Meze hosts weekly tango and belly-dancing lessons. Tango classes are held every Monday; beginners start at 8, intermediate/advanced at 9. Lessons are $10 per person. Free belly-dancing lessons are every Sunday night after 10.
Did we miss your favorite spot? Let us know in the comments and we'll add your suggestion to our list!
More>> After Hours Blog | Arts & Events | Happy Hour Finder | Calendar of Events