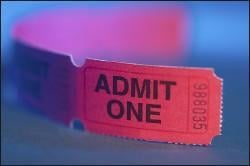 The pop singer Lady Gaga's show at the 9:30 Club on Thursday, April 2, sold out so quickly that another show has been added for that same night. After taking the stage at 7 PM with opening acts Chester French and the White Tie Affair, they'll do it all over again for a late show beginning at 11. Tickets ($25) went on sale this morning.
Kate White and Jules De Martino make up the dance-pop duo the Ting Tings, whose music you may recall from one of Apple's many iTunes ads. They'll come to the 9:30 Club on Friday, March 20. Tickets ($20) went on sale this morning.
After making a comeback last year, New Kids on the Block proved they still have fans out there, even though the group spent nearly 15 years apart. The band had a successful single, "Summertime," and it's showing no signs of slowing down. The group performs at Baltimore's 1st Mariner Arena on Thursday, March 19. Tickets ($45 to $65) go on sale Saturday, January 24, at 10 AM.
The Grateful Dead will tour for the first time in four years beginning in April. After kicking off the tour in North Carolina, the band will play the Verizon Center on Tuesday, April 14. Tickets ($68 to $98) go on sale Friday, January 23, at 10 AM.
The Alexandria-born indie artist Neko Case is releasing her eighth solo album apart from her group, the New Pornographers, in March. Case will tour in support of the upcoming album, Middle Cyclone, which includes a show at the 9:30 Club on Wednesday, April 8. Crooked Fingers will open the show; tickets ($28) went on sale this morning.
More>> After Hours Blog | Arts & Events | Happy Hour Finder | Calendar of Events