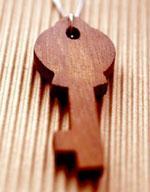 >> See our Guide to Valentine's Day in Washington
Gift Guide for Him | Gift Guide for Her | Gifts for the Home
Wooden key necklace, $18.
Show your loved one that he or she holds the key to your heart with this handmade cherry-wood key necklace.
"I [heart] my bike" bell, $8.
Maybe your loved one loves their bike more than they love you. No worries—win them over with this kitschy bike bell.
Lavender lovebird sachets, $12.
Sweeten up any spot with these patchwork lavender-scented sachets, stitched together in the shape of lovebirds.
Embroidered sleeping masks, $15.
Nothing's more important to a relationship than the time spent in bed . . . sleeping, of course. Make sure to give your loved one a good night's rest with these adorable eye masks.
Two-toned umbrella, $19.95.
Keep that special person dry in a cheery sort of way with these jewel-colored umbrellas from the Museum of Modern Art.
Polka-dot tights, $14.95.
How perfect would these tights be to wear on a Valentine's Day dinner date?
Heart-shaped earbuds, $15
Add a little love to your music-listening experience with these bright red, heart-shaped attachable earbuds.
Nintendo mints, $8.
We guarantee that any video-game lover or fan of retro stuff will adore this Nintendo-controller-shaped box of mints.
Media pocket, $19.
Is your significant other a total gadget fan who can't keep track of his or her Blackberry, iPod, iPhone, PDA . . . and so on? Give the gift of gadget protection with this cute felt pouch that will save iPhones and the like from nasty scratches.
Steel fire starter, $11.95.
Still feel sparks in your relationship? Get literal sparks with this magnesium steel fire starter. Sparking the two components against each other emits sparks of 5,500 degrees, which can light a campfire on paper, dry grass, or bark. Perfect for the outdoorsy person in your life.

Shopping

→ Budget Gift Guide: Under $20

→ Gift Guide for Her

→ Gift Guide for Him


→ Gifts to Warm Your Home

→ Valentine's Day: Beyond Red Roses

Dining
→ Tables for Two: Valentine's Day Menus in Washington


→ Looking for Valentine's Chocolate? How About a Mojito Truffle
Activities
→ Beyond Chocolates and Roses: Ten Quirky Things to Do on Valentine's Day

→ Heart-to-Heart Getaways: Valentine's Day Hotel Packages


→ Valentine's Romance at Home