If you've been longing for a quiet getaway in Rappahannock County or a beach house in Bethany, now may be the time to buy. Popular vacation communities near Washington are reporting higher inventories and softer prices, making this one of the most buyer-friendly markets in recent memory.
"We went through a period where prices were a lot higher, and people were saying, 'I wish I had bought five years ago,' " says Michael Owen, chair of the National Association of Realtors' resort-and-second-home committee. "Well, now they can, because we're looking at prices from 2003, 2004, and maybe even better."
Buyers are thinking longer-term and choosing vacation homes that will make sense for future generations of their families, says Erika Heet, editor of the Robb Report Collection magazine, which specializes in real estate and home design. "The days of flipping and short investments are, for the time, over," she says.
While bargains exist, they're hardest to find in the upper end of the market. Because owners of second homes are typically well off, they're seldom under pressure to sell quickly.
But prices are likely to rise as baby boomers retire, Owen says, making the current values seem even more attractive in retrospect.
Here's a look at the market in five popular areas:
Bethany and Rehoboth: Willing to Walk to the Ocean?
At the height of the real-estate frenzy, an oceanside tear-down on the Delaware shore would have cost a million dollars. Now that amount can buy an oceanside house in good condition, says broker Kim Hook of ReMax by the Sea: "They're still big prices, but they've come down. But a lot of buyers comment that they haven't come down enough."
That's what Ira Malis, who works in financial services in Baltimore, thought when he tried to upgrade his Bethany vacation home. Over the summer, he looked at homes in Rehoboth, close to the beach as well as more shops and restaurants, but was surprised to find sellers unwilling to budge. When he made a couple of offers around 10 percent below the asking prices, sellers responded by lowering the price only a little. "There were no desperate sellers," he says. He decided to stay in Bethany.
Rich Riddle at ResortQuest in Bethany says prices have come down since then, even for oceanfront homes. Buyers will find the best deals in developments farther from the ocean. "If their lifestyle allows them to come off beach, there are bargains everywhere, especially in new construction," he says, adding that many builders are cutting deals to unload excess inventory.
Recently on the market
$1,250,000: A three-bedroom Fenwick Island cottage just off the beach.
$410,000: In Bethany, a new three-bedroom home half a mile from the beach with a community pool and tennis courts.
Rappahannock County: Prices Have Dropped Here
Buyers in Rappahannock County, near Shenandoah National Park, have benefited from significant price cuts, even on high-end homes. One property recently dropped by $1 million, says Julie Emery at Century 21 New Millennium in Warrenton. "The prices are much more negotiable than usual," she says, adding that the lower end has taken the biggest hit.
Buyers—including many retirees—come here for hiking, locally grown food, canoeing, and other outdoor activities. Rappahannock has been shielded from development largely because of zoning regulations that limit new construction. The 100-plus properties currently on the market are mostly one of a kind and come with some land.
Recently on the market
$1.1 million: A 1900 Flint Hill house on about five acres that was originally a schoolhouse; it has two bedrooms and room for more.
$550,000: A horse property built in 2006, with a four-bedroom house, five fenced fields, and 11 acres.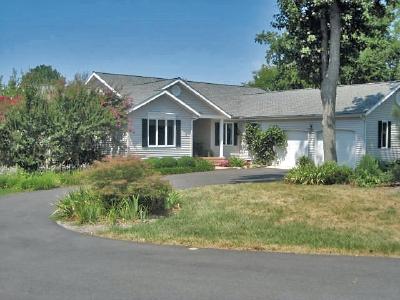 Deep Creek Lake: Bargains but Not Right on the Lake
Lisa Goodfellow of Goodfellow Real Estate Services in western Maryland's Deep Creek Lake says that while the number of homes sold in the area fell from last year, prices—especially for lakefront properties—haven't fallen sharply. Like Rappahannock County, Deep Creek Lake hasn't seen much new construction. "We don't deal with 500 townhomes," Goodfellow says. Homes that aren't lakefront but are still convenient to the lake in the summer and to ski slopes in the winter have dropped more in price.
Mike Kennedy, an agent with Railey Realty, says he has fewer clients who have to stretch to buy second homes, but business has picked up among wealthy people looking for investments outside the stock market. That's why, he says, home prices have held steady over the last year even though inventory is up. Compared with other parts of the country, "it's much more difficult up here to get a good bargain," he says. "People here aren't selling in a rush."
Recently on the market
$1,265,000: A six-bedroom lakefront house with a boat slip.
$499,900: A four-bedroom custom log house a quarter mile from the lake.
Eastern Shore: No Longer Just for Retirees
Maryland's Eastern Shore has been relatively sheltered from the larger financial crisis, says Jonathan Ginn, an agent with Coldwell Banker in Easton. While St. Michaels and nearby towns used to draw mainly retirees, the area has become popular with workers who commute to Washington and Baltimore a couple of days a week.
Prices have dropped the most for middle- and lower-tier homes, says Glory Bee Costa at ReMax Gold Realty in Easton. "We don't have drops like you do in Florida, but prices have come down," she says. To get a home on the water, buyers should expect to pay at least $700,000.
Recently on the market
$1,299,000: In St. Michaels, a four-bedroom home on a creek.
$499,000: In Grasonville, a four-bedroom house with water views.
Canaan Valley: A New Highway Will Bring It Closer
Buyers still have the chance to own a piece of Canaan Valley in West Virginia before a new highway—expected to open sometime next year—shaves almost an hour off the four-hour drive from Washington. "We'll have a lot more lookers," says Rita Jo Haverty, owner of Mountain Top Realty. And that, she says, "adds urgency." Still, the recession has slowed sales, especially for homes costing more than $600,000.
"Prices have come down some," says Randy Schmiedeknecht at Davis High Valley Realty in Davis, West Virginia. The area attracts people who enjoy skiing, snowshoeing, fall foliage, and fishing. Canaan Valley is among the more affordable vacation-home hot spots near Washington, with few homes more than $1 million and condos available for less than $200,000.
Recently on the market
$1,495,000: A five-bedroom mansion on five acres.
$350,000: A three-bedroom lodge with a hot tub on the deck.
This article first appeared in the February 2009 issue of The Washingtonian. For more articles from that issue, click here.