No. 7: Vidalia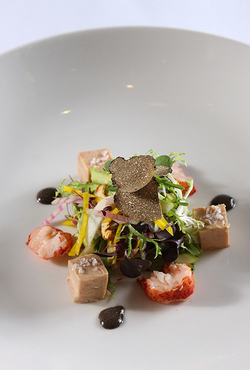 Cuisine: Shrimp 'n' grits and pecan pie are still on the menu, and the bread basket is the best this side of the Mason-Dixon Line, but calling this a Southern restaurant doesn't begin to get at the intricacy and imagination of James Beard Award–winning chef R.J. Cooper's cooking. Masterful French technique, ingredients from around the globe, and a restless need to experiment (last summer he debuted Ritz Cracker ice cream—as a condiment) are all put in the service of rooted, accessible food.
Mood: Convivial yet elegant, the subterranean dining room exudes sophistication and confidence. It can make you feel buoyant even in the depths of winter.
Best for: Sips and nibbles at the bar; a client lunch; a blowout multicourse dinner.
Best dishes: The area's best mint julep; smoked golden trout with roasted-onion purée and steelhead roe; braised pork cheeks with red cabbage, hot pickle vinaigrette, and cracklings; luxurious pumpkin soup with chestnut-filled agnolotti; shrimp 'n' grits; a Southern riff on cassoulet, with pork shank, ham hock, pork cheek, and heirloom beans; warm apple-cider doughnuts; signature lemon chess pie.
Insider tips: Happy hour, 5:30 to 7 weekdays, remains the best around for people who like to eat as well as they drink. Cooper's free hors d'oeuvres are terrific, and you can sample small pours of the restaurant's exceptional wine list.
Service:*** (three stars).
Open Monday through Friday for lunch and dinner, Saturday and Sunday for dinner.
See all of 2009's 100 Best Restaurants