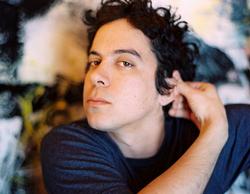 I learned two things Saturday night at the 6th and I Synagogue. First, the Vivian Girls, who opened the show, are not very good. Lead singer Cassie Ramone's reverb-drenched guitar and droning vocals sounded like a puddle of undecipherable mud. The trio's banter between songs turned out to be equally as bad when, at one point, the girls giggled over whether "Obummer" or "Obomber" would be a more apt title for a failed Obama administration.
Second, M. Ward is even more captivating in person than he is on record—and that's no easy feat. Armed with just an acoustic guitar and harmonica, the achy-voiced songwriter showed more variety in his opening song, "Fuel For Fire," than the Vivian Girls did in their entire monotonous performance.
Ward's set, which he played half solo and half with his five-piece band, consisted of a carefully chosen collection of obscure gems ("Undertaker"), fan favorites ("Poison Cup"), and classy covers, including "Let's Dance" (David Bowie), "Story of An Artist" (Daniel Johnston) and "Rave On" (Buddy Holly). Ward, who recently gained attention for his collaboration with actress Zooey Deschanel, also tried out lead vocals on the She & Him penned-track "Change Is Hard." The song, like the rest of his performance, was a roaring success.
The oft-restrained musician even revealed himself to be a bit of a showman when he finger-picked his guitar into an intricate frenzy during the John Fahey tribute, "Bean Vine Blues #2." The maximum-capacity crowd responded with dutifully raucous and appreciative applause.
Ward saved his biggest crowd pleaser for last: the harmony-fueled sing-along "Magic Trick"—a satisfyingly bittersweet farewell.
More>> After Hours Blog | Arts & Events | Happy Hour Finder | Calendar of Events