Photo of Fado by Flickr user IntangibleArts
Related Links:
Duffy's Irish Restaurant & Pub
You could go to Duffy's for the fried pickles or Buffalo wings ($5.95 a dozen during happy hour) or you might stop by for a cheap preconcert drink on your way to the nearby 9:30 Club. But let's face it, there's one reason to check out this dive off U Street: $1 cans of beer Monday 4 to midnight. With pool tables, a jukebox, and a Big Buck Hunter arcade game, this is a no-frills bar. Happy hour (Monday through Friday 4 to 7, Saturday 10 PM to 1:30 AM) includes $2 domestic cans and $3 drafts.
The Auld Shebeen
Proverbs painted on green and burgundy walls decorate this Irish pub and restaurant in Old Town Fairfax. The two levels provide different atmospheres. Want to watch the game, order traditional Irish fare, or just have a drink with friends? Sit upstairs at the bar, a booth, or a table. Want to dance to hip-hop and pop hits? Check out the bar downstairs, where a DJ attracts younger crowds on Thursday and Saturday nights.
The Dubliner
If you're Irish anytime of year or a cop in town during spring Police Week, the Dubliner is the place to be. The classic dark-paneled pub serves classics such as fish and chips alongside pints of Guinness, Smithwick's, and a few of its own brews. There's live Irish music every night.
Fadó Irish Pub and Restaurant
A balcony library labeled the "James Joyce collection" hangs over the bar. However, this dimly lit pub a block from the Verizon Center is more suited to a tall glass of Guinness than to a reading of Ulysses. After-work crowds often mix with packs of game-day patrons and rugby and soccer fans. Stick to the drafts, which favor British and Irish selections such as Harp, Smithwick's, and Boddingtons. Appetizers are a step above average bar fare, especially the chicken quesadillas made with boxty potato pancakes instead of tortillas.
Ireland's Four Courts
Located across Wilson Boulevard from the Court House Metro, this Irish neighborhood favorite offers 11 beers on tap and two bars, one smoking and the other nonsmoking. Take advantage of drink specials and half-price appetizers during happy hour, Monday through Friday 4 to 8. Grab a Guinness and cozy up to a table next to the fireplace for live music Tuesday through Saturday, an open-mike night on Sunday, and pub trivia on Monday.
Ireland's Four Fields
Formerly the Four Provinces, this Irish bar has been a mainstay of Cleveland Park nightlife for years. The decor is classic Irish, with Guinness posters and pastoral scenes on the walls, stained-glass lamps, and dark leather booths. College kids and young professionals push tables together, order pints of Guinness or Smithwick's, and sing along to the live music on weekends. A trivia night every Wednesday also packs the house, and the outdoor patio is a popular spot during summer months.
Irish Inn at Glen Echo
Don't be surprised to find flat caps, suspenders, and Irish brogues here, one of the few Irish pubs in Washington that feel authentic. The bar is dimly lit and cozy, with wood-paneled walls and plaid-covered booths. Grab a Guinness and make fast friends. The menu offers traditional Irish fare; patrons swear by the shepherd's pie and the mustard-encrusted rack of lamb. In nice weather, you can sit on the lovely outdoor patio.
James Hoban's Irish Restaurant & Bar
The covers of classic works by Irish authors—including Waiting for Godot and A Portrait of the Artist as a Young Man—adorn the walls of this clean-cut pub named after the Irishman-turned-Washingtonian who designed the White House. True to its roots, the drink menu includes a wide selection of draft, domestic, and imported beer plus an entire page devoted to whiskeys. With a large space and a relatively calm happy hour, James Hoban is an welcoming spot for after-work drinks with coworkers.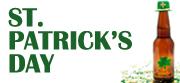 Mackey's Public House
Popular for office happy hours, this downtown DC Irish pub draws a crowd most weeknights. Young professionals grab a stool at the long wooden bar or squeeze into one of the hidden-away booths for $2.75 and $3.50 beers Monday through Friday from 4 to 7. The back room is large and inviting with a mishmash of wooden tables and leather armchairs, brick walls, and a fireplace. In warm weather, the patio is often packed.
Nanny O'Brien's
Nanny O'Brien's is a dying breed—a divey Irish pub that avoids the over-the-top gimmickry found at national chains. Although it lost some charm two years ago when it was sold to Bedrock Companies (which owns Buffalo Billiards, Rocket Bar, Carpool, and a handful of other bars in DC and Virginia), Nanny's still feels authentic with its sticky floors, bare-bones decor, and occasional Irishman sipping a pint of Guinness at the bar. A jam session every Monday starts at 9 and goes late.
The Old Brogue Irish Pub
This pub sits amid a row of homey shops. Step inside and the bar is in a corner of the restaurant with a couple of booths, some high tables, and a large flat-screen television for sports fans. It's a family restaurant where photo collages decorate some of the walls and diners eat traditional Irish fare. Nineteen beers are on draft and many of the 39 bottled beers come from England, Belgium, and of course Ireland. There are also several Irish whiskeys available, including Powers and Jameson.
Where are your favorite area Irish pubs? Let us know in the comments below.