Guacamole at Surfside.
Eve's Temptation, an apple cocktail made with fresh Granny Smith apple juice, at Restaurant Eve.
Sunchoke soup with poached scallops at Inox.
Scottish Mule—a mix of cucumber, gin, lime, and ginger beer—at Bourbon Steak.
Dhaniawala korma—tandoori chicken with a sauce of cashews, mint, and cilantro—at Angeethi.
St. Pat, a stinging-nettle-wrapped cow's-milk cheese, at Cowgirl Creamery.
Rick's Picks Mean Beans—spicily pickled green beans—available at Whole Foods.
Bacony collards at Gillian Clark's new General Store.
"Crazy" feta dip whipped with jalapeños at Cava.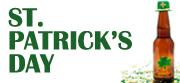 Classic fried green tomatoes topped with shrimp rémoulade at Acadiana.
Cool, creamy tomatillo soup at Breadline (in summer).
Lamb chops with chili-mint vinaigrette at the Source.
Skinny fries with wasabi mayo at Marvin.
Green-papaya salad with shrimp and pork at Four Sisters.
Zucchini-and-cheese fritters with caper-and-yogurt sauce at Zaytinya.
Pistachio macaroons at Praline.
What are your favorite green bites?
Related Links: