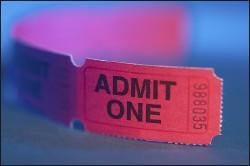 Teen heartthrobs the Jonas Brothers will bring their world tour to the Verizon Center on Monday, July 13. Expect to hear new songs from their upcoming album, scheduled for release on June 15. Given how successful the JoBros have been (movies, TV specials, and a book), we're sure you already know these tickets are likely to go fast. American Idol winner Jordin Sparks and the pop/rock band Honor Society are the opening acts; tickets ($29.50 to $89.50) go on sale Friday, March 20, at 4 PM.
Jane's Addiction and Nine Inch Nails are touring together for what will be the latter's last few shows before taking a break as well for the reunion of Jane's Addiction's original lineup. Street Sweeper (featuring Rage Against the Machine's Tom Morello) will open. Tickets ($40 to $75) go on sale Friday at 10 AM, but presale tickets are on sale today until 10 PM. The password is "curious."
The piano-playing rock band the Fray is touring this summer in support of its new self-titled sophomore album. Check out the band's show with opening acts Jack's Mannequin and Richard Swift at Merriweather Post Pavilion on Tuesday, June 16. Tickets ($25.50 to $45.50) go on sale Saturday, March 21, at 10 AM. You can also purchase presale tickets until Friday at 10 PM with the password "absolute."
If you just can't wait that long to see Jack's Mannequin, catch the band's show next month at the Rams Head in Baltimore on Wednesday, April 29. Matt Nathanson and Erin McCarley will also perform; tickets ($29.50) go on sale Saturday at 10 AM.
The British rock band Coldplay, which won three Grammys this year including song of the year, recently announced North American tour dates for the summer. The band's Viva La Vida world tour comes to Nissan Pavilion on Thursday, May 21. Tickets ($35 to $97.50) go on sale Friday at noon.
Mötley Crüe will bring along several acts for its Crüe Fest 2 tour, including Godsmack, Theory of a Deadman, Drowning Pool, and Charm City Devils. In celebration of the 20th anniversary of Dr. Feelgood, Mötley Crüe's first number-one album, the band will play the album in its entirety. Tickets ($29.50 to $95) to the show on Saturday, August 22, at Nissan Pavilion go on sale Friday at 9 AM.
Legendary bands Earth, Wind & Fire and Chicago have teamed up once again for a tour, which includes a stop at Merriweather Post Pavilion on Wednesday, June 10. Both will perform a full set before coming together to close the show. Tickets ($35 to $75) go on sale Friday at 10 AM.
Taking Back Sunday will tour this summer in support of a new album, New Again, coming out on June 2. The band's bringing fellow alternative rockers Anberlin and Envy on the Coast as opening acts. The tour comes to Sonar on Sunday, June 21; tickets ($25) go on sale Saturday at 10 AM.
Gavin Rossdale, known to some as lead singer and guitarist of the rock band Bush and to others as Gwen Stefani's hubby, recently announced he'll be touring in support of his most recent solo album, Wanderlust. Catch his show at the 9:30 Club on Sunday, May 3. Tickets ($25) went on sale this morning.
Country-music star Rodney Atkins is headlining the WMZQ Fest at Nissan Pavilion on Saturday, May 9. The rest of the acts have yet to be announced, but you can purchase tickets ($13.25 to $50) beginning Friday at 10 AM.
More>> After Hours Blog | Arts & Events | Happy Hour Finder | Calendar of Events