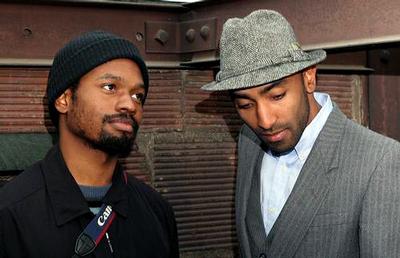 The Laughing Man's song "The Sweet Tooth" sounds as if Tom Waits asked a group of jazz musicians to transmit rock-and-roll from the moon. The low-fidelity record is so thick with reverb that Brandon Moses's guitar almost doubles as an organ, while his soulful pipes travel like a distant radio signal in and out of Michael Harris's splashy drums and Luke Stewart's steady bass.
The Laughing Man began in early 2008 when Moses and Harris met while working at Trader Joe's. The two quickly established a musical rapport and began to play as an eclectic and sparse duo. Then in October, they met Stewart. The three were introduced through a mutual friend before a show at American University. Stewart was invited to attend: "I walked in during the last few songs. I saw Brandon jumping up and down all over the drums and the amps and was like, yes." Afterwards, Stewart told the band he played bass. Now the trio's working on two upcoming EPs. "We've known each other now for a few months," says Stewart, "but it's like we're childhood homies."
The band's music isn't easy to describe, especially considering there's only a few demos to sample. What we know is it's a sound worth hearing again. Moses, who began singing in the Kingdom Hall as a youth, has a resonant voice with a range capable of tones both soothing and crazed. His vocals occasionally resemble rock-and-soul revivalist Cody Chesnutt, but Moses and the band seem much more interested in inventing their own genre than reviving another. The songs on the Laughing Man's MySpace page have as much in common with '60s bubbel-gum pop as they do with jazz, soul, and dissonant psychedelia.
Moses reports that he's invited a classical guitarist, a classical vocalist, and a flute player to a few of the band's recording sessions. Stewart will also be playing the saxophone. For a group that sounded plenty original with just a guitar and drum set, the concept is almost as scary as it is exciting.
Make sure to catch the Laughing Man this Sunday, March 22, at Iota or April 18 at the Red and Black.
We talked with the band about the origin of its name, Washington's music scene, and the gallery it is opening this spring.
Ages:
Moses: 25
Stewart: 22
Harris: 29
Hometowns:
Moses: West Philadelphia
Stewart: Ocean Springs, Mississippi
Harris: New York City
First song that made you want to play music:
Moses: "It's a toss up between 'Diamonds and Pearls' by Prince, 'ABC' by the Jackson 5, and a live VHS of Jimi Hendrix my uncle Tyrone showed me when I was six, trying to explain what acid was."
First instrument:
Moses: "Voice."
Local spot to seek inspiration or write music:
Moses: "Dupont Circle. Not just the circle, but the restaurants. I went on a date once to that restaurant that's connected to a book store. For some reason being rejected and things that remind me of it make for great material."
Best local venue:
Moses: "The Black Cat main stage has the best sound from a performance perspective."
Best bar to hear music:
Moses: "Depends."
Stewart: "Columbia Station for jazz Wednesdays, Fridays, and Saturdays with Butch Warren. Get hip."
Harris: "Velvet Lounge."
Favorite local band other than your own:
Moses: "Well, there's this one band fffeverTrueWomanhoodBenjyFerreeBuildingsImperialChinaNoon30 MittenfeildsEternalSummersCaverns."
Best thing about Washington's music scene:
Moses: "That the 'scene' is transforming into a community."
Worst thing about Washington's music scene:
Stewart: "The variety of bands don't reflect the variety of people in the city. The scenes are segregated as hell, and people don't care about it or fail to acknowledge it. It irks me to death."
Craziest tour memory:
Moses: "Singing a song about one of the most painful and tragic events in my mother's life at a show with only my mother, step-father, and like three or four friends in attendance. I sang that song with all my might, and it was the first of many conversations we were then able to engage in on the subject, which I was always too afraid to bring up. I found a way to make lemonade with oranges."
Finish this sentence: "When not making music, you can find me . . . "
Moses: "The band is currently working to open up our gallery, The DC Mini Gallery, in Columbia Heights. We're looking to be open around May. Personally, I'm currently taking an awesome seminar, Success: The Power of Context by Landmark Education. In the seminar, you examine your paradigm of success, and of course mine is based on growing up poor in west Philadelphia and still somehow ending up a spoiled brat, which could impact my ambitions in the music industry if I let it. Other people in my class write curricula for colleges or work for NASA or Native American rights organizations or the World Bank. I'm starting to realize that people from all walks of life are dealing with the same stuff. The course is lead by a wonderful woman named Joan Sugarman, a filmmaker from the Maryland area. She's a true inspiration because we're both artists, and I see her contributing to a large community of contributors and activists."
Rolling Stones or the Beatles?
Moses: "Is this a trick?"
Digital download or hard copy?
Stewart: "Both. If they're dead and worth it, vinyl. If they're dead and just interesting, download."
Rolling Stone or Spin or . . . ?
Moses: "Fader."
Harris: "Fader."
Stewart: "Wax Poetics."
Club show or festival?
Moses: "Basement."
Where does the name the Laughing Man come from?
Moses: "Laughter is my coping mechanism. It's also a character in a Japanese science-fiction manga created by Masamune Shirow and a character in a J.D. Salinger book."
What element does jazz play in your music?
Moses: "If life is a blank sheet of paper and you're a pencil, jazz is like waking up one day and you're a Crayola."
Is there a record in the works? If so, when can we expect to hear it?
Moses: "Yes, The Jessup Wagon is in the works and will be out mid April. It's named after George Washington Carver's Jessup Agricultural Wagon. Look it up. Also, none of the music on our MySpace will be on it, so it's mad fresh. And expect a hasty follow up."
When introducing your music to someone for the first time, what song do you play?
Moses: "Depends on the person. As a rule of thumb, I like to keep it short and sweet, and we have a few numbers like that. A lot of the music we play is directly influenced by music you don't normally experience in pop or rock-and-roll. Basically, we're still learning our music's effect on people."
Favorite musician or band that sounds nothing like you?
Moses: "Paco de Lucia. Also, I like Gamelan music."
Harris: "True Womanhood."
Stewart: "SquarePusher."
More>> After Hours Blog | Arts & Events | Happy Hour Finder | Calendar of Events