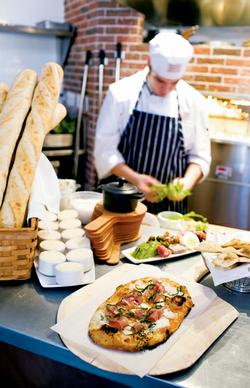 A la Lucia
Most of the pastas at this casual neighborhood dining room—from the linguine studded with shrimp and scallops to the lobster-filled ravioli in cream sauce—are made in-house. There are reliable renditions of such old-school entrées as veal scaloppine and chicken Parm', and the ovens put out a good thin-crust pizza at lunch. Finish with a pistachio-dusted cannoli or berries draped in thick zabaglione.
315 Madison St.; 703-836-5123; alalucia.com. Moderate.
Bastille
On the north end of Old Town, Bastille channels grandmère comfort and trendy bistro fare with plates such as coq au vin and shrimp-and-calamari beignets with yogurt and harissa. Sunday's three-course family dinner ($27) and brunch ($21) menus are money-saving deals, and the outdoor patio overlooking a warehouse full of antiques makes you feel as if you're in the middle of a French flea market.
1201 N. Royal St.; 703-519-3776; bastillerestaurant.com. Moderate.
Brabo by Robert Wiedmaier and Brabo Tasting Room
Robert Wiedmaier, chef/owner of Marcel's and Brasserie Beck in downtown DC, presides over this pair of restaurants in the new Lorien Hotel. Here "tasting room" means casual—it's a tiny space where you'll find sharable flatbreads and cheese plates, a deliciously dark onion soup, and skillets of mussels. Next door, the dining room is more upscale, with foie-gras-stuffed ravioli and seared turbot with gnocchi and artichokes.
1600 King St.; 703-894-3440; braborestaurant.com. Brabo by Robert Wiedmaier, expensive; Brabo Tasting Room, moderate.

Eamonn's
Masterful frying and high-quality ingredients take this chipper (run by Irish chef Cathal Armstrong of Restaurant Eve and the Majestic) way beyond fast food. Cod is the gold standard, but the fried shrimp are mighty fine, too—especially with a drizzle of curry or tartar sauce. At the upstairs lounge PX (which has a separate entrance around the corner), cocktails are elevated to an art; reservations are recommended.
728 King St.; 703-299-8384; eamonnsdublinchipper.com. Inexpensive.
Farrah Olivia
Morou Ouattara's earth-toned dining room might look tranquil, but there's plenty of action on his plates. He turns such ingredients as shiso leaves into powder and soy sauce into caviarlike pearls, and some dishes look like miniature art installations. But his take on American cuisine isn't all flash, and what sounds experimental often turns out delicious. The Ivory Coast native is especially deft with soups, such as a "painted" duo of black bean and squash purées and vegetable dishes such as goat-cheese gnudi with white and green asparagus.
600 Franklin St.; 703-778-2233; farraholiviarestaurant.com. Expensive.
Grape + Bean
This snug wine-and-coffee stop turns into a lively wine bar with nibbles Wednesday through Saturday evenings. There are fine snacks such as dabs of goat cheese and onion jam with shavings of salumetto as well as toasted French bread with white anchovies. Cheese and salumi plates, salads, and an upmarket grilled Gruyère-and-rosemary ham sandwich round out the offerings. Ask for a sampling of chocolate-coated cocoa nibs for dessert, perfect with the coffees.
118 S. Royal St.; 703-664-0214; grapeandbean.com. Inexpensive.
Hank's Oyster Bar
This fish house—a near twin to the Dupont Circle original—showcases everything from overstuffed lobster rolls to soy-glazed sablefish. At the heart of the menu are several kinds of oysters served every which way: on a bed of ice, fried in a po' boy, baked with butter, or dropped in a shooter of sake. The tiny place takes reservations only for big parties and is usually crowded. There's a limited dessert selection, though a hunk of chocolate comes with the check. We satisfy any craving for decadence with a bowl of the Gouda-laden mac and cheese.
1026 King St.; 703-739-4265; hanksdc.com. Moderate.
Jackson 20
Housed next to the Hotel Monaco, this stylish eatery has a lot going for it: 20 $20 wines offered daily, warm-weather doggie happy hours on Tuesdays and Thursdays in the charming courtyard, Southern-inflected cooking that's back on track with the arrival of chef Dennis Marron, who has brought new energy to the kitchen. We like the crawfish shrimp chowder that gets a shot of heat from Tasso ham, fried catfish with corn-jalapeño relish and some of the best collards we've had in these parts, and the behemoth cranberry bread pudding.
480 King St.; 703-842-2790; jackson20.com. Expensive.
Layla's
Creamy hummus, deftly fried falafel, and a lesser-known Lebanese appetizer, makdous—pickled baby eggplants stuffed with walnuts, garlic, and olive oil—are among the very good dishes at this family-run Lebanese restaurant. The brick of baked kibbeh—ground meat stuffed with pine nuts and onion—is delicious. An order of baklava is perfect for sharing.
907 King St.; 703-684-3288; laylasrestaurant.com. Moderate.
The Majestic
Cathal Armstong's ode to rustic comfort cooking riffs on such classics as celery-root soup, meatloaf, and seafood stew, which is all to the good. Bargains such as Nana's Sunday Dinner ($78 for a three-course meal for four) and the Royal Pick lunch ($12 for an entrée and soda or iced tea) draw a lively crowd to the retro-modern dining room and bar.
911 King St.; 703-837-9117; majesticcafe.com. Moderate to expensive.
Overwood
If there was ever a restaurant for guys' guys, it's this sports-oriented spot. While you're watching Tiger Woods or the Skins, you can fill up on bar snacks such as fried ravioli with marinara sauce, fried green tomatoes with shrimp, and fried okra with ranch dressing. Not everything is a cholesterol jolt: The "skinny" chicken with lemon-butter sauce and lightly bound crab cakes are worthy plates, too. Then you can feel a little less guilty about a slice of Elvis Pie, an Oreo crust teetering with banana, peanut butter, and whipped cream.
220 N. Lee St.; 703-535-3340; theoverwood.com. Moderate.
Restaurant Eve
Cathal Armstrong nudged Old Town's food revolution with his innovative seasonal cuisine in this stylish townhouse. The bar, airy bistro, and elegant tasting room each has its own charms, and the food is by turns rustic and delicate, with such dishes as bacon-egg-and-cheese salad, lobster-and-lemon ravioli, house-cured pork belly, and an inspired charcuterie platter with sausages and terrines made in-house.
110 S. Pitt St.; 703-706-0450; restauranteve.com. Tasting room, very expensive; bistro, expensive; bar, moderate.
Vaso's Kitchen
With Greek-American dining so predictable, it's refreshing to find a place that turns the template on its head. A Greek sampler is a treat, with its delicious spicy feta spread, grape leaves wrapped around cheese and rice, and garnishes of anchovies twirled around olives. Baked shrimp are stuffed and smothered with lump crab, and the broiled sirloin patties are a savory party of herbs and onion. Finish with the house-made tiramisu—not especially Greek but pleasing nevertheless.
1225 Powhatan St.; 703-548-2747. Inexpensive.
Vermilion
This shabby-swank rowhouse is home to one of the area's most talented young chefs. Equinox alum Tony Chittum marries a dedication to local ingredients with a devotion to craftsmanship: Not only are the pastas and pâtés house-made; the sausages and scrapple are, too. He handles delicate (an arugula salad with goat cheese and marmalade) and decadent (Duroc pork two ways with rich polenta) with equal finesse. On weekends, look for one of the best brunches around.
1120 King St.; 703-684-9669; vermilionrestaurant.com. Expensive.