Larry Ponzi's Café Pizzaiolo opened in 2007, and it's been an antidote to the Crystal City mall across the street. The cafe's bustle, chalkboards, and children's games give it the feel of a neighborhood coffeehouse—there's free wi-fi—crossed with a family room and a no-frills Italian restaurant. The pizzas, like the casual vibe, are easy to like: Crafted with the care devoted to boutique pies, these have approachable toppings, a generous swipe of sweet sauce, and crisp crusts.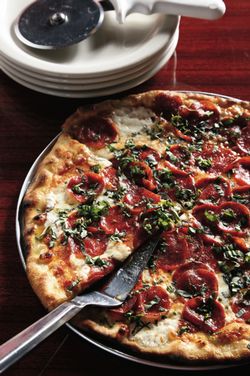 In November, Ponzi brought his pizzas and the rest of the menu—a roster of Italian favorites such as chicken Parmesan and spaghetti with meatballs—to Alexandria's Del Ray neighborhood. He named this place Pizzaiolo Café & Bar and dressed it up with black velvet curtains and abstract art. With half the space devoted to a 35-seat bar and the other half to a 65-seat dining room, it's more than twice the size of the original.
Its atmosphere suffers some from the strip-mall locale—the rough charm of its elder sibling isn't quite there. But the food has the same DNA: The pizzas are excellent. The Neapolitan pie, its crust infused with olive oil, is wonderfully thin, while the New York–style has a heftier crust with a hint of sourdough. Both those crusts survive best with few toppings; they start to wilt under a crowded array of, say, feta, chicken, olives, spinach, and red onion—the trimmings of the Mediterranean pizza.
Starters, which can be ordered on the cafe's bar side, include such nods to the wine-bar blueprint as a plate of charcuterie, cheese, and olives and little squares of fried mozzarella. Of the nonpizza entrées, a bowl of ricotta cavatelli with Italian sausage was overcooked and the sauce underwhelming.
But Alexandria residents finally have a good neighborhood pizza joint—even if it is dressed in fancier clothes.
Pizzaiolo Café & Bar, 3112 Mount Vernon Ave., Alexandria; 703-837-0666. Open daily for lunch and dinner. Starters $2.95 to $9.50, entrées, subs, and pizzas $7.95 to $19.95.
This appeared in the April, 2009 issue of the Washingtonian.
Related:
Pizza Wars
Rating Specialty Pizzas
More First Looks at Restaurants
More>> Best Bites Blog | Food & Dining | Restaurant Finder