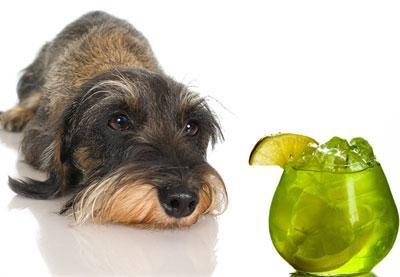 Does trying to figure out what to do with your doggy pal during happy hour make you cock your head sideways? These Washington bars not only welcome four-legged traffic in their outdoor settings, but they make your furry companion feel right at home.
Hotel Monaco Alexandria in Old Town hosted a leash-cutting ceremony Tuesday, April 7, to launch its doggy happy hour. Dogs chow down on treats in the hotel's courtyard while humans can order from an expanded "tavern bites" menu, served from the adjacent restaurant, Jackson 20. The happy hour runs every Tuesday and Thursday from 5 to 8 until October with a season-closing Halloween doggy costume contest.
Across the street, Pat Troy's Ireland's Own has two patios to share with dogs, who are welcome to the bar all the time. Happy hour is daily from 4 to 7, with specials on appetizers and drinks, including Smithwick's, Harp, and cider pints for $3 and Guinness for $4. Dogs order from their own menu: chopped chicken or beef, or lamb or beef stew for $5. Each dog dish comes with a MilkBone.
At Capitol Hill's Union Pub, dogs are allowed on the patio year-round, but on May 2, the pub will unveil its Pooches on the Patio: Saturday happy hours from noon to 4 with treats and water for thirsty pups. Humans get $5 treats, too: a bucket of miniature corn dogs, Flying Dog In-Heat Wheat, and Dogtail Vineyards red and white wines. A portion of the Saturday happy-hour proceeds goes to animal charities.
Cantina Marina starts its week with a dog-friendly happy hour every Monday. From 5 to 9, you'll find half-price corn dogs for people and free MilkBones for dogs. Starting in May, sip on $7 Cuervo margaritas while your dog sips on water.
Doggie Style Bakery teams with Adams Mill Bar & Grill for dog happy hours. Adams Mill lets pets chill on the patio year-round, but when the weather gets warmer, Doggie Style joins in the fun on Fridays from 4 to 7 and brings an assortment of yummy treats for pooches. People get $1 off almost everything and can enjoy $3 and $4 beers. Dogs get the real deals: free baked goods including cookies, party mix, cheese balls, gingersnaps, and raspberry brownies, all made with healthy ingredients.
Red Rocks Pizzeria's dog-friendly patio is open for a happy hour Monday through Friday from 4 to 7. There are $1 draft beers, $4 house wine and rail drinks, and specials on certain food items. Dogs are given a water bowl.
"Yappy hour" at Jay's Saloon & Grille in Clarendon provides a covered patio, water, treats, and games for your pup. The event takes place once every month on a Sunday (look for signs in the bar that indicate which Sunday) from 1 to 4. Pet owners can enjoy weekday happy-hour specials: $2.50 domestic bottles, $2 domestic drafts, $8 domestic pitchers, and $3.50 glasses of wine.
A more lively way to celebrate with your pet: Take a canine cruise with the Potomac Riverboat Company. Tickets are $15 per person/dog duo for a 40-minute Alexandria Seaport cruise. Puppy-permitting boats leave Thursdays at 7, 8, and 9 PM; reservations are recommended. Beers are $4 to $5 on deck.
You'll find a pooch-friendly patio at Arlington's Rocklands Barbeque & Grilling Company. Every weeknight from 4 to 9 in spring and summer, two- and four-legged guests are welcome on the outdoor terrace. Humans are offered specials on beers and Mason-jar cocktails, while canines lap at water bowls and scarf down free treats. The patio opens to dogs with the "Shed Your Coat" coat drive this Saturday, April 18, from 11 to 5. Donate old coats to the Clock Tower thrift store, or bring nonperishable food items for Arlington's Doorwars Shelter for Women and Children and the Arlington Food Assistance Center.
Head to Loews Annapolis Hotel for a summer series named "Canines and Cocktails for a Cause." On the last Friday of every month from April through September, the hotel teams up with Paws Pets Boutique to offer cocktails, appetizers, mocktails, and gourmet doggy treats from 5 to 8 on the Weather Rail's patio. The events are hosted by Luke—Loews Annapolis's resident Labrador retriever—and benefit the Davidsonville Wildlife Sanctuary, Golden Retriever Rescue Education and Training, SPCA of Anne Arundel County, KPLifesavers, and more.
Once every summer month, the Park Hyatt Washington hosts a "Yappy Hour" to benefit the Washington Humane Society. For $10, humans get two drink tickets for beer and wine, and pooches get dog treats and water bowls. Also, a WHS Mobile Adoption Unit will be onsite for those looking to take home a furry friend. The event takes place on June 3, July 1 and August 5, and lasts from 6 until 8 PM.