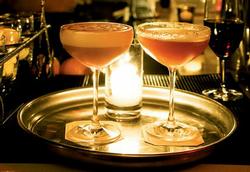 The word "cocktail" was coined in a newspaper in 1806. To commemorate the occasion, a number of local restaurants, bars, and bartenders are hosting happy hours and parties over a weeklong period. Buck up, liver. Check out these events all over town.
May 6
Bar Pilar's Adam Bernbach will make the Washington cocktail, the rickey, in honor of its inventor, George A. Williamson. Bernbach will be leaving Bar Pilar in a few weeks, so this might be your last chance to watch him make some interesting drinks. 5 to 7. [Ed Note: We previously reported Bernbach's Tuesday Cocktail Session would be devoted to the rickey. That is not the case. The weekly session will feature all original drinks.]
May 7
Bartenders Gina Chersevani (PS 7's), Jason Strich (Rasika), and Rachel Sergi (Zaytinya) give the '80s—a decade known for less-than dazzling-cocktails—a second, ahem, shot with a happy-hour party at PS 7's. A deejay will spin tunes as interesting variations of '80s cocktails are served. 5 PM.
May 8
Dan Searing of the soon-to-open Room 11 in DC's Columbia Heights, brings Punch Club back one more time at the Warehouse. He'll serve a variety of classic punches from 6 to 8.
May 9
Sova, a coffeeshop on DC's H Street, Northeast, that recently relaunched itself as an espresso-and-wine bar, will host a talk about pisco, a South American liquor, and also have some pisco-based drinks from its new cocktail list. 7 to 9; call 202-277-3473 to reserve a spot.
May 10
The recently launched Tiffany's Tiki Night, hosted by bartender Tiffany Short (formerly of PS 7's) on the Gibson's back patio, will offer three tiki cocktails from 6 to 8.
May 11
The main event of World Cocktail Week is a five-course dinner at Proof. It'll feature a series of specialty cocktails created for the night by some of Washington's best bartenders. Tickets are $145 a person, and proceeds benefit the Museum of the American Cocktail. To purchase tickets, contact Karen Chan at karen@proofdc.com. 7 PM.
May 12
Have you been missing Justin Guthrie? So have we. The former Central Michel Richard bartender will be at the lounge at Sonoma to offer customers a taste of a cucumber-milk punch and other gin-based cocktails. 6 to 9.
May 13
The Tabard Inn hosts a late happy hour at 10 with seasonal cocktails prepared by Chantal Tseng.
More>> After Hours Blog | Arts & Events | Happy Hour Finder | Calendar of Events