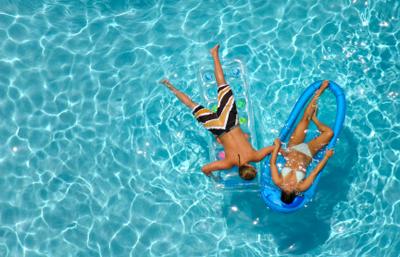 Related:
Nothing brings back summer childhood memories of melted ice-cream cones and belly flops quite like the smell of chlorine. Pools are the destination for area residents who can't bear the heat and humidity of Washington's summer. City and county recreation departments list neighborhood pools, but unexpected spots to cool off can also be found at area hotels. Read below for places where you can take a dip.
The Hilton Washington on Embassy Row (2015 Massachusetts Ave., NW; 202-265-1600) is half a block from the Dupont Circle Metro. The Hilton offers $15 day passes to its rooftop pool. The pool is open from 10 AM until 8 PM and has ample seating and a skyline view of the city.
Marriott Wardman Park (2660 Woodley Rd., NW; 202-328-2000) near DC's Woodley Park offers a $15 day pass. The pool is open from 6 AM to 10 PM.
Courtyard Marriott (1900 Connecticut Ave., NW; 202-332-9300) has a long outdoor pool—ideal for swimming laps—surrounded by lounge chairs. A day pass is $15. The pool is open Monday through Friday, 11 AM to 9 PM, Saturday and Sunday, 10 to 9.
The Marriott Key Bridge hotel (1401 Lee Highway, Arlington; 703-524-6400) has an indoor and an outdoor pool. It's $10 per person to use either pool; passes can be purchased at the front desk. Pool hours are 6 AM to 11 PM.
Capitol Skyline hotel's pool is open this Thursday through Labor Day with a number of weekly events. Thursdays from 4 to 10, it's Pool Boy Party, a gay pool party featuring music by DJ TMY; Fridays, Lindy Promotions and Metromix co-host a Weekly Wet Happy Hour for young professionals from 5 to 10; Saturdays, local Web site Brightest Young Things has its Summer Camp party, with drink specials, music, and games, from 2 to 10; Sundays, former Top Chef contestant Spike Mendelsohn hosts Spiked Sundays, with free burgers. 12 to 6. Price of admission to the events is $10 at the door. Drink specials include $5 drinks.
The Montgomery County public pools are worth checking out. Many of the indoor pools are equipped with water slides, bridges, and toddler pools. Some outdoor pools offer special features—the Martin Luther King Jr. Pool in Silver Spring, for example, has a circulating Lazy River for inner-tubing and a shallow lagoon. For more information about Montgomery County pools click here.
Pools in the District of Columbia are free for residents, so bring your driver's license. The Department of Parks and Recreation divides the pools into three categories: indoor, outdoor, and walk-to-learn outdoor pools—neighborhood children's pools. Outdoor pools will be open on weekends through June 7. Starting June 13, they will be open daily.
For more information on DC pool hours and fees, click here.
Other public pools in Washington:
Prince George's County pools
Fairfax County pools
Arlington pools
Alexandria pools