See more from the Best of Washington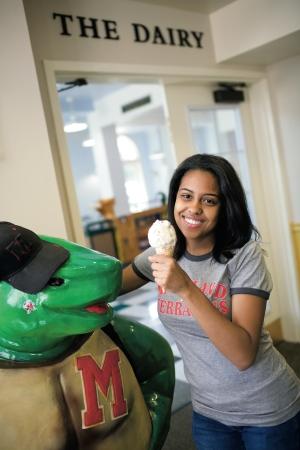 Ice-cream cones: For whimsical scoops, head to the University of Maryland Dairy (Turner Hall, Rossborough La. and Baltimore Ave., College Park; 301-314-7777) and order Fear the Turtle, a blend of white-chocolate, caramel, and pecans. At Max's Best Ice Cream (2416 Wisconsin Ave., NW; 202-333-3111), the cases are filled with such treats as honey/Golden Graham and cinnamony Mozambique. And at Lazy Sundae (112 N. West St., Falls Church; 703-532-5299), baklava is turned into a delicious frozen flavor.
For chocolate fans: At the Argentinean-style gelato shop Dolcezza (1560 Wisconsin Ave., NW, 202-333-4646; 7111 Bethesda La., Bethesda, 301-215-9226), the Valrhona Chocolate Amargo is deeply chocolaty—but not too bitter.
Nutty gelati: Newly opened Pitango Gelato (1451 P St., NW, 202-332-8877; 11942 Democracy Dr., Reston, 703-606-9906) makes the best nut-based sweets we've found using Sicilian almonds, pistachios, and Piemontese hazelnuts.
Milkshakes: The creative, compact—and not to mention Michelle Obama–approved—burgers at Good Stuff Eatery (303 Pennsylvania Ave., SE; 202-543-8222) get most of the attention, but our favorite reason to visit is the thick shakes. The toasted marshmallow bears a hint of brûléed flavor without being cloying. Strawberry gets a whiff of citrus from tropical soursop.
Frozen yogurt: The frozen-yogurt wars kicked up last summer, when a spate of shops opened around Washington. Our favorite swirls are at the salad cafe Sweetgreen (3333 M St., NW, 202-337-9338; 1512 Connecticut Ave., NW, 202-387-9338; 4831 Bethesda Ave., Bethesda, 301-654-7336). The confection that's branded Sweetflow marries the texture of soft serve with the sharp tang of Greek yogurt. We top it with coconut, mango, and almonds, but berries work, too.
Root-beer float: Waukesha native Liz Davis has been cranking out superlative Wisconsin-style frozen custard at the Dairy Godmother (2310 Mount Vernon Ave., Alexandria; 703-683-7767) for eight years. But we just discovered how good the vanilla tastes when paired with another Badger State export: creamy Sprecher root beer.
Bubble tea: The smoothie-like refreshers at the Vietnamese deli Song Que (6769 Wilson Blvd., Falls Church; 703-536-7900) come in such alluring tropical flavors as coconut, soursop, and papaya, and the tapioca "bubbles" are nice and chewy.
Supermarket finds: Ciao Bella's coconut sorbet, Moorenko's blueberry ice cream (both available at Whole Foods), Trickling Springs Creamery's marshmallow-heavy rocky road (at Sub*Urban Trading Company, 10301 Kensington Pkwy., Kensington; 301-962-4046), and Häagen-Dazs Five's ginger ice cream (available at Safeway and Giant).
Summer sundae: The hulking rib eyes and Gruyère-topped popovers at BLT Steak (1625 I St., NW; 202-689-8999) don't leave much room for dessert, but it's worth pacing yourself for the Tri-Star Strawberry Sundae—strawberry and vanilla ice creams, fresh berries, whipped cream, and crunchy meringue bits layered high in an old-fashioned parlor glass.