Beverly and Rick Moreland had been visiting North Carolina's Outer Banks for 25 years, and they'd talked about buying a second home there. A year and a half ago, they decided it was time.
The couple, who live in North Potomac, at first didn't think they could afford the houses in Corolla Light Resort, a gated community with pools, tennis courts, and oceanfront walkways. They saw a six-bedroom there with a pool and hot tub just a short walk to the beach. It was perfect—except for the $850,000 asking price.
While the Morelands continued looking, the house sat on the market. The sellers dropped the price several times until it hit $699,000 in January. In April, the Morelands bought it for $600,000.
"If I had more money, I'd be buying up houses left and right," says Beverly, who works in renewable energy.
All along the Atlantic coast, house prices have dropped, making once out-of-reach beach houses more affordable. Because of the credit crunch and lessened demand, sellers have lowered their asking prices. The sluggish market also means there are more properties to choose from in popular Washington vacation spots.
In some areas, foreclosures have dragged down prices. In the Outer Banks, 25 to 30 percent of sales in the past year have been foreclosures, though most were lower-end houses far from the beach, says Michael Davenport, an agent for Sun Realty in Kill Devil Hills. In Virginia Beach, real-estate broker Bob Chance estimates that 30 to 35 percent of the market there is foreclosure sales. In a few cases, Chance has seen houses sell for 30 to 35 percent of what they would have a few years ago.
Agents in Cape May, Bethany Beach, and other in-demand towns say they've seen few foreclosures. Lauren Alberti, president of the Delaware Association of Realtors, says that while prices may drop dramatically in one region, they can remain relatively stable in another. Headlines about foreclosures and plummeting prices in certain parts of the country can give buyers unrealistic expectations, leading to a standoff between buyers and sellers.
"Sellers are motivated to sell, but they're not as motivated as buyers would like them to be," she says of real estate in Bethany. "They're looking for bigger bargains."
Luxury properties have been hardest to sell. Tina Merritt, a Long & Foster agent in Virginia Beach, says many of her clients are looking for houses in the $300,000-to-$400,000 range, whereas she used to see more buyers willing to spend $750,000 or more. "Second-home buyers have gotten much more conservative in this economy," Merritt says. "Economic sense has taken over extravagance."
Real-estate agents almost always argue it's a good time to buy, but these days they really seem to mean it. "We're at the bottom of the market right now," says Davenport, the real-estate agent from Kill Devil Hills. "Or if we're not, it's very, very close."
Wonder what you could afford? Here are beach houses that are on the market or have recently sold.
Foreclosure Flip: Kill Devil Hills, North Carolina, Sold for $229,500
This cul-de-sac house with three bedrooms and two baths is two minutes from the beach. Coastal Realty & Construction bought it for $169,554 during a foreclosure sale. The company's president, Paul Glenn, says he made minor repairs, replaced the carpet, and painted the inside. In October, he put the house back on the market for $249,000 and dropped the price by $5,000 every two weeks. It sold for $229,500 in February.
In a Nice Neighborhood: Rehoboth Beach, Delaware, Under contract for $484,900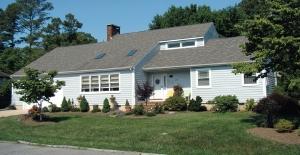 This two-story house is just over a mile from the ocean in the Rehoboth Beach Yacht and Country Club community, where house values go up to the millions. It has three bedrooms, 2½ bathrooms, and a nice yard. The property was on the market from June to October last year with an asking price of $519,000, but the sellers took it off the market when it didn't sell. They later put it back on for $484,900, and it went under contract after two months. "It definitely would have sold from the low to mid-$500,000s at the height of the market," says Rehoboth Re/Max agent Amy Warick.
Twenty Percent Off: Cape May, New Jersey, Sold for $700,000Twenty Percent Off: Cape May, New Jersey, Sold for $700,000
This 3,400-square-foot waterfront house was listed for $875,000, was dropped to $799,000, and recently sold for $700,000. It has four bedrooms, three full baths, and sunset views of the Delaware Bay. The porch has 15 sliding glass doors that open to the water. A Victorian beach town on New Jersey's southern tip, Cape May is surrounded by dunes, woods, and farmland.
Seller Pays the Mortgage: Lewes, Delaware, On the market for $1.1 million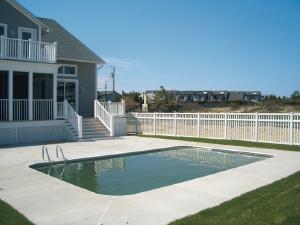 This bayfront home with four bedrooms and 3½ baths has a custom kitchen, vaulted ceilings, a screened porch, and decks with bay views. There's a floor-to-ceiling stone fireplace for cold days and an outdoor swimming pool for warm ones. The recent asking price was $1.095 million, but according to Coldwell Banker agent Dolores Desmond, the seller would pay the mortgage up to $5,000 a month for a year. If the buyer buys the home with an adjoining buildable lot for $1.55 million, the seller will pay the mortgage up to $7,000 a month for one year.
Million-Dollar Discount: Virginia Beach, Virginia, On the market for $1.6 million
This 3,000-square-foot house on the beach has four bedrooms and 3½ baths. The biggest draw is the ocean view from the spacious covered balconies. In January 2007, the house was listed for $2.55 million, but the price has steadily fallen. The recent asking price was $1.595 million—almost $1 million less.
It Even Has a Pool House: Southern Shores, North Carolina, Sold for $3.1 million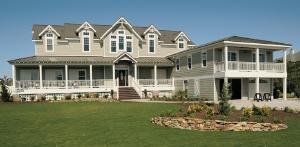 This house is located in an area of the Outer Banks known for unspoiled beaches, opulent homes, and little commercial development. It has seven bedrooms and seven full baths, a four-car garage, a home theater, and a recreation room with bar and pool table. The large lot also features an oceanside pool and pool house with a bar. It was built last year and listed for $3.6 million. It sold in January for $3.1 million.