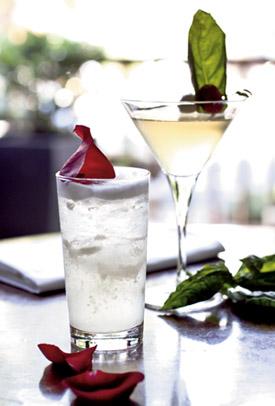 Summer drinks, says cocktail master Owen Thomson, are all about fresh fruit, citrus, and ice—though they have to be blended right. Too often, he says, summer cocktails such as margaritas end up sweet and syrupy. A good summer drink, bartenders agree, should have some tartness.
Thomson, the bar manager at Bourbon in DC's Adams Morgan, says that for his favorite warm-weather drink, he stays local—the gin rickey, a mix of gin, lime juice, and soda water: "It's refreshing, delicious, and was invented right here in Washington."
His second choice is a guilty pleasure: a piña colada. "Not the syrupy coconut mess that is so frequent," he's quick to say. Thomson's recipe calls for a measured mix of fresh pineapple, rum, and just a bit of coconut water and lime.
At Dupont Circle's Firefly, Alice Gaber's summer menu includes a rose gin fizz and a martini caprese. For the gin fizz, she adds rose water to a standard recipe, giving the cocktail, Gaber says, "a summery, flower-garden smell and taste."
For the martini cocktail, she combines thyme-and-basil-infused vodka with house-made tomato water: "Unlike with sweeter cocktails, the saltiness of the tomato water makes this drink a great complement to food."
This article first appeared in the August 2009 issue of The Washingtonian. For more articles from that issue, click here.
More>> After Hours Blog | Arts & Events | Happy Hour Finder | Calendar of Events