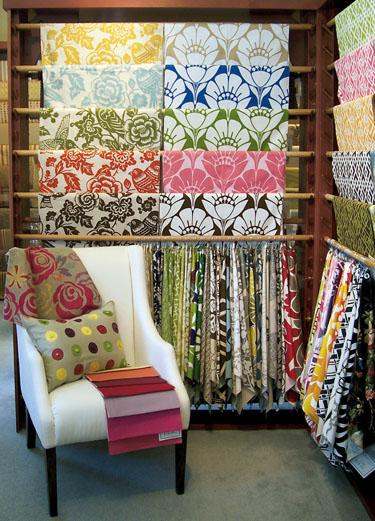 An interior designer can save you money by avoiding expensive mistakes, but not everyone can afford to hire one. Designers in Washington generally charge $100 to $350 an hour—$150 to $200 is typical—and most have retainers. Top designers often won't sign on to do less than your whole house.
Another option: an in-store designer. Many furniture shops have designers on staff who will help you for free or charge a retainer that can be applied toward purchases. Others charge an hourly rate but offer discounts on merchandise.
At Urban Essentials on DC's U Street, for example, customers can bring in room dimensions and design consultants will help choose paint colors and furniture and sketch a floor plan. In-home consultations cost $150, but that's credited toward the purchase if the customer spends $1,500 or more at the store.
Designers at Contemporaria in Georgetown create computer graphics, drawings, and design boards with fabrics and photographs to help customers visualize how everything will fit together. Designers there will sometimes take customers to the Washington Design Center and other stores to find fabrics and items they don't carry.
You have to like the furniture the store sells, because designers draw from their own store's merchandise. Liz Levin was a designer at Vastu, near DC's Logan Circle, before striking out on her own. "When I was at Vastu, I was primarily focused on getting people to buy things from the store," she says.
Levin says in-store designers are a great option for things such as space planning and choosing big pieces. Then you can add accessories from other shops so your home doesn't look like a showroom.
The level of training and experience of in-store designers varies. Some are salespeople who only know the store's products or shop owners with no formal training. Others are licensed or certified and are just as skilled as good independent designers.
At the Kreiss Collection in Chevy Chase, both store designers have at least 20 years' experience, degrees in architecture or design, and membership in the American Society of Interior Designers (ASID), which requires formal training, continuing education, and following a code of conduct.
When choosing a designer, you can ask to see his or her portfolio and talk with previous clients. It's also important to choose someone you get along with.
Marybeth Evans, a designer who has worked for 22 years at Colony House in Arlington, has decorated homes for members of Congress. "The quality of design is certainly here," she says. In addition to lower fees, Evans says in-store designers offer busy clients another advantage: "Everything is in one place. The client doesn't have to run all over town."
These stores have designers on staff.
Mostly Traditional and Transitional
And Beige, 1781 Florida Ave., NW; 202-234-1557. Two on-staff designers take on smaller projects for $150 an hour, with a four-hour minimum. Larger projects require a retainer starting at $5,000, which comes with discounts on purchases and 18 hours of design help. Will refer customers with very large jobs to outside designers.
Baker, 3330 M St., NW; 202-342-7080. Four designers offer free consultations, room planning, and home visits for Baker products only.
Calico Corners, Arlington, 703-536-5488; Fairfax, 703-385-5425; Alexandria, 703-548-6030; Great Falls, 703-430-4450; Rockville, 301-770-3580. Free in-home and in-store consultations that average 60 to 90 minutes.
Colony House, 1700 Lee Hwy., Arlington; 703-524-1700. Six interior designers; $500 retainer per room. If you buy $5,000 worth of furniture within 90 days, $250 is refunded.
Ethan Allen, 8520-A Leesburg Pike, Vienna, 703-356-6405; 2900 Wilson Blvd., Arlington, 703-971-4504; 1800-E Rockville Pike, Rockville, 301-984-4360. Some 30 designers on staff. In-store and home design consultations are free whether or not you buy anything.
Kellogg Collection, 3424 Wisconsin Ave., NW, 202-363-6879; 10241 Old Georgetown Rd., Bethesda, 301-897-9102; 1353 Chain Bridge Rd., McLean, 703-506-0850. Two staff designers; portfolios are available at all three stores. There's a $250 fee with purchase for custom design, which includes home and store appointments. The Immediate Interiors service, for $250 with purchase, will furnish a room quickly with what's in stock.
Kreiss Collection, 5215 Wisconsin Ave., NW; 202-537-7333. Three ASID staff designers. Free in-store advice and free layouts. For in-home consultation, there's a minimum retainer of $2,500, which can be applied toward merchandise.
McLean Furniture Gallery, 8500 Lee Hwy., Fairfax; 703-280-8210. Three designers on staff. The $200 retainer can be applied toward purchases.
Mitchell Gold & Bob Williams, 1526 14th St., NW; 202-332-3433. Six staff members offer in-home consultations for a $200 retainer, which can be credited toward a purchase of $2,000 or more. Staff also offers in-store consultations and assistance with fabric and paint colors; the store works with Benjamin Moore.
Pierre Deux, 10305 Old Georgetown Rd., Bethesda, 301-564-9200; 8065 Leesburg Pike, Vienna, 703-442-9111. Four designers at the Vienna location, one ASID designer in Bethesda. There's a one-time fee ($250 for Bethesda customers, $200 for Vienna) for a two-hour, in-home consultation.
Thos. Moser, 3300 M St., NW; 202-338-4292. Free in-home design help—staff can take measurements and create digital floor plans to help with furniture selection.
Urban Country, 7117 Arlington Rd., Bethesda; 301-654-0500; . Four designers; three are licensed. The store offers three packages: a $625 five-hour contract to design one space; a $1,250 ten-hour service for two spaces; and a $350 appointment to fill in a room with accessories. Fees don't include the cost of items. Those who sign up for the ten-hour or accessories package get a discount on purchases.
Washington Design Center, 300 D St., SW; 202-646-6100. The design center has a new consumer buying service: A licensed interior designer offers a free two-hour consultation during which customers can shop from any of the 60 showrooms—many of which are open to the trade only. The service is available Monday through Friday.
Mostly Modern and Mid-Century
Adlon, 1028 33rd St., NW; 202-337-0810. Three designers on staff; one is licensed. Minimum retainer of $500 can be credited toward a purchase.
Anora Home, 5252 Wisconsin Ave., NW; 202-363-3033. Three consultants. Retainer of $1,000 a room can go toward merchandise.
Bo Concept, 3342 M St., NW; 202-333-5656. Four interior designers offer free in-store consultations. Home visits require a $50 retainer, which can be credited toward a purchase.
Contemporaria, 3303 Cady's Alley, NW; 202-338-0193. Three designers. Retainer is applied toward purchase; retainer for a total remodeling project is $2,500.
Jesse Showroom, 1701-U International Dr., McLean; 703-556-4443. Two design consultants; one licensed designer. Free design services with a purchase of $5,000 or more.
Ligne Roset, 3306 M St., NW; 202-333-6390. Four licensed staff members offer consultations for $120 an hour, with a minimum of two hours; that fee is waived if the client makes a purchase. Staff is also available for in-home consultations.
Poltrona Frau, 1010 Wisconsin Ave., NW; 202-333-1166. A staff architect and a staff interior designer provide free in-store advice. Charges for in-home consultations vary by project.
Rckndy, 1515 U St., NW; 202-332-5639. There's one designer at this store (pronounced "rock candy"). Free in-store consultation with any purchase.
Roche-Bobois, 5301 Wisconsin Ave., NW; 202-686-5667. Four designers; two are licensed and certified. Retainer of $1,000 a room is applied toward purchase.
Sixteen Fifty Nine, 1659 Wisconsin Ave., NW; 202-333-1480. Two staff designers charge $100 an hour and will visit your home. Customers who use design services get a 20-percent discount on anything in the store.
Skynear and Company, 2122 18th St., NW; 202-797-7160. Two design associates. A two-hour, in-home consultation costs $125. Customers who buy $1,500 in furnishings get half of the fee applied toward purchase; spend $5,000 or more and get it all back. For $99, the store can place accessories in a home and rearrange existing ones; buy $500 in merchandise and get half the fee back; buy $1,000 or more and get the entire fee back.
Theodore's, 2233 Wisconsin Ave., NW; 202-333-2300. Five designers; three are licensed and certified. A retainer, which varies by project, is applied toward purchases.
Urban Essentials, 1330 U St., NW; 202-337-4462; . Four staff members offer in-home design advice for $150, which can be credited toward a purchase of $1,500 or more. In-store consultations are free.
Vastu, 1829 14th St., NW; 202-234-8344. Five designers on staff offer in-store and at-home consultations for $100 an hour. The fee is credited toward a purchase.
This article first appeared in the August 2009 issue of Washingtonian. For more articles from that issue, click here.