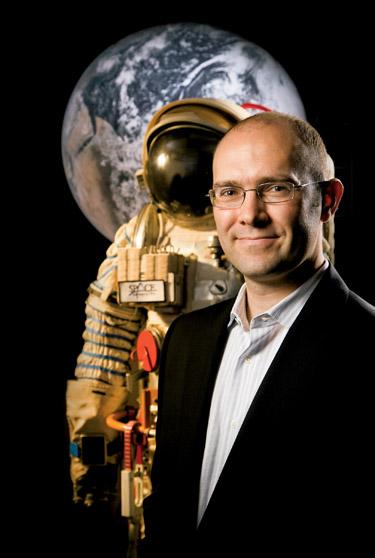 Growing up in Colorado, Eric Anderson loved Star Trek and dreamed of one day reaching the stars. But when his hopes of becoming an astronaut were dashed by poor eyesight, he set his sights on another mission: sending others into space.
His plan to offer extraterrestrial trips to regular people—rich regular people—was a tough sell for the then-23-year-old. "I got laughed at," he says.
Beam forward 12 years and today you'll find Anderson in the Vienna office of Space Adventures, the only space-travel agency in the world that has sent customers into orbit. The company, which handles 1,500 customers a year, offers trips ranging from a taste of weightlessness, for around $5,000, to a visit to the International Space Station. Seven people have bought tickets for that ultimate ride aboard a Russian Soyuz spacecraft; it costs $35 million, plus another $10 million for a space walk.
Anderson's astronaut dreams led to a degree in aerospace engineering—he's a rocket scientist. He landed a job developing software for space missions, but he couldn't shake his idea of space tourism—or a lesson he learned as a NASA intern.
"I realized the government had no interest in making space flight more accessible," he says. If private citizens were going to travel in space, he decided, he'd have to send them there himself. He sent his first customer, tycoon Dennis Tito, into space in 2001.
Anderson would like a trip himself, but though business has been brisk, he won't be able to afford one for a while. "I'm just the salesman," says the father of four who lives in Vienna with his wife, Inessa, a Russian-born concert pianist.
Space Adventures is now selling tickets to orbit the moon in the near future. The price? $100 million. That's the trip he most wants to go on.
Says Anderson: "I've never been intimidated by big ideas."
This article first appeared in the September 2009 issue of Washingtonian. For more articles from that issue, click here.