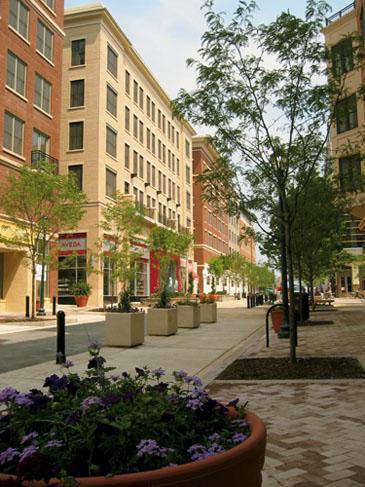 When Ronnie Ng started searching for a home last year, he zeroed in on Rockville. He wanted to live near public transportation, and Rockville has four Metro stops.
"I do own a car, but I love having such easy access to the Metro," says Ng, a 27-year-old project manager at the US Nuclear Regulatory Commission. In early June, he bought a one-bedroom, one-bath condo at the Gallery at White Flint, a high-rise near the White Flint Metro station, for $290,000.
Along with convenience, Rockville has good restaurants, the Strathmore performing-arts center, and lots of shopping. Good real-estate deals are luring buyers such as Ng. In the last few years, prices have fallen by about 15 percent for single-family homes and 20 percent for condos, says Robert Lee, owner of the Bethesda Realty Group and a longtime Rockville resident.
Twinbrook, a residential enclave close to the Metro station of that name, is one of the city's popular neighborhoods; four-bedroom houses there average around $300,000. Western Rockville, including the neighborhoods of College Gardens and Woodley Garden, is another sought-after area; houses typically sell for $500,000 to $800,000. Prices are similar in King Farm, a neo-traditional neighborhood of townhouses, condos, and single-family houses within walking distance of shopping.
Rockville has lots of condos. These three buildings recently went on the market:

At White Flint Station (11800 Old Georgetown Rd.; 301-468-0300)—across the street from the White Flint Metro station and just off Rockville Pike—residents have access to a club room, swimming pool, fitness center, and parking. The one-, two-, and three-bedroom condos have nine-foot ceilings, hardwood floors, and stainless-steel appliances. Prices range from $319,000 for a 759-square-foot one-bedroom to $557,000 for a 1,400-square-foot three-bedroom.
Midtown Bethesda North (5750 Bou Ave.; 301-770-8604) is two blocks from the Twinbrook Metro. Amenities include a guest suite for overnight visitors and a screening room with surround sound. The condos come in a variety of floor plans. About 40 two-bedrooms are still available, from a 1,300-square-foot unit for $430,000 to a 1,900-square-foot penthouse for $765,000.
The Palladian (38 Maryland Ave.; 301-294-7477) is a 152-unit building in Rockville Town Square. It offers a lease-to-own option—you can rent, buy, or choose to buy at the end of your lease. Only a few units are left for sale—including a 1,000-square-foot one-bedroom for $474,900 and a 1,200-square-foot two-bedroom for $589,900—but more may come on the market if renters decide not to buy at the end of their leases. Condos come with stainless-steel appliances, hardwood floors, and nine-foot ceilings. The building is two blocks from the Rockville Metro.
This article first appeared in the August 2009 issue of Washingtonian. For more articles from that issue, click here.