Back to School Guide
→ Greening Your Back-to-School Shopping List

→ Back to School 2.0: Gadgets for Students

→ Great First Day Clothes for Girls

→ Great First Day Clothes for Boys

→ Spicing Up Brown Bag Lunches

Getting the Basics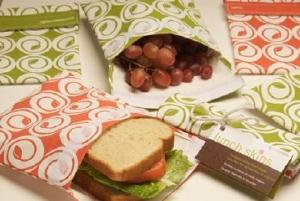 Sure, Staples can cover your bases—the box chain carries Mead Five Star notebooks made with recycled paper alongside "green" binders and pens—but Target had some of the most unusual (and fun) eco-products we could find. Smencils are pencils made from rolled sheets of newspaper rather than wood—you can see the paper layers as you sharpen them. As an added bonus, the pencils come in scent varieties such as bubble gum, grape, cinnamon, and cotton candy. They start at $11.99 for a pack of ten.
Target also carries Elephant Poo Poo paper journals, which are made from—ready for it?—elephant dung. The 20-page notebooks ($10.99) come with pamphlets on elephants, so Junior might learn a little something, too.
Green Lunch
Brown paper bags and plastic water bottles are undeniably wasteful; try reusable containers that are not only functional but also stylish. Greater Goods on U Street, Northwest, has lots of solutions, including Lunchskins Reusable Sandwich Bags, colorful pouches made of a moisture-proof fabric that can even be tossed into the dishwasher. A set of two, which costs $14.50, comes with orange and green pouches that are decorated with snazzy patterns.
The To-Go Ware Stainless Steel Food Carrier is another good pick. The souped-up lunch boxes ($19.95) are lightweight, easy to clean, and good for insulating both hot and cold food. The lid doubles as a plate, and it comes with a smaller container that's ideal for sauces or smaller snacks. For an easier-to-store option, the Acme Reusable Insulated Lunch Bag ($14.50) is made of recycled plastic and comes with a freezer pack. Pair it with a bamboo utensil set ($11.95), complete with holders made of recycled water bottles.
Speaking of water bottles, kids might like the animal-motif ones from Paper Source. The stainless-steel bottles ($21.95)—think dent-resistant!—are patterned with whimsical designs such as birds and monkeys. Here's a bonus: A portion of the sales goes to support clean-water projects in developing countries.
Eco Extras
Envirosax totes ($9.95) can hold extra things such as gym clothes or a lunch and be easily folded up and stuffed into another bag. The Flotsam and Jetsam tote bag ($14.95) is made from used plastic water bottles and has an artsy decoration. Who knew green could be so colorful?