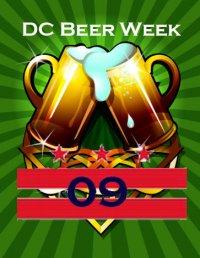 If you don't like beer, you may want to get out of town next week. DC Beer Week 2009, the inaugural celebration of all things suds in the Nation's capitol, kicks off Sunday for a six-day marathon of hops, malts, and barley.
The independently organized event features more than 12 breweries and 25 DC restaurants participating. Granville Moore's Teddy Folkman and Jeff Wells—who works for the DC-based distrbutor Dops—are two of the main organizers.
"The idea was to have beer-and-culinary events to highlight beer's importance in the culinary world, and vice-versa," says Walsh, who also pens a column about DC and Virginia beer for Ale Street News.
Walsh says Folkman came up with the idea, and things came together very quickly—so quick that it's all been organized in the last month. Beer Week is doing minimal adverstising and starting small, with hopes that it'll catch on and expand next year.
With so many events and so much beer, navigating the week could be just as hard as getting home each night. The full schedule of events is here. Here's a handy list of Beer Week options:
Sunday, August 16: Rock & Roll Hotel plays host to the official Beer Week kick-off party with the Unity Jam, an all-day event. The venue opens at 2 PM, and the concert — featuring See-I, the Blackjacks, Laura Tsaggaris, and Jeff Wells — starts at 4 and ends at 8. Tickets cost $10 for the mix of reggae, funk, rock, and folk bands, but there's also a special VIP option, where the beer comes into play. A limited amount of $20 beer-tasting tickets will be available. Each ticket gets you ten four-ounce samples of various craft beers, including brews from Abita, Allagash, Brooklyn, Rouge, Troegs, and Victory.
The Pug—just down the block from Rock & Roll Hotel—hosts the official after-party at 8:30. There'll be free cheese puffs, foosball, and various craft beers served in cans, of all things.
Monday, August 17: New England's Allagash Brewing Company teams up with Granville Moore's for Monday's flagship event. Allagash president and brewmaster Rob Tod will be in attendance, and Granville's executive chef Folkman will prepare a five-course menu. At 7, there'll be a smorgasbord of finger foods: meats, cheeses, and fondue, paired with Allagash Hugh Malone, a Belgian-style IPA, before the full meal, which starts at 7:30. Among the dishes will be a roasted-beet salad, an Allagash-marinated lamb shoulder, and cured pork belly. Each dish is paired with a hand-picked Allagash brew. $80.
Did you know beer pairs well with cheese? At the Big Hunt's Sausage, Cheese and Beerliciousness, you'll be able to sample several beers from Allagash, Rogue, Brooklyn Brewery, Dogfish Head, Troegs, and Victory, which will each be paired with their cheeses and sausages made in the same region. Brewery representivies will be on hand to answer questions. $25; 7 PM.
Lovers of Delware's Dogfish Head should head to Brasserie Beck on Monday, for happy hour (5 to 7) for three $5 Dogfish drafts: Raison D'etre, Fort, and Theobroma—the limited-edition Aztec-style chocolate beer. The company's East Coast representative will also be on hand.
At Birreria Paradiso, the highlight isn't the beers, it's the beer cheese. Yes, the restaurant is cooking up a special pie for Beer Week: a pizza with endive, caramelized onions, and Chimay-beer cheese. Chimay Blanche beer will be on tap, and there'll be Chimay Red and Blue by the bottle. A Chimay representative will be on site to open a six-liter bottle of Chimay Blue grand vintage, one of only 20 such bottles in the US. Prices are not set yet. 5 PM.
The Black Squirrel in Adams Morgan is hosting an event called Hop Times in the City: A Beer Tasting for Hopheads & the People Who Love Them. There'll be samples of six of the hoppiest and highest-alcohol-content beers around: Bear Republic Hop Rod Rye, Green Flash West Coast IPA, Avery Maharaja Imperial IPA, Lagunitas Hop Stoopid, Dogfish Head 120 (which is a staggering 20 percent alcohol by volume), and the DC debut of Speakeasy Double Daddy IPA. Owner Amy Bowman will also be mixing up a hoppy beer cocktail—think a margarita with beer—and admission includes a family-style barbecue buffet of food cooked with hoppy beers. The $40 ticket includes unlimited food, four-ounce samples of each beer, and $1 discounts on all featured beers. 7:30 to 10 PM.
Tuesday, August 18: Starting at 5 PM, the Reef will serve five brews from Newport's Rogue Ales, which includes one on tap and one pumped by hand. At 10 PM, a thousand raw oysters will be served, but if you're not a fan of oysters, there'll also be small-plate food specials paired with one of the Rogue brews.
Wednesday, August 19: Curious to see how beer is made? Check out District Chophouse on Wednesday, where all of the beers served are brewed in house. Starting at 3 PM, there'll be tours of the brewery and fermentation room located on the second floor, or you can hang out in the brewer's lounge, which has a view of the brewery. All beers will be half-price during happy hour from 3 to 7 PM, and the choices are endless, from light lager and bourbon stout to oatmeal stout and amber ale. Barrett Lauer, the District Chophouse head brewer, will be around all night to answer all of your beer-related questions. Lauer will also be serving barrel-aged barley "wine" ($2.50 per glass), a strong vintage beer that he has been aging for three years.
Capitol Lounge is taking 25 percent off all Belgian and Belgian-style bottled beers, including St. Louis Framboise, Delerium Tremens, and La Chouffee Golden. The discount also applies to the 750-milliliter bottles. Chef Teddy Folkman will be serving Belgian dishes, including his famous mussels for $10.
From 5:30 to 8:30, Marvin is hosting an event called "Hit for the Cycle." Beer Director Chris Surrusco put together a progressive tasting of four Belgian beers: an amber ale (the single), a dark ale (the double), a high-alcohol golden ale (triple), and a high-alcohol dark beer (the quadruple). All ales were selected from American breweries that brew in Belgian styles. For $35, you'll get those four 12-ounce beers as well as a wristband that allows access to a buffet, which includes Belgian-beer-braised ribs with house-made barbecue sauce, cheese croquettes, and Belgian meatballs in chili sauce. Every participant is entered into a raffle (held at 7:30) to win two tickets to Friday's Nationals game against the Brewers.
CommonWealth, a British-style gastropub, is celebrating Beer Week with Victory Brewing Company. From 5 to 11, all Victory beers will be $3.50 for a 16-ounce our and $4 for 20 ounces. A flight of four Victory beers will be $10, and at least two beers—including Uncle Teddy's Bitter—will be pumped from a cask. Victory Brewing Company representatives will be on hand to answer questions and give out free souvenirs such as glasses, towels, and T-shirts. If all the beer drinking makes you hungry, try the tasting menu: All dinner specials that night will be paired with the perfect brew.
Thursday, August 20: Not only is Asylum celebrating Beer Week, it's also celebrating its 18th anniversary. Starting at 9 PM, the bar's beer representative Jeff Wells from DOPS will offer free six-ounce tastings of Rogue Double Dead Guy Ale and Coney Island's Sword Swallower. The newest addition to Asylum's tap line, Troegs Trogenator, a strong but sweet double bock, will be $6 the whole night. Happy hour, which runs from 5 to 8 PM, includes $1 off all drafts and rail drinks as well as $1.50 tacos and 50-cent wings. The kitchen will serve its regular menu items until 10:30. The rock band Eat It Raw will perform from 9:30 PM to 12:30 AM.
On Friday, Asylum will kick off its 18th-anniversary party at 5 PM with 18-cent Natty Lights until 10 and $1.18 for the rest of the night. DJ Joshua will spin dance rock throughout the night, and the rock band Lucky Dub will also perform at 9:30.
Friday, August 21: What better place to celebrate the last night of DC Beer Week than at a baseball game? On Friday, the Washington Nationals are playing the Milwaukee Brewers, and the Nationals park is offering discounted tickets: LF/RF reserved seats are $16 (regularly $24), and LF/RF mezzanine seats are $23 (regularly $30). For tickets, call Mike Benko at 202-640-7648 and mention DC Beer Week.
More>> After Hours Blog | Arts & Events | Happy Hour Finder | Calendar of Events