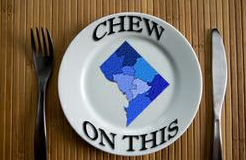 Did the long lines scare you away from Hello Cupcake's free-cupcake offer this morning? Here's some good news: There are more free goodies today! The Gibson, the speakeasy-like cocktail lounge near DC's U Street, is giving out free gin rickeys from 8 to 9 tonight. We wouldn't be surprised, though, if the line snakes down U Street and gets tangled up with the Ben's Chili Bowl queue. So we want you to tell us and your fellow readers where else to go for a cold, refreshing cocktail that'll cut through this suffocating humidity. Who has the best cocktails—or better yet, which bar/restaurant with great drinks also has a breezy deck or patio?
Let us know in the comments!
Related:
Chew on This: What's Your Favorite Farmers Market?
Chew on This: What's Your Favorite Delivery Pizza?
More>> Best Bites Blog | Food & Dining | Restaurant Finder
Follow the Best Bites Bloggers on Twitter at twitter.com/bestbitesblog