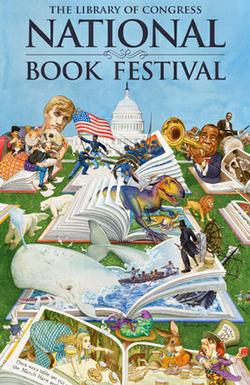 Bookworms, rejoice! The ninth annual National Book Festival hits the Mall Saturday, September 26, with a star-studded lineup celebrating reading, writing, and all things books. The free Library of Congress-sponsored event boasts President Obama and First Lady Michelle as honorary chairs, though Jennifer Gavin, the library's senior specialist for public affairs, says it's still unclear whether they'll attend.
Pavilions—which include fiction and fantasy, mysteries and thrillers, teens and children, history and biography, and poetry and prose—will give visitors access to more than 70 popular writers, poets, and illustrators as they discuss and sign their books. The Library of Congress Pavilion will host family-friendly diversions focused on cultural preservation, the importance of reading, and other topics.
Among the headliners: novelists John Grisham, John Irving, and Jodi Picoult; children and tween favorites Sharon Creech, Judy Blume, Jeff Kinney, and Jon Scieszka (currently the Library of Congress's national ambassador for young people's literature); nonfiction authors Ken Burns, Gwen Ifill, and Jon Meacham. Others to look for include Paula Deen, Lois Lowry, Jerry Pinkney, David Shannon, Sue Monk Kidd, Douglas Brinkley, and more.
James Patterson, author of the Washington-centric Alex Cross thrillers, will pull double duty in the mysteries-and-thrillers and teens-and-children pavilions. The District serves as the backdrop for many of George Pelecanos's crime novels as well—look for him in mysteries and thrillers.
The Pavilion of the States invites book buffs to meet representatives from every state and learn more about each one's writers, libraries, and reading programs. Throughout the day, authors are expected to stop by their home states' tables to meet fans.
This year will also help launch Read.gov, a Web site that combines all of the Library of Congress's literary-promotion programs into a single user-friendly medium. In keeping with the technological theme, attendees will have a variety of ways to keep up to date on festival schedules. Followers of the Library of Congress on Twitter (@librarycongress, hashtag #nbf), fans on Facebook, or festival-goers who text "book" to 61399 will receive the latest news. Free author podcasts will also be available for download through the library's Web site, loc.gov.
The festival runs from 10 to 5:30.
More>> After Hours Blog | Arts & Events | Happy Hour Finder | Calendar of Events