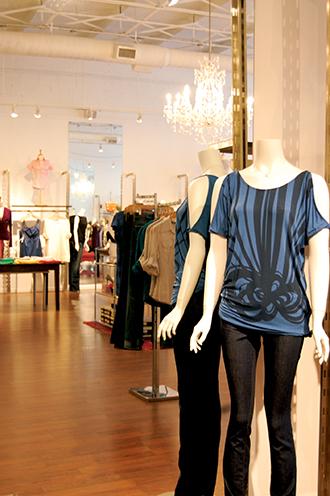 >> See the full Best of Annapolis package here
Dressing Up
Owner Pamela Watson stocks all the essentials for the Town and Country set—Calypso, Elizabeth McKay, J. McLaughlin, and a healthy stash of pearls—but you can update the look with chevron-knit scarves or elephant-stamped bangles. Wear an old outfit to the shop's Little Old Dress Party, held the last Thursday of the month. Watson and her team will determine whether your ensemble is destined for revival—with, say, a fresh brooch—or the donation pile.
62 Maryland Ave.; 410-280-8845.
In the basement of a gingerbread-style house built in 1708, this laid-back shop breathes West Coast attitude into midshipmen territory, selling surfer-chic clothes for guys and gals by Rip Curl, Billabong, Hurley, Element, and a house line. Beachy home accents and jewelry make fun gifts—such as flip-flop coasters that scream "destination wedding."
10 Francis St.; 410-990-4475.
Owner Michele Deckman attracts a loyal following with fashion shows, personalized attention, and her well-edited selection of flowy cocktail dresses, girly going-out wear, lingerie, and oversize totes. Coveted Hello Skinny jeans and emerging designers Abi Ferrin and Bryan Bradley share space with Alice & Olivia and Black Halo.
30 Market Space; 410-280-9195.
Outdoor enthusiasts swear by this Mid-Atlantic outpost of the environmentally minded brand—launched by a Norwegian sea captain in 1877—for stylish but sturdy sailing fleeces, ski jackets, and down parkas. Clothes range from lifestyle to pro-sports-level quality.
132 Main St.; 410-990-4359.
Clotheshorses saddle up to this cheery shop for cool denim, special-occasion dresses, and everyday frocks by 7 for All Mankind, Citizens of Humanity, Ella Moss, Karta, and Tibi. The store draws contemporary-minded shoppers ages 25 to 65.
175 West St.; 410-626-9726.
For 40 years, this upscale men's store has reflected, as its slogan puts it, "the Annapolis way of life," outfitting gentlemen with an East Coast mix of office-ready conservative classics and resort wear for the links or sailboat. You'll find a sea of khakis, handcrafted needlepoint belts, bow ties, and collared shirts organized by classic brands such as Vineyard Vines, Polo, Tommy Bahama, Southern Tide, and Cutter & Buck.
232 Main St.; 410-263-1175.
Owners Fern Elliott and Beth Ingham sell clutches and nature-inspired jewelry by designers near and far, from Baltimore-based Lotus to Betty Carré and MGold from Elliott's native Brazil. You can belly up to the Jewelry Bar for a custom stone or freshwater-pearl creation, handcrafted by Elliott's mom, designer Leda Reis.
145 Main St.; 410-263-3309.
Fun-loving fashionistas head to this den full of trendy clothes by Free People, BB Dakota, Gypsy, Glam, and Collective Concepts. Longtime Hollywood set costumer Catharine Incaprera also offers funky Rocket Dog shoes, Designal handbags, and makeup by Sugar.
181 Main St.; 410-295-7878.
Fashionistas flock to Jessica Jordan Paret's airy boutique for denim (J Brand, Kensie Denim, Level 99) and flirty dresses (Max & Cleo, BB Dakota, BCBG Max Azria) plus several house labels. The inventory is plentiful, and most items ring up under $100. Weary shopping companions can loaf in the Man Lounge, complete with leather sofas.
179 Main St.; 410-626 6030.
"Pink" is the operative word, the shop's common denominator for a colorful array of upscale halter dresses, flowery skirts, and shrunken polos with pre-popped collars. Prepsters—and their tween counterparts—get their fix of resort and yacht wear from Lilly Pulitzer, Vineyard Vines, Kate Spade, and Jack Rogers. There's also a swim collection, from teeny bikinis to cute one-pieces.
16 Market Space; 410-216-9994.
Denim devotees, take note: This new offshoot of the Georgetown shop builds on owners Chris and Lindsay Buscher's tradition of fashionably girly tops and dresses, but it also has been designated Urban Chic's denim headquarters, which translates to a super-sized stock of designer jeans.
1915 Towne Centre Blvd.; 410-571-2777.
Cute for Kids
Sensory overload is likely in this hot-pink, orange, and yellow boutique for wee rockers, from infants to seven-year-olds. Hipster parents can dress their cool kids in sundresses and vintage rock T-shirts, from the Ramones to Led Zeppelin. Most clothes are made with organic and recycled materials.
158 Main St.; 410-263-7878.
Arts, Gifts, and More
Since 1969, this pottery studio has welcomed onlookers to watch its artisans in action while asking questions and perusing shelves lined with a multihued mix of fine pottery made both in-store and by artists nationwide. Motifs range from Maryland crabs and cutesy sayings to ombre fades and contemporary splashes of color.
40 State Cir.; 410-268-6153.
For top-shelf candles and niche perfumes you probably won't find at a department store, follow locals to this elegant boutique, which just moved into twice-as-big digs in a new space near the Annapolis Mall.
2017 Renard Ct.; 410-990-0664.
Chesapeake Trading Company
Like a bookstore on steroids, this Main Street shop stocks an eclectic inventory of page turners as well as a sizeable selection of jazz CDs, apparel by North Face and women's apparel by Horny Toad, and hand-carved waterfowl by New Jersey artist Lance Lichtensteiger. One whole wall is devoted to Vera Bradley bags.
149 Main St.; 410-216-9797.
This family-owned gallery representing 275 artists—from shop patriarch Terry Moore's stained glass to popular Canadian artist Sid Dickens's decorative tiles—displays a rotating collection of rainbow-colored eye candy (kaleidoscopes, vases, arty window dressings). "We're definitely form over function," says co-owner Megan Cureton. "You're not going to see wooden bowls."
8 Francis St.; 410-263-5556.
The economy may have dashed your yacht dreams, but you can still own a small piece of a sailboat in the form of a sturdy duffle bag stitched from recycled sails. This offshoot of the Sail Loft in Newport, Rhode Island, also sells jackets, vests, totes, and messenger bags—all waterproof and UV-protected. The shop gladly accepts donations of old sails.
42 Randall St.; 410-263-4982.
Owned by the third generation of Smyths, this Maryland jeweler opened a spacious shop last fall at the new Annapolis Towne Centre at Parole. The jewelry is top-notch, perfect for shoppers looking to pop the question or surprise a loved one just because. There's a nice selection of gift items such as crystal bowls and engravable pewter picture frames.
1910 Towne Centre Blvd.; 443-321-0300.
Vie Necessary Luxuries
In-the-know hostesses head to this tiny boutique for luxe home accents that often double as conversation starters: napkin rings crafted from South American fish gills, crab-embroidered hand towels, oyster-shell candles, Murano-glass pens, artisanal Italian pewter, cashmere throws, and plush throw pillows. "For the most part, once an item is gone it's not reordered," says owner and interior designer Alex Clymer. "We want objects bought from us to be limited and exclusive."
86 Maryland Ave.; 410-269-6100.
It's easy to go green at this one-year-old miniature department store that promotes a green-gone-fab lifestyle—with not a whiff of patchouli in the air. You can peruse limited-edition clothing designs by local artists, organic lollipops, jewelry crafted from recycled soda cans, handbags made from old billboards and inner tubes, handmade Company C rugs, and toddler clothes cobbled together from designer scraps.
6 Fleet St.; 410-268-2258.
Just for Pets
A magnet for furry shoppers and their owners, this shop stocks a full wall of novelty collars and leashes, from nautical and canine themes to argyle and gingham. The ten-year-old shop raises funds for local charities and strikes a balance between whimsy and necessity, from hand-painted water bowls to organic catnip, gourmet "ice cream," and life jackets. Don't miss the Bichon "Fries" dog treats.
64 State Cir.; 410-263-8683.
Special Treats
Follow the trail of tea sophisticates to this tucked-away emporium with teapots and 100 types of loose-leaf teas. Owners Manelle and Peter Martino draw inspiration from five generations in the tea industry—tracing back to Manelle's great-great-grandfather, an 1880s Dutch tea-estate manager in Sri Lanka. Look for their signature blends, from the Sailor's Delight to the Barack Obama, a blend of high-end Kenyan teas, Hawaiian mango and papaya, and blue cornflower petals. Brides can order custom blends.
6 Cornhill St.; 410-263-8327.
Save gas money and be immersed in Pennsylvania Dutch country in the Annapolis Harbour Center, about a ten-minute drive from downtown. Amish merchants from Lancaster, Pennsylvania, set up shop Thursday through Saturday with handmade furniture and foodstuffs fresh off the buggy as well as popular grab-and-go snacks such as piping-hot soft pretzels and shoofly pie.
2472 Solomons Island Rd.; 410-573-0770.
This article first appeared in the October 2009 issue of The Washingtonian. For more articles from that issue, click here.