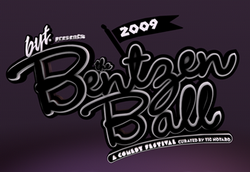 Be honest: When was the last time you had a good, tear-inducing, stomach-wrenching, oh-God-I-can't-breathe laugh?
Been a while?
Try this: The DC social Web site BrightestYoungThings.com has joined forces with the Los Angeles-based comedian Tig Notaro to present an all-out, four-day comedy festival, the Bentzen Ball, to be held at the end of October, featuring appearances by some of the best-regarded comedic minds in the country—nearly 60 of them, in fact. Here's how it breaks down: 21 shows, each comprising seven or eight standup performances, will be held at a smattering of U Street and 14th Street, Northwest, venues between Thursday, October 22, and Sunday, October 25. You can purchase tickets for individual shows, or you can go whole hog and buy a weekend pass.
Headliners include Patton Oswalt and Sarah Silverman, who are performing on opening and closing nights, respectively. Coming straight out of his sports-obsessed persona in Robert Siegel's darkly funny Big Fan, Oswalt's hipster-geek, laser-sharp standup routines are endlessly fun. And comic megastar Silverman's standup persona blithely lampoons plenty of controversial social issues with joy and plenty of wit. The New Yorker called her "a sort of twisted Gracie Allen."
The rest of the comedians aren't anything to sneeze at, either—big names such as Todd Barry, Mary Lynn Rajskub, Jimmy Dore, Paul Rust, Reggie Watts, and Lizz Winstead shine on the festival schedule. Think of it this way: Without some of the people at this festival, we wouldn't have films such as Little Miss Sunshine, Funny People, or Inglourious Basterds or shows such as The Daily Show, Flight of the Conchords, Saturday Night Live, Best Week Ever, Conan O'Brien, or Parks and Recreation. The entire lineup, with bios, can be seen here.
Between acts, catch a taping of Jesse Thorn's public-radio show The Sound of Young America, which takes place Saturday at Bohemian Caverns. Learn more about the show—a smart, funny, interview-based production that grew out of a popular college program—here. Tickets are $10 at the door and will be available for sale online soon.
One-time tickets are $15, or $30 for the opening and closing shows. See three shows for $40 (sorry, no Patton or Sarah), or see 'em all for $110 (yes, Patton and Sarah included). A note about the venues: They're purposely intimately small—including the Black Cat, Studio Theatre, the 9:30 Club, and Bohemian Caverns—so if you plan to go, get moving. You can view the full festival schedule here—and check it often, because it's subject to change. Part of the festival's proceeds are being donated to the Walter Reed Army Medical Center, which provides health services for active and retired military personnel.
Festival tickets can be purchased online here. And stay tuned for Washingtonian.com interviews with four of the Bentzen Ball comics—including both headliners!
More>> After Hours Blog | Arts & Events | Happy Hour Finder | Calendar of Events