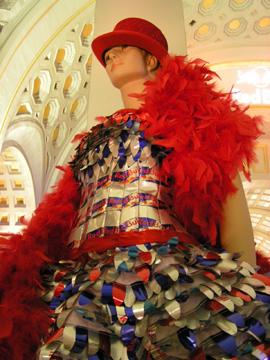 A bull, an octopus, and a shark—just some of the aluminum creatures on display at Union Station as part of Washington's first "Art of Can" exhibition.
Sponsored by Red Bull, the energy-drink company that "gives you wings," the exhibit kicked off last night, attracting a crowd of art wonks and caffeine addicts alike.
Through October 19, Washingtonians are invited to check out (for free!) some of the country's most highly carbonated contemporary artworks—all created or inspired by Red Bull's iconic blue-and-silver cans—on display at Union Station's main lobby.
Fifty-six works are on display, including an eight-foot octopus and a larger-than-life bull, which incorporates more than 2,000 cans into the design. The artists responsible for the sculptures come from all walks of life: students, industrial designers, sales professionals. Most are from the United States, but some have traveled from as far away as the United Kingdom.
Check out photographs of the exhibit.
Winners of the exhibition were announced at last night's opening reception. Kathryn J. Beale, a 53-year-old eco-artist and sculptor from Granger, Texas, took home first prize for her entry, "Common Ground," which she called "the hardest sculpture I've ever made." The piece features a donkey and an elephant sipping a drink from two straws. Who knew politics could be so cute?
Second place went to Thomas David Fesperman's "Great Bull Cubed," and 22-year-old Bryan Lawson took third place for "Taurus in the Rye," a 270-by-100-foot crop-circle carving he made on his Rural Retreat, Virginia, farm. He's got the still images and time-lapse photography to prove it.
Winners were selected by a panel of judges that included Philippa P.B. Hughes, founder of DC's the Pink Line Project, Laurel Lukaszewski, a founding member of Flux Studios in Mount Rainier, and George Charles Koch, founder of the DC artist's-service organization A. Salon.
Though winners have already been selected, there's still a chance to have a say. Red Bull will hand out a People's Choice award on the last night of the exhibition, October 19. Just stop by one of the venue's voting kiosks to cast your ballot or vote online.
More>> After Hours Blog | Arts & Events | Happy Hour Finder | Calendar of Events