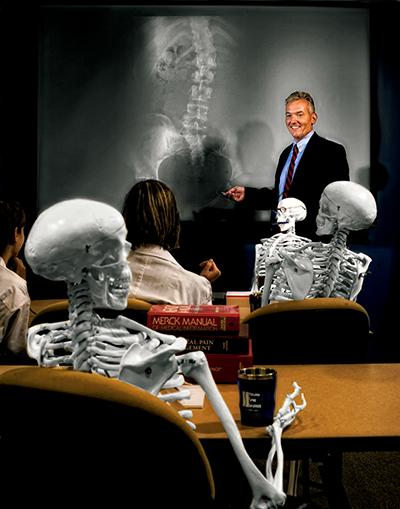 >> Click here to see all the Great Places to Work
One way to keep employees happy? Allow them to learn and grow.
Besides offering challenging work, that might mean giving people projects that stretch their skills, paying for advanced degrees, or keeping staff updated with the latest technology or industry knowledge.
At the Virginia Spine Institute, medical assistants sit in on regular conferences and workshops that expose them to careers in health care. Many go on to become nurses, physical therapists, physicians' assistants, or physicians.
Teaching employees new skills can mean they're less likely to leave. At Rand Construction Corporation, for example, a project manager might move into recruiting. Little wonder that the average tenure is eight years.
"Rand is an entrepreneurial company that allows me and others to grow to our potential," says Elizabeth Grimsley. "The sky is the limit."
Keeping employees engaged might mean recognizing and cultivating their strengths.
"My favorite part of the company's culture," says Tracy Earlenbaugh, a management analyst at Irving Burton Associates, "is that it really is eager to work with each employee's dreams and interests."
That a manager takes the time to foster an employee's dreams can be enough to keep someone inspired.
"I like the atmosphere of encouragement, respect, and concern for one another," says IBA's David Loebsack. "When senior management can call you by your first name, shake your hand, and genuinely be interested in how you're doing, in my eyes that's the sign of a solid company."
Other employers that received high scores for career advancement: Cassaday & Company, Eagle Hill Consulting, the Educe Group, 5AM Solutions, IJIS Institute, McDonald's, the Midtown Group, Ntiva, Portal Solutions, ViON Corporation.
| Organization; Location and Web Site; What It Does | Full-Time; Local Staff | Staff Score on Career Growth (7=Top) | What Makes It a Good Place to Learn and Grow | Besides Employee Development, What Makes It a Great Place to Work? |
| --- | --- | --- | --- | --- |
| Genetic Alliance; Northwest DC geneticalliance.org; Nonprofit health advocacy | 15 | 7.00 | Employee access to a full-time career coach who helps with staff development. | It's like family: Employees get together to share interests—for example, watching The Princess Bride—while a lunch club rotates who brings food that week. Other perks: yoga, free gym membership, flex schedules, a week off at Christmas. |
| HireStrategy; Reston and DC hirestrategy.com; Staffing and recruiting | 45 | 6.82 | Regular training programs covering industry topics such as "candidate pitching"; quarterly reviews. | HireStrategy, which is on the Inc. 5000 list of the nation's fastest-growing firms, has a team-based, open, entrepreneurial spirit. People work and play hard—meeting yearly goals wins a free winter trip. |
| Intelligent Decisions; Ashburn; intelligent.net; Systems integrator | 240 | 6.23 | $6,000 a year budgeted for each employee to take a course, enhance skills, or earn certifications. | At this fast-growing firm, employees say there's emphasis on innovation, ideas, and continued training, including an in-house academy. They also cite a supportive, family-first atmosphere. |
| Irving Burton Associates; Falls Church; ibacorp.us; Management and technology consulting | 166 | 6.26 | Career ladders that identify steps and goals (many current C-level executives worked their way up); no cap on training budget. | Employees like the work—projects include building an electronic health record for soldiers—and how management encourages their dreams and interests. Lots of team building: chili cook-offs, laser tag, cosmic bowling, omelet brunches. |
| Rand Construction Corporation; Alexandria; randcc.com; Commercial general contractor | 114 | 6.52 | Executive coaching and frequent training allowing an employee to develop new skills and change jobs within the company. | In a tough year for construction, employees say layoffs here were handled very well. There's a family feel—with catered lunch four days a week, a ten-year-anniversary cruise, and staffers willing to donate sick days to colleagues. |
| Virginia Spine Institute; Reston; spinemd.com; Spinal health care | 65 | 6.54 | Weekly academic conferences; career succession plans; mentoring. | Physical therapists can work on employees if needed. The lunch area is decorated like a French bistro, with wrought-iron chairs and glass-topped tables. |