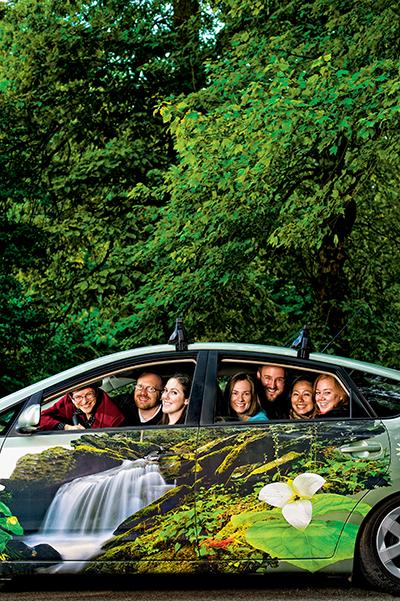 >> Click here to see all the Great Places to Work
Meditation at the office? Ommm . . . why not? Working at some organizations can be about finding your inner chi.
These "do good, feel good" offices are staffed by employees who typically trade low salaries for big dreams. Many hope their work will change the world.
"I know—and see every day—that my work makes a difference," says National Environmental Education Foundation program director Sara Espinoza.
The warm and fuzzy feelings often extend into office perks. At NEEF—which recently held a meditation seminar—staffers are encouraged to go for a hike through Rock Creek Park or a stroll through the National Zoo; their office is near both. Two bikes are available for a midday ride.
At the Century Council, which fights drunk driving, employees wax poetic about how rewarding the work is, but they also know how to have serious fun. It's not everywhere that employees dress up in tie-dye for kicks, hold weekly breakfast clubs, and host a weeklong celebration leading up to a week of vacation between Christmas and New Year's.
Still, it's the work, not the perks, that employees are most passionate about.
Says Century Council administrative assistant Libby Klatt: "This is a place that takes the approach that if you take care of your employees, they will be more likely to succeed and perform well."
| Organization; Location and Web Site; What It Does | Full-Time LocalStaff | Staff Score on Challenge of Work (5=Top) | Besides the Mission, What Makes It a Great Place to Work? |
| --- | --- | --- | --- |
| American Speech-Language-Hearing Association; Rockville; asha.org; Supports speech-language-hearing professionals | 250 | 4.55 | ASHA believes in good health—including that of its employees. A gym offers yoga, Pilates, and kickboxing; retirees can opt into the health plan; and employees can meet with a nutritionist or personal trainer. Best of all is its new "green" building, with lots of natural light and good indoor air quality. |
| The Century Council; Arlington; centurycouncil.org; Fights drunk driving and underage drinking | 17 | 4.86 | Drunk driving is serious, but this isn't a serious place—staff activities include "tie-dye day." There are spot bonuses, a generous 401(k) match, Wednesday breakfast club, and at least 18 vacation days plus a week off between Christmas and New Year's. |
| Global Environment Fund; Chevy Chase; globalenvironmentfund.com; Invests in companies that provide cost-effective solutions for environmental challenges | 36 | 4.84 | Although jobs here can require international travel and managing investments can be demanding, everyone loves that he or she is helping the environment while making money. The firm purchases carbon offsets for employees and has two electric cars. |
| National Environmental Education Foundation; Northwest DC; neefusa.org; Disseminates information about environmental issues | 25 | 4.64 | A relaxed place—every desk has a window view of greenery, and staff recently had a meditation seminar. The office is near Rock Creek Park and the National Zoo, so walks and bike rides are encouraged. Also: 17 vacation days to start, one paid day to volunteer. |
| National Rural Electric Cooperative Association; Arlington; nreca.jobs; Represents electric cooperatives | 549 | 4.70 | Employees like serving co-ops that bring affordable, reliable electricity to remote areas. For a nonprofit, benefits are generous: Spot awards range from $25 to $5,000; an on-site gym offers yoga and Pilates. |
| Sigma-Tau Pharmaceuticals; Gaithersburg; sigmatau.com; Develops drugs for rare diseases overlooked by big drug makers | 39 | 4.65 | The diverse, close-knit staff enjoys at least 20 vacation days a year (going up to 40 by ten years' tenure), a week off at Christmas, up to 100% paid tuition for graduate school, and up to eight weeks' maternity leave. |