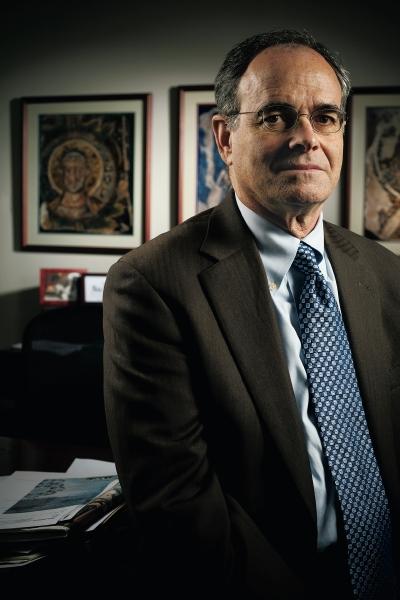 Willi Korte's kids always had a hard time explaining to classmates what their dad did for a living. The colorful German was a lawyer. A historian. A detective of sorts. If they told the whole truth—"My dad hunts for lost treasures"—other kids assumed they were telling tall tales.
Tom Kline's kids didn't have that trouble. Their dad was a lawyer with a pretty standard Washington résumé: Columbia University Law School, a stint at the Justice Department, private practice where he specialized in business litigation. Almost by accident, after he represented Cyprus in an effort to recover stolen antiquities, he built a reputation as one of the nation's leading art-restitution lawyers.
"I worked in this field for ten years before I realized it was a field," says Kline.
Korte and Kline, the sleuth and the lawyer, have worked on art-and-antiquities cases—often together—for 20 years, both of them pioneers in an area that has exploded over the past decade. Their work has set legal precedents, been documented in books, and reached from the German medieval town of Quedlinburg to the living room of a wealthy Washington arts benefactor.
Last year, Kline, with Korte's investigative help, won a major court victory when a federal judge ruled that the sale of artwork during World War II, if coerced by the Nazis, was equivalent to a theft—a ruling that's expected to have implications for much of the artwork and valuables that Jews were forced to sell during that time.
This year, the team won a case that will return to a museum in Stuttgart a valuable book of prints and drawings that was taken by a US Army captain after the firebombing of Germany during World War II. In writing about the Stuttgart case, an antiques journal called Kline "the most famous art recovery attorney in the United States." For his part, Korte (pronounced kor-tay) has been called "the Indiana Jones of the art world."
The two men have helped shine a spotlight on Washington's role in the field of restoring works of art and valuables to their rightful owners. The cases they handle are complex and often ambiguous, usually blending history, law, emotion, and, in the end, ethics.
Sometimes, says Korte, "you're asking someone for something in exchange for nothing—except acknowledgment of their moral obligation to return a work of art."
Korte, 55, works out of his Silver Spring home, a brick Colonial where files and books make the dining-room table, piano, Ping-Pong table, even the treadmill unavailable for their intended uses. Unlike Kline, 62, who sometimes represents collectors or museums in responding to claims of ownership by individuals, Korte has spent his career working on behalf of people and institutions seeking lost works.
A tall, scrappy man with a maverick streak, Korte grew up in Bavaria, the son of a half-Jewish mother who had spent the war years in labor camps. After earning a law degree in Munich and working for the Bavarian Justice Ministry, he came to Washington in the early 1980s as a visiting scholar at Georgetown University.
Doing PhD research on the reconstruction of the judicial system in postwar Germany in the US zone of occupation, Korte pored over newly unclassified American military records at the National Archives and later the Federal Records Center in Suitland. "I had become the National Archives' best customer," Korte says. He was there six days a week from opening till closing time.
Word of Korte's exhaustive journeys through military records reached European archivists and German officials, and they began peppering him with inquiries and assignments, including help with investigations of war crimes. After his fellowship, he made so many return trips to Washington on assignments that he eventually put down roots here, buying a house, getting married, and starting a family.
In the mid-1980s, Korte was called upon by the World Jewish Congress to help with its investigation of Austrian president Kurt Waldheim's ties to Nazi war crimes. In the '90s, he advised Alfonse D'Amato's Senate Banking Committee and the World Jewish Congress on investigations of Holocaust-era assets in Swiss banks.
It was a casual inquiry by a museum curator in Berlin in the mid-'80s that landed Korte in the middle of one of the most notorious art thefts in history.
The curator asked if Korte had come across any information about the Quedlinburg treasures, jeweled religious objects and manuscripts from the 1500s and earlier that were thought to be worth a quarter of a billion dollars. They had belonged to a Lutheran cathedral in central Germany, which hid the priceless treasures in a cave to protect them during World War II. They vanished in the final days of the war.
Korte was intrigued and, through military records, discovered that the cave had been guarded by US forces when the objects disappeared. With few resources and no client or official assignment, he convinced New York Times cultural-affairs correspondent William Honan to help him investigate. Honan, who'd recently covered a case involving the recovery of Byzantine mosaics taken from Cyprus, suggested enlisting the help of the lawyer who'd handled that case and won—Tom Kline.
Unlike Korte, who knew nothing about art when he began his detective work on the $250-million Quedlinburg treasures—"I couldn't even say I was a ferocious museum-goer," he notes—Kline had studied art and art history at Columbia University and had a longtime interest fostered by his artist mother, whose paintings decorate his law office. Along with art, he was interested in history, particularly World War II, and had taught high-school social studies for four years after graduating from college.
The New York native had come to Washington in 1976—after law school at Columbia and a judicial clerkship—and eventually went to work as a trial lawyer at the Justice Department. He moved into private practice in the early '80s, working for a series of firms and eventually Manatt Phelps, which represented the Republic of Cyprus.
In 1989, Kline was handed a case involving the Kanakaria mosaics, sixth-century Byzantine mosaics that had been stripped from a Greek Orthodox church in Cyprus during the looting that followed the Turkish occupation in 1974. The mosaics—depicting Christ as an adolescent, the archangel Michael, and the apostles Matthew and James—had made their way to an art dealer in Indianapolis, who bought them in Europe for about $1 million. That dealer, Peg Goldberg, was trying to sell them to the J. Paul Getty Museum for $20 million.
Kline filed suit on behalf of the Greek Orthodox church and won the return of the mosaics in a case that helped set guidelines for the acquisition of antiquities. The court ruled that the statute of limitations doesn't begin to run as long as a claimant is diligent in trying to recover losses. In this case, Kline proved that Cyprus had been more diligent in looking for the lost mosaics than Goldberg had been in researching the provenance of the Christian antiquities or the reputation of the sellers.
The mosaics were returned to Cyprus, and three photos of them hang in Kline's office behind his desk.
The call about the Quedlinburg treasures came soon after. Kline agreed to join the hunt with only a $200 check from Korte as a retainer and a keen interest in exploring a largely uncharted part of the law.
With Korte and reporter Honan as partners, says Kline, "we had a friendly contest to see who could find the objects first."
One of the treasures, the Samuhel Gospels, a ninth-century illuminated manuscript of the New Testament Gospels, had started to surface on the art market. Korte and Kline visited a dealer at H.P. Kraus, a rare-book firm in
New York, who was rumored to have been offered the manuscript. The dealer, knowing the manuscript was probably stolen, wanted to cooperate with the duo but couldn't divulge private client information. He showed the two men photos of the Samuhel manuscript and one other—which looked to Kline and Korte as if they'd been taken in a bank vault—but wouldn't tell them who had sent him the photos.
Korte made repeated visits to the firm until finally, on one trip, the dealer showed him a 1986 letter from a bank asking for an appraisal of the two manuscripts—but with the bank's letterhead concealed. Then, in true spy-novel fashion, the dealer took an atlas down from his shelf, opened it to a map of Texas, laid a pencil under the name Whitewright, and left the room for a few minutes, according to Korte.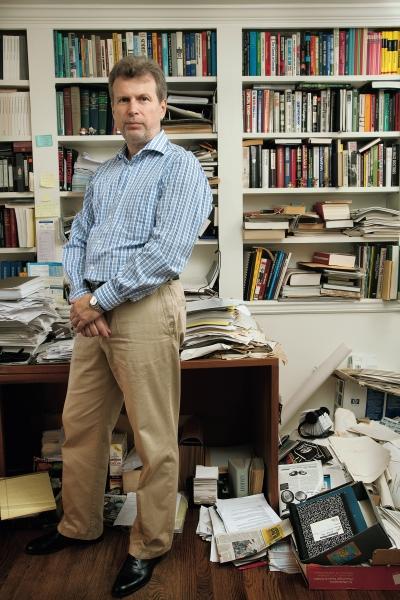 Whitewright was a small town—so small that it had only one bank. Korte flew there, went to the First National Bank of Whitewright, and asked the president about the treasures. They had a "cat-and-mouse conversation," Korte recalls. But the next day, the bank president called Korte to say that any further conversations would be handled by a Dallas law firm.
"I knew my visit had obviously borne some fruit," Korte says. The Quedlinburg treasures were in the bank's vault.
By calling antiques appraisers in the Dallas area, Honan, who later wrote a book about the case called Treasure Hunt, tracked down the family who held the treasures—heirs and siblings of an art-savvy American Army officer, Joe T. Meador, who had taken them from their wartime hiding place and mailed them home to Whitewright.
Korte, who'd been bankrolling his own detective work, finally got the German foreign ministry interested in his discovery, and eventually the German interior ministry and cultural foundation supported the effort to recover the priceless objects.
After much litigation—Meador's family reneged on an early agreement and sent some of the treasures to Switzerland—Kline helped the parties reach a settlement. The family was reportedly paid about $1 million by the German government for the return of the treasures to the German church where they belonged.
Honan, Korte, and Kline were awarded the Officer's Cross of the Order of Merit of the Federal Republic of Germany. Honan's stories about the treasures made the front page of the New York Times. And Korte and Kline—and their accomplishment—earned notice in the art world. "All of a sudden people started talking about art restitution," says Korte.
He and Kline were hooked.
Historically, art transactions were done with very little, if any, probing into the ownership history of the art. The art world, in fact, resisted the notion that buyers of art should have to conduct the kind of diligence that would be required for a house or a car. "It was 'don't ask, don't tell' not very long ago," says Kline. Such lax standards have permitted stolen objects to circulate freely, he says.
In 1995, an award-winning book, The Rape of Europa: The Fate of Europe's Treasures in the Third Reich and the Second World War by Washington author Lynn Nicholas, stirred interest in stolen treasures and focused attention on the art and objects—estimated at 650,000 pieces—plundered by the Nazis. By the late '90s, with the opening of Eastern Europe and the advent of the Internet, more and more Holocaust survivors and their heirs were trying to recover lost possessions—and museums, art dealers, and auction houses were having to respond.
Washington has been a chief engine of the art-recovery movement, if only because the National Archives holds about 15 million pages on looted assets and restitution, probably the largest collection of wartime records in the world.
In 1998, the State Department hosted a conference in which 44 nations agreed to a set of guidelines—the so-called Washington Principles—for the return of artwork looted during the Nazi era. A second conference to assess progress was held this summer in Prague, with the US delegation led, as it was 11 years ago, by Washington lawyer Stuart Eizenstat, a former ambassador and government official who has been a leader in Holocaust-era restitution.
In the late 1990s, the Association of Art Museum Directors and the American Association of Museums, both with offices here, put out guidelines for addressing looted art.
Kline says that ten years later, art-recovery claims are still subject to a patchwork of laws and procedures. But the major museums and auction houses have become more responsible about researching the history of works they possess, acquire, or handle, he says. The National Gallery of Art, for instance, has an in-house provenance researcher, as do Christie's and Sotheby's.
The National Gallery's provenance researcher, Nancy Yeide, is one of the leaders in the field and author of a new book, Beyond the Dreams of Avarice: The Hermann Goering Collection, about the Nazi second-in-command's art collecting.
In 2000, Yeide's research confirmed that one of the National Gallery's paintings, "Still Life With Fruit and Game" by 17th-century Flemish painter Frans Snyders, was likely to have been confiscated by the Nazis from a French Jewish family and traded by Goering. The museum eventually returned the painting to the family.
Since then, says Yeide, there's been a significant increase in the availability of public records and new resources, many of them online and digitized. "We all know so much more than we did ten years ago," she says.
Several high-profile cases, such as the fight over five paintings by Austrian master Gustav Klimt, have helped shine a spotlight on the issue. In that 2006 case, which included a decade of litigation and a ruling by the US Supreme Court, the government of Austria was forced to return five Nazi-looted Klimts to the heirs of their original owner. The paintings—including one bought by cosmetics magnate Ronald Lauder for $135 million, the biggest reported sum ever paid for a painting—fetched more than $300 million when subsequently sold.
And Kline has helped educate the museum world about the risks associated with acquiring objects without sufficient research. Ten years ago, he started teaching a graduate seminar on recovering cultural property in George Washington University's museum-studies program.
"The class was unique," says Ildiko P. DeAngelis, a former director of the GW museum-studies program who developed the course with Kline and taught it with him for a time. "He would represent the perspective of the claimants for the return of stolen or looted objects, and I would take on the role of museums trying to safeguard their collections and acquire new objects. I think our graduate students learned more about these issues than 95 percent of experienced professionals working in museums today."
The first Holocaust-related case Kline and Korte worked on together turned out to be one of their most contentious. The 1996 case of Goodman v. Searle—referred to Kline by author Lynn Nicholas—centered on the ownership of a Degas monotype, "Landscape With Smokestacks."
Two Los Angeles brothers, Nick and Simon Goodman, were trying to recover the print, claiming that family records and photos showed it had belonged to their grandfather, Friedrich Gutmann, a Dutch banker killed in a Nazi concentration camp.
Kline suggested that the Goodmans hire Korte to help them find the work. Korte, knowing that the Germans considered Impressionist works degenerate and often sold them, suspected that the Degas was probably in America. He was right. Their search, which included library visits to flip through museum and auction catalogs, led to the private collection of Daniel Searle, a Chicago pharmaceutical tycoon on the board of the Art Institute of Chicago, where the Degas sometimes hung.
The Goodmans wrote to Searle asking for the return of the monotype, but the businessman insisted it was rightfully his because he had bought it in 1987 for $850,000 from an art dealer in New York.
The Goodmans filed suit, and a judge decided that the case should go to trial. Says Kline: "It's really the first Holocaust case of the modern era in which a court said there's a valid claim here that can go forward to trial."
As the parties prepared, they agreed to a compromise—called a "Solomonic" settlement—in which each side received 50-percent ownership of the Degas. Searle donated his half interest to the Art Institute of Chicago, and
the museum agreed to buy the remaining half interest from the Goodmans. Now a plaque next to "Landscape With Smokestacks" at the Art Institute identifies it as a purchase from the collection of Friedrich and Louise Gutmann and a gift of Daniel C. Searle.
In another Holocaust-related case that Kline and Korte worked on, a judge ruled last November that a forced sale of art—in this case, one of the roughly 400 works of art that belonged to Düsseldorf art dealer Max Stern—was equivalent to a theft.
In 1937, Stern had been forced to liquidate his gallery by the Nazis, who didn't allow Jews to operate businesses. Stern fled Germany, and his assets were frozen by the Nazis. He eventually settled in Canada, where he and his wife ran a gallery and hunted for his lost works of art. He found only a few pieces, and since his death in 1987, his heirs and beneficiaries have continued the search with help from the Art Loss Register in London, the Holocaust Claims Processing Office in New York, and Korte and Kline.
The recent legal fight was over a 19th-century painting, "Girl From the Sabine Mountains" by Franz Xaver Winterhalter. The painting hung in the dining room of Maria-Luise Bissonnette, an elderly German-American baroness who lives in Providence, Rhode Island. Bissonnette had inherited the painting from her mother and stepfather, who had bought it in 1937 at an auction house in Cologne. The baroness was trying to sell it in 2003 when she learned of its history as part of the Stern collection. She refused to return it to the estate, arguing that there was no proof Max Stern's sale of the painting had been forced.
After years of negotiations and legal wrangling, a judge told Bissonnette to turn the painting over to the Stern estate, a ruling that was upheld last year by an appeals panel. The courts said that because the forced sale at auction was equivalent to theft, the title couldn't transfer to anyone who bought the painting.
"It sounds like an arcane rule of property law," says Eden Burgess, a lawyer who works with Kline on many art cases at the Andrews Kurth law firm, "but considering the number of forced sales at Nazi-approved auction houses, it was a critically important decision."
Judge Bruce Selya of the US Court of Appeals made note of the significance of his ruling, writing, "A de facto confiscation of a work of art that arose out of a notorious exercise of man's inhumanity to man now ends with the righting of that wrong through the mundane application of common law principles. The mills of justice grind slowly, but they grind exceedingly fine."
Kline says most restitution cases are settled and don't reach a courtroom. Most present-day owners are good-faith owners who don't necessarily know the full history of a piece of art.
Three years ago, for instance, Kline represented Duncan V. Phillips, grandson of the Phillips Collection founder, in negotiating a settlement over an early Picasso still life that had been in his family since 1952 but whose provenance was being questioned.
The blue-and-rose-hued painting, a gift from Duncan C. Phillips to his wife, Marjorie, hung in the couple's dining room from 1952 until Mrs. Phillips's death in 1985.
After inquiries about its ownership were made by the Art Loss Register—the world's largest database of lost and stolen art, antiquities, and collectibles—research showed that the painting had been willed to the heirs of its onetime owner, Ernst Schlesinger, a high-ranking German diplomat and art collector.
After five years of detective work across 11 countries, the Register built enough of a case that Phillips agreed to share the painting with the Schlesinger heirs. "Still Life With Portrait" was offered at auction by Christie's, where it sold for a $700,000 sum that was split by the two parties.
Phillips was praised for his willingness to forgo any legal challenge and agree to a settlement. Sarah Jackson, research director of the Art Loss Register, said at the time: "The Phillips family has set a benchmark for other private collectors who unwittingly own works of art tainted by the Holocaust in its readiness to recognize the claim of the heirs of Ernst Schlesinger."
Phillips said that, though the painting had been important to him and his family for more than five decades, he "would not want to benefit from it at the cost of another family's suffering."
Settlements also have the virtue of being creative.
Kline and Korte helped the late Washington lawyer Eric Weinmann regain temporary custody of a lost family painting for the last years of his life.
The Czech-born Weinmann and his family had fled Nazi Germany in 1938, leaving behind a small but valuable art collection that included a landscape, "Le Grand Pont," by 19th-century French painter Gustave Courbet.
Weinmann landed in Washington in the early 1940s; built a career as a businessman, lawyer, and government official; and contributed millions to the city's cultural institutions. All the while, he and his family searched for the lost Courbet, which Weinmann's mother had bought in the early 1930s and which he loved because of its colors.
In 2000, after Weinmann had hired Korte to help him search for the painting, a Washington friend of Weinmann's walked into the Yale University Art Gallery and spotted "Le Grand Pont," which was on loan to Yale from a German lawyer and art collector.
Weinmann wanted the painting back, not to sell it but to enjoy it in his home while he still could. "He had no financial interest in it whatsoever," recalls Korte. "He just wanted to enjoy it. He had grown up with the painting, so he was the perfect eyewitness. He could remember the color of the wallpaper on the wall where the painting hung."
But there was no direct documentation that his family had owned the painting. So in 2001 Kline helped negotiate a settlement in which both Weinmann, then 88, and the German collector agreed to relinquish ownership of the painting to Yale and the university would make a ten-year loan of the landscape to Weinmann.
The painting hung in the dining room of Weinmann's home in Northwest DC until his death in 2007 at age 94. His widow sent Kline a photo of the Weinmanns' dog with the words "Where's my Courbet?" in a quote bubble—and "Le Grand Pont" hanging on the dining-room wall in the background.
Because there's often little documentation, there are also unsubstantiated art claims. And many of the cases, especially those involving Holocaust-era property, are freighted with emotion more than a half century later. "These are the days when people think all you have to do is tell a sad Nazi story and sprinkle that on your painting," says Korte. "That by itself doesn't necessarily get you a victory in the courthouse. It doesn't seem to be a good idea to go to Elizabeth Taylor and ask for the van Gogh painting she's had for the last 40 years without having established the historical record."
In the Taylor case, relatives of a Jewish woman who said she'd been forced to sell the van Gogh as she fled Nazi Germany, sought its return. An appeals court in 2007 said the actress could keep the painting she bought in 1963 because her ownership had been widely publicized and the claimant had waited too long to act.
Lynn Nicholas, who has served as an expert witness for Kline, says it's important to evaluate each case individually. Not all sales of art by Jews during the Holocaust period, for instance, were forced. "Each case is totally unique, and you have to consider it in the context of exactly what was going on at the time and the situation of the people," she says. "When people say 'Holocaust,' they think 'Auschwitz,' but it took a long time to get to that point. In the early years of the Nazi regime, people did have some freedom of action."
Korte praises Kline for always giving him thoughtful legal assessments of the cases they've worked on together over the last 20 years. "Our biggest accomplishment is not the number of successful cases we've had but the fact that we've never gone out with anything where we pushed where we shouldn't have pushed," he says. "After a quarter century, that's what I'm most proud of."
Kline, in turn, says Korte's "dogged determination and emphasis on the precise historical context of any loss" has transformed the field of art restitution.
Kline says he feels lucky to have a practice with challenging legal issues, a strong moral dimension, and a fascinating cast of characters. He has crossed paths with the likes of a former antiquities curator at the Getty Museum who was indicted in Italy for trafficking in stolen artifacts and a Dutch art-smuggler-turned-informant who went into hiding after helping Scotland Yard engineer an art sting. "It's a colorful practice," he says.
For a social-studies teacher who became a lawyer and once dabbled in art, it's also a perfect blend of interests. Kline's mother gave him advice after he concluded that he wouldn't make a very good living as an artist: "She always said to me if I couldn't be an artist, I could always be an artistic lawyer. And that's sort of the way it turned out."
This article first appeared in the November 2009 issue of The Washingtonian. For more articles from that issue, click here.