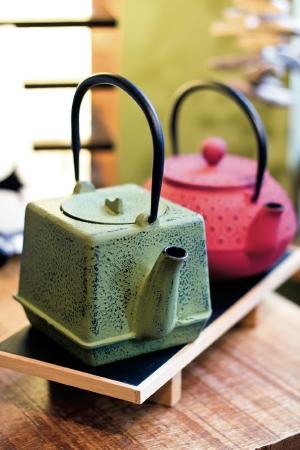 >> See the full best of Penn Quarter guide here.
Looking for unique gifts for the holidays? Penn Quarter has plenty of options.
For tea time with an Asian touch, Teaism's shop (400 Eighth St., NW; 202-638-7740; teaism.com) carries Yixing teapots, thermal tea brewers, and hand-painted teaware. Fans of the teahouse might like a sack of ginger-scone mix or a set of Eshelman mugs—the same ones used in the restaurant.
The National Building Museum's shop (401 F St., NW; 202-272-7706; nbm.org) is well stocked with architecture and design books, but the real gems are in the housewares section, where you can find an Eiffel Tower–shaped cheese grater or Pac-Man oven mitts. There are gifts for kids, too—from building blocks to puzzles to games.
The gift shop for the Smithsonian American Art Museum and National Portrait Gallery (Eighth and F sts., NW; 202-633-5450; americanart.si.edu; npg.si.edu) sells prints of some of the museums' most well-known pieces. Can't find your favorite painting? At the Art on Demand station—a computer for customers to use—you can order framed and matted prints in a range of sizes. Other gifts include handmade jewelry, silk ties, and replicas of White House china.
Frida Kahlo, May Stevens, and Paula Rego are just some of the female artists you can find at the National Museum of Women in the Arts (1250 New York Ave., NW; 202-783-7994; nmwa.org). The shop sells books, cards, stationery, and umbrellas printed with their work and images. There's also artisan jewelry, handwoven bags, bound journals, and seasonal decorations as well as a small kids' section with books and games.
Budding 007s might like the goods at the International Spy Museum's shop (800 F St., NW; 202-654-0950; spymuseum.org). From real gear such as hidden cameras and night-vision goggles to quirky Hollywood riffs—think safes disguised as peanut-butter jars—the store stocks lots of neat stuff.
Look for hand-knit clothing and South American folk art at Peruvian Connection (950 F St., NW, Suite 102; 202-737-4405; peruvianconnection.com). The women's-clothing and decor shop carries pima-cotton sweaters, alpaca blankets and ponchos, artisan jewelry, and more. Proceeds from some items go to Peruvian charities.
Mia Gemma (933 F St., NW; 202-393-4367; miagemma.com) carries one-of-a-kind jewelry from more than 20 artists. Earrings range from around $60 for sterling studs to $4,500 for 18-carat sculpted-leaf diamond drops, but there are also necklaces, bracelets, and pendants. Create a shopper profile on the Web site before you head to the store—questions range from hair color and skin tone to preferred metals and gemstones—and the staff will pull pieces that suit your tastes.
Gift baskets from Cowgirl Creamery (919 F St., NW; 202-393-6880; cowgirlcreamery.com) are great for cheese lovers. The shop carries ready-made options, ranging from $50 to $65, that include three cheese varieties and sea-salt-and-olive-oil crackers. You can also build your own gift basket.
This article first appeared in the December 2009 issue of The Washingtonian. For more articles from that issue, click here.