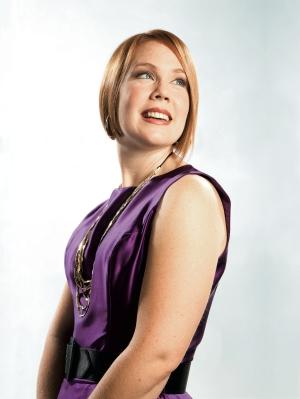 Aristia Glinka, 28 • Arlington • Associate director of donor relations Georgetown University
Why she wanted a makeover: She'd had the same look since age 13 and was ready for a change.
Where we sent her: Vidal Sassoon Salon in Tysons Galleria for hair, independent makeup artist Carola Myers, and Wink Boutique in Georgetown for clothing.
Aristia Glinka has been an athlete all her life. A runner, swimmer, and amateur boxer, she fits in twice-daily workouts—once during lunch and again at day's end—most of the week.
"When I wake up and get ready, it's usually not the only time I get ready that day," she says. "The transition from workout to work has to happen quickly." Although juggling exercise, family, and a full-time job keeps her healthy and happy, it's left little time to try anything other than what she calls her "no frills" beauty regimen.
Understanding Glinka's desire to shake things up, Sassoon colorist Jade Del Proposto selected a dramatic all-over color of Irish red to brighten Glinka's fair skin and play up her airy blue eyes.
Glinka says her friends loved the red: "Everyone is unanimous that the color suits me perfectly. They think it looks natural, even though they know it's not."
Glinka had been getting her hair cut—mainly just a trim—by either her husband, Andrew, or her ten-year-old niece, Kayla. Sassoon stylist Allison Lyle shaped up her hair with a blunt, graduated bob. The strong outline makes her baby-fine hair look thicker, while a few slightly shorter layers allow for movement and keep the style from coming off as too severe.
"The cut feels very modern," Glinka says.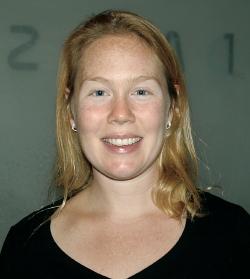 Although the only makeup she usually wears is mascara, makeup artist Carola Myers used fake eyelashes and a wild combination of shadows to give her "modernized" cat eyes. Powder blush along the cheekbones and a glossy muted-red lip completed a grown-up look Glinka was instantly comfortable in.
"It's sophisticated and glamorous but still feels like me," she says.
Like her hair and makeup routines, her work attire is generally risk-free—she rarely deviates from Ann Taylor and J. Crew classics: "I wear a lot of black and navy shift dresses. And pearls are pretty much my go-to—in Washington, they're safe for a wide variety of functions."
To complete Glinka's new look, Wink chose pieces with punch and sparkle. A six-strand pipe-bead necklace ($215), slim gold hoops ($37), and vibrant purple Akiko belted silk sheath dress ($225) work for day, thanks to traditional shaping and modest cuts.
"This is the new slate I was looking for," Glinka says. "It's more sophisticated and flattering but still feels playful."
Getting the Look
Vidal Sassoon Salon, Tysons Galleria, McLean; 703-448-9884; sassoon.com.
Carola Myers Makeup and Hair Artist, Fairfax; 571-214-5558; carolamyers.com.
Wink Boutique, 3109 M St., NW; 202-338-9465; shopwinkdc.com.
Check out this video of Aristia's transformation!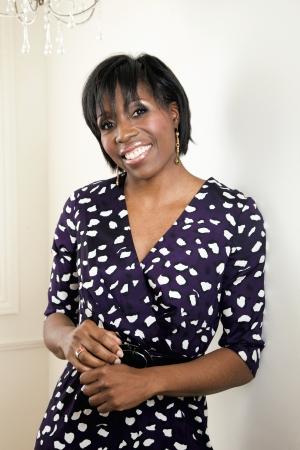 Angela Taylor, 38 • Arlington • General manager, Washington Mystics
Why she wanted a makeover: Taylor moved to Washington from Minnesota last year to manage the Mystics, and they went to the playoffs. "It's been a year of change and success," Taylor says. "I'm ready to make my appearance reflect that."
Where we sent her: Corte Salon on DC's U Street and Betsy Fisher boutique near Dupont Circle.
Angela Taylor is a no-fuss woman when it comes to her appearance. "I'm a ponytail kind of gal," she says. The former Stanford University basketball player wears simple business suits at work and jeans and sweats the rest of the time.
Teisha Beasley, at the women's boutique Betsy Fisher, wanted clothes for Taylor that would be stylish and feminine yet comfortable: "When she came in, she was wearing a very unstructured suit. We wanted to put her in something a bit more tailored to show off her good shoulders and small waist."
Beasley chose a purple silk wrap dress by Donna Ricco ($178) and Scarpe Diem black-leather knee-high boots ($290) for a touch of sass. She kept it simple with jewelry, selecting elegant green-stone drop earrings by Linda Levinson Designs ($95).
We sent Taylor to Corte Salon stylist Johnny Wright—Michelle Obama has been a client of his, according to the Web site for SoftSheen-Carson hair products, where he's artistic director. Wright gave Taylor a short, layered bob to accentuate her neck and jaw line. Her hair was badly damaged from chemical relaxers, so Wright cut several inches to smooth her split ends. Colorist Brian Elliott added subtle chocolate highlights and yellow-pigment lowlights to enhance shine.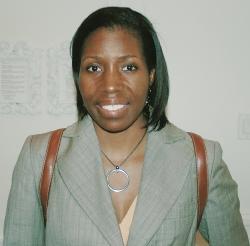 Taylor's regular makeup routine includes a touch of lipstick and, when she wants to dress up, some mascara. "I don't like to have anything heavy on my face," she says.
Carl Ray, makeup artist at George at the Four Seasons Salon, went with a mix of MAC and Laura Mercier makeup and a private label to create a dramatic yet light-feeling look.
Ray started with a good cleanser and primer to combat shine and create longer wear. He used pressed mineral powder to even out her skin and dusted bronzer on her cheeks and at the hairline for highlights. For the eyes, he applied a shimmery taupe from lid to brow and added burgundy, plum, and navy accents. Her lips were brightened with a plum liner and peach gloss.
Taylor's coworkers were the first to see her transformation at a staff meeting the next morning. "Lots of heads turned when I walked in," she says.
The real test was her mom's reaction. "When I told her I cut my hair, she totally surprised me," says Taylor. "Turns out she always liked it better short."
Getting the Look
Corte Salon, 1019 U St., NW, Second Floor; 202-462-6783; cortesalon.com.
George at the Four Seasons Salon, 2828 Pennsylvania Ave., NW; 202-342-1942; georgefourseasonssalon.com.
Betsy Fisher, 1224 Connecticut Ave., NW; 202-785-1975; betsyfisher.com.
Watch this video of Angela's makeover!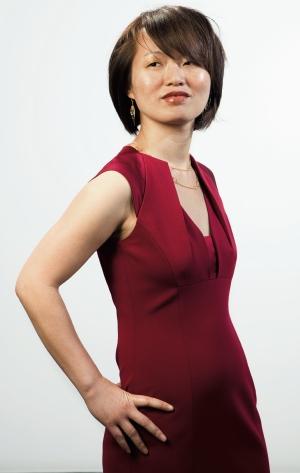 Autumn Kuei, 37 • Logan Circle, DC • IT security consultant, A-Tech Systems
Why she wanted a makeover: When a friend told Kuei she didn't look her age, the just-turned-37-year-old took it as a wake-up call, not a compliment: "I thought maybe someone should tell me how to dress my age and give me an age-appropriate haircut."
Where we sent her: Hela Spa & Ted Gibson Salon and Bloomingdale's in Chevy Chase.
Autumn Kuei had last gotten her hair cut three months before in Belgium. Despite a language barrier, she had decided to try highlights for the first time. "Something got lost in translation," she says.
Colorist Huda Al-Yacuoby at Ted Gibson Salon says Kuei's blond streaks and too-dark base made her skin look washed out. Al-Yacuoby added warmth and balance by using chocolate brown for all-over color and subtle caramel highlights to frame her face.
Stylist Ted Gibson—the newest member of TLC's What Not to Wear team, who counts Angelina Jolie and Anne Hathaway among his clients—wanted to give Kuei a cut that would accentuate her slim neck and strong jaw line. He went with an angled cut that's longer in the front, with short layers in the back. He gave her long, side-swept bangs that work well with her new highlights.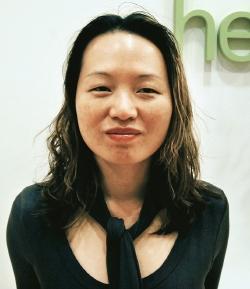 Because Kuei doesn't normally wear makeup—"I'm afraid of looking like a geisha," she says—makeup artist Jessica Dunaway dusted her face with a light powder foundation and added a natural-flush color to her cheeks. A shimmery gold shadow and a touch of mascara completed the eyes.
Dunaway, who used Laura Mercier makeup, wanted to make a statement with Kuei's full lips. She chose a deep berry shade and topped it with high-shine gloss. "You don't want to match your lipstick to your dress," she says.
Kuei, who has always been self-conscious about her legs, typically wears longer dresses or pants. Bloomingdale's outfitted her in a knee-length red knit dress by Elie Tahari ($398) and a gold necklace ($148) and earrings ($64) by Argento Vivo. The black Salvatore Ferragamo pumps ($398) were Kuei's favorite part. With wide feet, she says, it's hard to find comfortable dress shoes.
"The outfit was very simple yet sophisticated," says Kuei. "I've been taking a good, hard look at my wardrobe since the makeover."
A few hours after her transformation, Kuei attended a winetasting at the National Press Club. Friends loved her new look, and a few didn't recognize her. Kuei expected to miss her hair's length—but she doesn't: "I started out apprehensive about the makeover and ended the day elated. I feel like a million dollars."
Getting the Look
Hela Spa & Ted Gibson Salon, 5481 Wisconsin Ave., Level 2, Chevy Chase; 301-951-4445; tedgibsonsalon.com. Gibson, who travels between Chevy Chase and his salon in New York City, charges $950 for a haircut—the most expensive rate in the country. (In December, his cuts are "on sale" for $500.) Other stylists at the salon start at $95 to $150.
Bloomingdale's, 5300 Western Ave., Chevy Chase; 240-744-3700; bloomingdales.com.
Autumn Kuei, 37 • Logan Circle, DC • IT security consultant, A-Tech Systems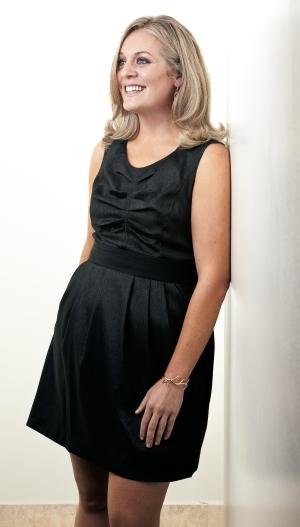 Katey Clark, 27 • Baltimore • Project manager, Project Big Fish
Why she wanted a makeover: Clark lost 110 pounds over the past year by exercising six days a week—taking spinning classes, running with her dog—and eating well: no cheese, bread, or chocolate. Now that she almost has the body of her dreams—"I've still got a few more pounds to go"—she was ready for a new look.
Where we sent her: Toka Salon & Day Spa in Georgetown for hair and makeup, Ginger in Bethesda for clothing.
"A year ago, I wouldn't have worn sleeveless," says Katey Clark, who went from a size 20 to a size 10. She says finding stylish clothes, especially pants, for a plus-size body was hard. She tended toward pieces that provided lots of coverage.
After losing weight, she says, "I didn't know how to dress my new body." Her typical work outfit was black stretch pants and a loose-fitting top. She'd put her wet hair in a ponytail and apply a coat of mascara in the car while driving to her office in Capitol Hill's Eastern Market neighborhood.
Clark went to Ginger, a boutique in Bethesda, where owner Gretchen Hitchner helped her find styles to flatter her thinner figure. "She definitely needed to show off her toned legs," says Hitchner. "They're one of her best features."
Hitchner chose a black dress with a cinched waist by Amy Matto ($275) and purple suede Scarpe Diem pumps ($175). For a bit of bling, she went with a gold antler bracelet by Suzanne Somersall ($120) and white topaz earrings by Coralia Leets ($225).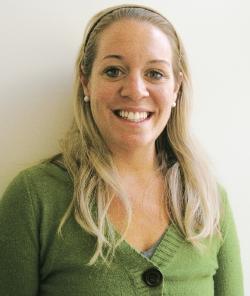 Because Clark usually straightened her wavy hair, it was badly damaged, said stylist and Toka Salon owner Nuri Yurt. He cut off about six inches and added layers, showing off Clark's strong shoulders. He used a soft-platinum color to highlight her dark-blond hair. For on-the-go days, Yurt says a bit of gel and air drying will give her soft, sexy curls.
Makeup artist William Whited used his own mineral-based line on Clark. To give her a sultry evening look, he applied smoky brown, gold, and black shadows to her eyes. On her lips, he used neutral colors—brown liner, beige lipstick, and pink gloss. A touch of bronzer and gold shimmer on the cheeks finished her face.
After her Friday makeover, Clark went out with friends who had helped with her weight loss. She says they loved her polished new look: "Now they can see the whole picture."
Clark can see it, too, but it's taking some getting used to: "I learned that it's okay to take pride in looking put-together. I'm gaining the confidence to really do it."
Getting the Look
Toka Salon, 3251 Prospect St., NW; 202-333-5133; tokasalon.com.
Ginger, 7114 Bethesda La., Bethesda; 301-664-9242; gingerstyle.com.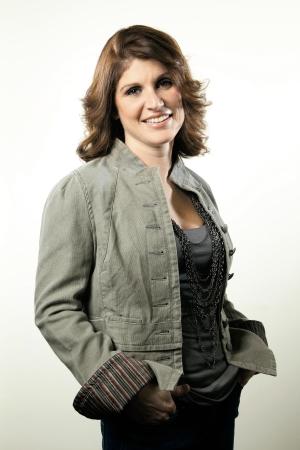 Sharon Smith, 31 • Reston • Web-services manager
Why she wanted a makeover: Smith's friends described her frizzy brown locks as "shaggy," and she thought they looked like a "bonsai tree." It was time, they said, to retire her crunchy-curly look.
Where we sent her: Arlington's PR at Partners for hair and makeup, South Moon Under for clothing.
No one could accuse Sharon Smith of being inconsistent. Since middle school, the Virginia native has had the same length hair and the same "mousse, scrunch, and go" style, no matter the occasion.
PR at Partners stylist Neat Sothy Sullivan says that Smith's light-brown color, although it was natural, made her look washed out. So Sullivan chose a chocolate base color, with ginger-red highlights and lowlights, to brighten Smith's face and bring out the caramel specks in her green eyes.
The stylist fashioned a deconstructed bob by cutting off five inches of dead ends and adding layers for bounce. Not wanting to fight Smith's natural wave and texture, Sullivan used a process called deep-point cutting, in which she cuts into the hair diagonally rather than on a straight line. This removed heaviness and made the curls springy and soft to the touch—the opposite of Smith's often rigidly moussed former style.
In her makeup and wardrobe, Smith also tended to choose consistency and minimalism. Little more than lip balm and mascara usually graced her face. Makeup artist and clothing stylist James Cornwell used Pretty by PR light-diffusing foundation, cashmere- and wine-colored eye shadows, and apricot-nectar gloss to create a glamorously versatile look.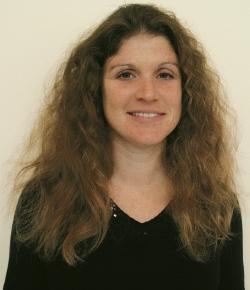 "This makeup is easy to wear from day to evening," Cornwell says. "It's a little sexy but not plain Jane. It's sexy Jane."
To break Smith's habit of V-neck sweaters and black dress pants, Cornwell layered a Matty M. racer-back tank with an attached chain necklace ($64) under a Free People military-inspired jacket ($128); both are from South Moon Under. Joe's Provocateur petite-fit jeans ($167) and Dollhouse suede peep-toe booties ($54) rounded out the look, which gave Smith a youthful yet sophisticated alternative to office-casual wear.
"While the change may have been a little shocking," Smith says, "it was fabulous and long overdue."
Getting the Look
PR at Partners, 2900 S. Quincy St., Arlington; 703-998-6500; see pratpartners.com for other area locations.
South Moon Under, 2700 Clarendon Blvd., Arlington; 703-807-4083; see southmoonunder.com for other locations.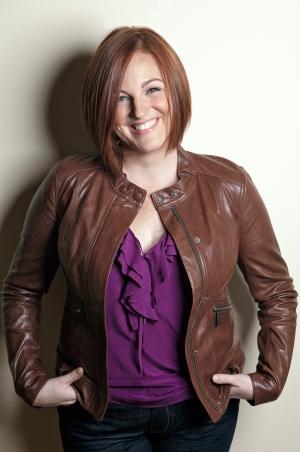 Heather Foley, 31 • Silver Spring • Marketing specialist Whole Foods
Why she wanted a makeover: Between her part-time job at Whole Foods and her full-time job as a new mom, Foley says that finding time for herself is hard. She wanted a makeover to show her husband—and prove to herself—that she's still the sexy woman he married two years ago. "It's still there," she says. "I just need a little help finding it."
Where we sent her: Stylist Jessica Bogdanovic at Studio Ten83 in Potomac, makeup artist Remzee Knuckles, and wardrobe consultant Joyce Neave, owner of That Mom Inc.
When Heather Foley moved to Washington from Philadelphia three years ago, she changed everything—her home, her job, her friends—but not her salon. "I love my hairdresser in Philly," she says. But once her son, Sam, was born last year, her appointments became few and far between. Foley's last visit was six months ago.
"Heather's color was faded and a bit dingy," says Jessica Bogdanovic, who suggested medium-blond highlights and a warm-cinnamon base that's close to Foley's natural color. For the cut, Bogdanovic kept it chin length in the front but angled the back to create a modern bob. She used some razor cutting for texture and fullness.
Remzee Knuckles, an independent makeup artist who was trained by Laura Mercier, wanted to play up Foley's "full and pouty" lips. She chose a berry liner, rose lipstick, and beige gloss for extra luster. Knuckles kept the eyes neutral with navy liner and taupe, pearl, and twilight-gray shadows. Two coats of L'Oréal Original Voluminous mascara in black—"My new favorite," says Knuckles—completed the date-night look.
Wardrobe consultant Joyce Neave took Foley to Saks Fifth Avenue in Tysons Galleria in search of colors beyond her usual olive-and-brown palette. "I wanted to bring her to life," she says. Neave chose a purple ruffle-front blouse by Joie ($154) and a leather motorcycle jacket by Vince ($750) for an edgy touch. Her Ralph Lauren jeans ($198) easily go from day to night, thanks to the dark wash and flattering cut.
After her makeover, Foley says, her husband was speechless: "He absolutely loved it—like a kid at Christmas. Too bad he forgot to find a babysitter."
The couple went—toddler in tow—to a nearby Thai restaurant to celebrate.
Getting the Look
Studio Ten83, 1083 Seven Locks Rd., Potomac; 301-251-9560.
Remzee Knuckles, Images by Remzee; 571-245-1970; flutterby008@hotmail.com.
Joyce Neave, That Mom Inc., Bethesda; 240-997-6077; bethatmom.com.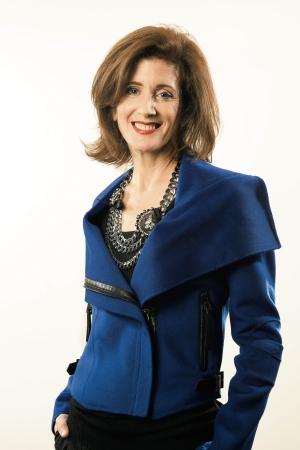 Christine Klein, 47 • Capitol Hill • Meeting managing director, American Institute of Architects
Why she wanted a makeover: Having recently moved from an Arlington condo to a Capitol Hill rowhouse, Klein was inspired: "New home, new life—I wanted a new me."
Where we sent her: Georgetown's Hair Lounge Salon for hair, independent makeup artist Kim Reyes, and Hu's Wear for clothing.
There are beauty accidents, and then there's singeing off your bangs. In Hong Kong for a business trip, Christine Klein thought nothing of plugging her American curling iron into an adapter and setting about her morning routine.
"I wrapped my hair around the iron and poof! Smoke burst out, and my hair fried." Late for a meeting, she panicked. "I had to cut pixie bangs."
Klein's hair—thin, fragile, and prone to uncontrollable frizz if cut too short—has always been problematic. To ensure a manageable shape, Hair Lounge co-owner Daniel Levy took a mere inch off the length and kept the layers long.
To add dimension with color, he applied a base of warm chestnut and caramel highlights using balayage, a process in which dozens of tiny highlights are swept through the hair. While traditional top-foil highlights can look artificial and obvious, Levy says, balayage results in a subtle, natural shimmer that can last months.
Years of triathlon training have given Klein a permanent post-exercise glow. Makeup artist Kim Reyes recommended, for minor touchups, Keromask concealer and camouflage cream—a favorite of film and TV stars because of its heavily pigmented yet thin-spreading formula. She applied warm brown shadows on Klein's outer lids to make her eyes appear farther apart, and she smudged charcoal liner along the lash line to make Klein's bluish-green eyes pop.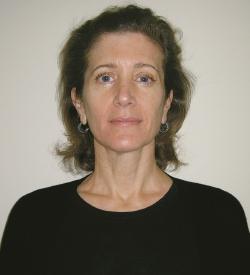 Though Klein is no stranger to dressing up, Marlene Hu, owner of the Georgetown boutique Hu's Wear, suggested sophisticated pieces that would accentuate Klein's lean physique. An Isabel Marant gray wool skirt ($185) and Costume National over-the-knee black suede boots ($1,240) highlighted Klein's long, toned limbs; these were topped with a Barbara Bui wool biker jacket ($2,450) and Lanvin chainlink necklace ($1,740).
"I have always loved fashion and am something of a clothes horse," Klein says, "but it was nice to talk to Hu about what would work on my body type."
Klein test-drove her new look at dinner and a concert that night: "The hair color warms me up, and the makeup highlights my best features. I love my new look."
Getting the Look
Hair Lounge Salon, 2201 Wisconsin Ave., NW.; 202-337-0951; hairloungesalon.com.
Kim Reyes Makeup, Silver Spring; 301-254-5282; kimreyesmakeup.com.
Hu's Wear, 2906 M St., NW; 202-342-2020; hushoes.com.
This article first appeared in the December 2009 issue of The Washingtonian. For more articles from that issue, click here.