Date Wear Must-Haves:
1. An arty top. Modcloth Es-cape Artist Top, $47.99. 2. A colorful pencil skirt. Tracy Reese Gainsborough pencil skirt, $148. 3. Silver Statement rings. Metropark pyramid stud ring, $9; Ippolita hammered dome ring, $225. 4. Bad-girl bracelet. C. Viviani studded cuff, available at New York's the Future Perfect. Call the store at 212-473-2500 to have them ship it to you. 5. The classic striped tee. DAY Birger et Mikkelsen layer t-shirt, $89. 6. A flirty denim skirt. Modcloth Dry Your Tiers skirt, $42.99. 7. Funky black clutch. Wendy Nichol Midnight Rider clutch, $550. 8. Stand-out winter shoes.Deena & Ozzie suede zip bootie, $78. 9. Sweet plaid shirt. Modcloth Green Acres Top in Eva, $49.99. 10. Deep-V dress blouse. Alice + Olivia Amy pleated shoulder top, $242. 11. Sexy gladiator heels. Arden B. cutout sandal, $33.60. 12. Opaque tights. A.P.C navy stockings, $56. 13. Architectural hoops. Roberto di Castro triple eclipse earrings, $450. 14. Sleek black pants. ACNE Needle high-waisted skinny jeans, $230. 15. An atypical cover-all. Helmut Lang wool-blend draped cardigan, $380.
>> Go to the next page to see how we mixed-and-matched these date-night staples to create ten knock-out outfits!
Quirky Karaoke Diva
What: 2+11+7+5
Where: Singing your heart out at Little Miss Whiskey's Golden Dollar
Why: If your voice doesn't turn heads, your outfit sure will.
New Additions: Kenneth Jay Lane black onyx graduated square necklace, $88.
Gliding With Ease
What: 14+5+15+8+13
Where: Skating at the National Sculpture garden
Why: Body-conscious layers help you stay cute while keeping warm.
New Additions: Preston & York slouchy knit beret, $12.
Pretty in Punk
What: 9+11+7+14+4
Where: To a freestyle session at Busboys & Poets
Why: The black & green combo says beatnik, while sexy black gladiators and stud jewelry add urban edge.
Ready to Groove
What: 11+1+3+14
Where: Chilling out in 18th Street Lounge
Why: Funky earrings help interesting shapes stand out in a trend-conscious crowd.
New Additions: Ron Herman Campise feather earrings, $75.
All for grins
What: 8+12+6+15+9
Where: Laughing it up at DC Improv
Why: This sweetly quirky combo proves you've got a sense of humor.
New Additions: Billy Kirk shoulder satchel, $270.
Dressed-Up Darling
What: 7+10+3+2+11
Where: Anniversary dinner at 2941.
Why: This outfit's artistic leaning is grown-up without being stuffy.
Too Cool for (Art) School
What: 8+3+1
Where: Mingling at Hirshorn After Hours
Why: Your art-scene squeeze will dig the creative combination.
New Addition: Torn by Ronny Kono Astrid tube miniskirt, $106.
Sophisticated Seductress
What: 13+2+7+11
Where: Clubbing at the Park at 14th
Why: Because the dress code demands sex appeal, but you're always a lady.
New Additions: Charlotte Russe ruffle tube top, $22.99.
Denim and Red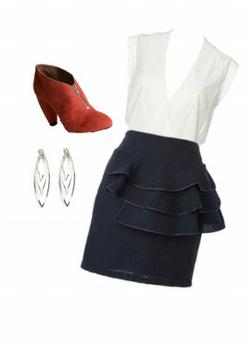 What: 10+6+8+13
Where: Catching a show at the Birchmere
Why: Because nothing says country like red, white & blue.