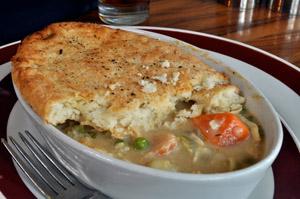 Comfort is the common thread that runs through the menu at downtown DC's rural-inspired Founding Farmers. The rustic chicken pot pie is one of the most popular items on the menu, particularly in colder months when the kitchen puts out as many as three dozen a day. One hungry reader loved her order so much, she wrote in to request the recipe.
"Some people may only know chicken pot pies as the frozen versions in metal tins," says chef Al Nappo. "But ours is made from scratch every day." The pot pie is loaded with chunks of chicken breast, fresh vegetables, and creamy gravy, then topped with a flaky pastry crust. The restaurant won't divulge its crust recipe, but Nappo says a store-bought brand such as Pillsbury works just as well.
Follow the recipe, Nappo says, but don't be afraid to improvise and experiment with a variety of fresh herbs and vegetables. If you're a vegetarian, substitute vegetable stock for the chicken stock, then add tofu and your favorite vegetables. You can also try different kinds of beans, such as cannellini or black beans.
Have a restaurant recipe you'd like sniffed out? E-mail recipesleuth@washingtonian.com

Chicken Pot Pie
Makes 4 servings.
Make the velouté:
2 ounces olive oil or canola oil
1 tablespoon unsalted butter
2 cups small-diced yellow onion
2 cups small-diced celery
2 cloves garlic, minced
1 bay leaf
1 sprig fresh thyme
¾ cup flour
1 cup chicken stock, warm
2 cups whole milk, warm
Salt and pepper to taste
Heat the oil and butter in a large sauté pan over low heat. Add the onions, celery, garlic, bay leaf, and thyme. Sauté 5 to 8 minutes or until the onions are transparent. Sprinkle the flour over the vegetable mixture and continue to cook for an additional 2 minutes. Add the warm stock and milk, whisking to combine. Raise the heat and bring to a boil, then reduce the heat to a low simmer. Continue to simmer for 15 minutes. Add salt and pepper to taste. Remove the velouté from the heat and strain. Set the liquid aside.
Make the filling and pie:
¼ cup olive oil or canola oil
1 pound yellow onions, roughly chopped
1 cup large-diced carrots
¾ cup large-diced celery
2 cloves garlic, minced
1 chicken bouillon cube
¾ cup white wine
1 cup small-diced potatoes
2 cups chicken velouté
1 cup heavy cream
2 tablespoons unsalted butter, plus extra for brushing
1 tablespoon maple syrup
1 cup peas (fresh or frozen)
2½ pounds rotisserie chicken meat, cut into large pieces
2 tablespoons grated Parmesan cheese
4 pieces Pillsbury "Just Unroll!" pie crust
Salt and pepper to taste
Preheat the oven to 350 degrees.
Heat the oil in a large sauté pan over medium heat. Sauté the onions, carrots, celery, and garlic until the onions begin to soften. Add the chicken bouillon cube and white wine, and reduce by half. Add the potatoes and chicken velouté, and simmer for approximately 2 minutes. Add the heavy cream and continue to simmer until the potatoes are tender. Be careful not to burn the mixture. Remove from the heat. Fold in the butter, maple syrup, peas, chicken, and Parmesan cheese. Add salt and pepper to taste.
Divide the filling evenly into 4 oven-safe vessels. Top each with pie dough. Lightly brush the tops with the remaining butter, and if desired, sprinkle with pepper. Bake for about 40 minutes or until the dough is golden brown.
Subscribe to Washingtonian
Follow Washingtonian on Twitter
More>> Best Bites Blog | Food & Dining | Restaurant Finder