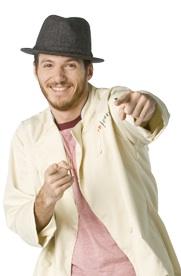 Here's what season-four contestant and Good Stuff Eatery chef Spike Mendelsohn has to say about the Angelo/Tamesha budding romance, who's going to be in the finals, and why "Big Daddy" has a good chance of winning.
In last week's Quickfire Challenge, the contestants had to use blue crabs, and a lot of them had never cooked or eaten a blue crab. What do you do as a Top Chef contestant when you're faced with a food you've never seen before? Did that happen to you at all?
"You can almost always reference a food to something you've heard of, cooked before, or know would taste great together. So a lot of the contestants used the crab where they'd normally use another ingredient, and for the most part it went over well. It never happened to me, but I do know everything, so it's not so weird that it's never happened to me before."
It looked like Kenny and Angelo were once again fighting for the alpha-male role. When you were a judge a couple of weeks ago, did you get the sense that there was a lot of tension there?
"You know, you can feel everyone's emotions in the room. People are so nervous, confident, and shaken up—a combination for all the contestants. But yes, those two have it going on! I'd love to see them duke it out for the title."
We found it kind of weird that the Elimination Challenge featured "40 local chefs" but we didn't get to hear what any of them thought. What's up with that?
"Well I'd really, really, really, like Bravo to give me my own show, so I think they're great in every way possible. I'd never criticize a genius network, but some would say that the random 40 local chefs that never spoke and were never introduced was weird. Who's to say?"
The bottom three last week included Amanda, Stephen, and Tim. They've all had their fair share of ups and downs. Do you think the judges actually kick someone off based on just that day? Or do they take other things into consideration (i.e. drama potential)?
"You never know—that's what's so great about the show. It has a lot to do with the food and how the dish was constructed and ingredients used, but maybe someone bugged them more one week than the others, maybe they see more potential in some. I mean everyone has a bad day (reference my scallop day here—that was a bad day)."

Who do you think will go home in the next three episodes? In your last round of predictions, you said you thought Arnold and Ed were packing up soon. You were right about Arnold. You still feel that way about Ed?
"Amanda, Alex, and Ed. I find Amanda 'blah.' Alex is okay, but nothing special to me, and Ed . . . good old Ed. Yes, Ed's gotta go. Stephen, too. That's four. Maybe we skip right to the final? [I think the final contestants will be] Kevin, Angelo, Tamesha, and Kelly."
Do you think Tamesha's newfound relationship with Angelo will help her or hurt her?
"We've got to see the Angelo/Tamesha drama all the way to the end, no? I'm loving the love story. It's a real nailbiter. Will he betray her? Will she listen to everything he says? I'm mesmerized."

Still have your money on Kenny, a.k.a. Big Daddy, to take home the crown?
"Big Daddy is taking it, or at least he's toppling some people trying to get it. He's arrogant and full of himself—two essential chef qualities—so I think that'll help him. A lot is psychological."
>>For more Top Chef DC coverage, click here.
Subscribe to Washingtonian
Follow Washingtonian on Twitter
Follow the Best Bites Bloggers on Twitter at twitter.com/bestbitesblog