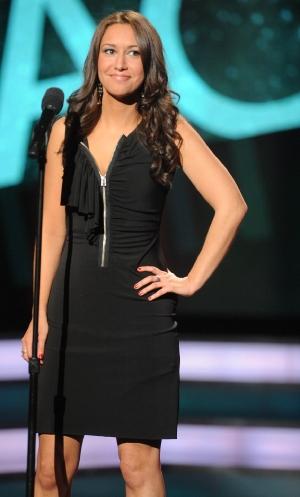 From an early age, Rachel Feinstein imitated people. "I went to elementary school in Bethesda, and I had this pretty Southern teacher with really thin lips," she says. "I wanted to be her. I'd try to make my lips look like hers all the time. In all my school pictures, I was doing this strange thing with my lips."
Years later, the habit has come in handy. Feinstein placed seventh on NBC's American Idol-style show Last Comic Standing this season and was the last female comic eliminated. The show averages four million viewers a week.
Much of her set relies on impersonating people she's met—whether it's a drunk guy hitting on her in Vegas, her mother trying to act African American, or her grandmother. She says she inherited the aping skill from her father, a blues musician and former George Washington University professor.
The voices come in handy offstage as well. "I'm not naturally very confrontational. If I call an airline, I call as my grandma," she says. "They don't want to deal with some old bitch and I usually get what I want."
She wasn't always so comfortable talking to people, though. After graduating from Thornton Friends School in Silver Spring, she moved to New York City. She held jobs as a telemarketer selling vitamins and as a sales associate at Fat Jean & Shoes on Broadway—for a few hours.
"I couldn't sell anything, and I couldn't fold either. I was so awkward talking to people. I worked there for four hours. My boss walked over to me and was like, 'You better go,' " she says.
She finally found steady work taking care of an autistic child, and, after her breaks started coming, started doing comedy full-time earlier this year.
She filmed a 30-minute special for Comedy Central and got a part in an indie film that took home a Creative Promise Award at the Tribeca Film Festival. She made the finals of Last Comic Standing. And she got to tour the country, including a stop at the DC Improv.
"It has the best crowds in the country," she says. "People are very informed and they get your references. That can be a problem in certain parts of the US. It's not that they're bigoted, but they're literally not aware of what you're referring to. I do a lot of impressions and talk about race. I think that has to do with growing up here. My friends were diplomats' kids. I didn't understand that most communities weren't like that."
Seeing some familiar faces made the experience extra special—and maybe a little awkward.
"A bunch of my parents' friends came out. I'm saying these things that are sick and wrong in front of the lady who drove my carpool so it's cool, but weird," she says. She remembers being part of the audience when Margaret Cho, a comic she watched and admired as a teenager, performed there years ago. Now she's doing the inspiring. After a girl in Maryland saw her on Last Comic Standing, she sent Feinstein a letter. "She told me she wanted to be a comedian too, and it was so cool to think that I might have inspired her to do something creative and unconventional with her life," Feinstein says.
Her special re-airs tonight at 9, and she'll be on Russell Simmons Presents Stand-Up at the El Rey Sunday at 11 PM. Both are on Comedy Central.
She'll also appear on the finale of Last Comic Standing Monday at 9 PM on NBC.
Subscribe to Washingtonian
Follow Washingtonian on Twitter
More>> After Hours Blog | Arts & Events | Happy Hour Finder | Calendar of Events