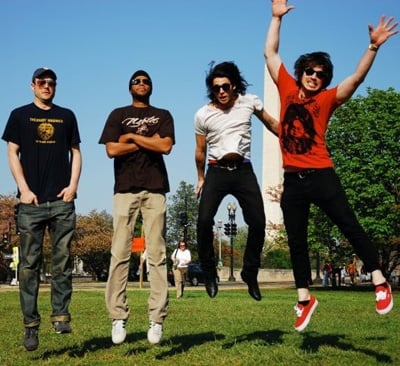 The boys of Tennis System serve up catchy rhythms, energetic beats—and man, are they loud. The quartet, a fixture on the Washington music scene for the last three years, will play their last show together tonight. Drummer Brad Fullilove and bassist Clinton "Cool" Cole are moving on, but lead vocalist Matty Taylor stressed that this isn't a breakup: He and guitarist Misha Bullock are sticking together and exploring options for new bandmates. They're also recording an album in September and will perform at the CMJ Music Marathon, a New York City festival, in October.
Catch the whole group together for the last time (sniff) tonight at DC9. They'll play alongside San Francisco artists Ty Segall and Royal Baths.
Taylor talked with us about music as a family affair, his conflicting feelings about the growing Washington music scene, and the band's multicultural taste in snacks.
Name: Tennis System

Band members:
Misha Bullock, 23, guitar
Clinton "Cool" Cole, 32, bass
Brad Fullilove, 32, drums
Matty Taylor, 26, guitar and lead vocals
How long have you been in Washington?
"I'm from Upper Marlboro, but I've been coming into DC my whole life. Then about seven years ago, I ended up moving into the city to live with my brother, who had an extra room."
How did your band get together?
"I met Brad at Marvin, which is where I work. We'd hung out a couple times and he'd mentioned he played drums and had a friend who plays bass, so we'd been talking about getting together and playing. Then one time we were at the Black Cat, and Brad was there with Clinton. We met up, talked about it, and decided we were going to get together and play music. We got together that weekend, and the rest is history. We've been together about three years. We had another friend who used to play, but he had to leave for school, so Misha joined in April."
How would you describe your sound?
"Loud. We're loud—we're like a shoegaze-noise-pop band. We sound like My Bloody Valentine, Dinosaur Jr., Sonic Youth, and my brother's band, (The Sounds of) Kaleidoscope."
Time for the lightening round: When introducing your music to someone for the first time, what song do you play?
"Either 'FS' or 'Esoteric.' "
First song that made you want to play music:
"I can't name just one! I grew up listening to music­—my brother's in a band and seeing that energy with him, I wanted to be able to do that as well."
First instrument:
"Guitar."
Best local spot to seek inspiration or write music:
"There's nowhere that I'm like, 'This is the place I sit and conjure up thoughts.' Usually I sit in my room and listen to music to get ideas, or I get them when I'm in our practice space."
Best local venue:
"Velvet Lounge."
Favorite local band other than yours:
"Shapiro."
How would you sum up Washington's music scene?
"Growing. It's not what it used to be, that's for sure, although I don't necessarily know if that's in a good way. It's cool to see a lot of people trying new things—there are a lot of house shows that are really cool and lots of cool DIY-type things."
Favorite DC hangout:
"Velvet Lounge, Black Cat . . . and, of course, Marvin."
Favorite part of the city:
"Malcolm X Park. It's the prettiest park in the city, a lot of different people come through there. It's very relaxing and tranquil."
To what extent do you feel like the city influences your work?
"It's a tough city. I'm constantly pushing, pushing pushing. It's not really an art city or a music city—it's more political. And a lot of people here don't know about a lot of the bands, so it's a constant hustle to get new people to hear your music. That makes me want to work harder."
Finish this sentence: "When not making music, you can find me . . . "
"Eating with my friends, getting pho­—that's what I do on the regular. I like Pho 75 in Arlington. Misha and I go there almost every day."
Rolling Stones or the Beatles?
"The Beatles."
Rolling Stone or Spin?
"Spin."
Club show or festival?
"House show."
If you could listen to only one album for the rest of your life, which would it be?
"Probably [the Beatles'] Revolver. It's got good variety, and there are a lot of good songs on it—love songs, serious songs."
What's the best thing about being in a band?
"I really like playing shows, seeing people getting into music, and seeing them enjoy our show. I love the interaction between people at the show and the energy and having a good time with that."
Tell me about the record you're working on.
"It's called Teenagers. A lot of people complain that we're really loud, so we're toning it down and bringing in new elements. It's going to be more serious. Last time, we were kind of rushed to get the record done, and this time we're going to do everything right. We think it's going to be really good—we're really excited."
Subscribe to Washingtonian
Follow Washingtonian on Twitter
More>> After Hours Blog | Arts & Events | Happy Hour Finder | Calendar of Events