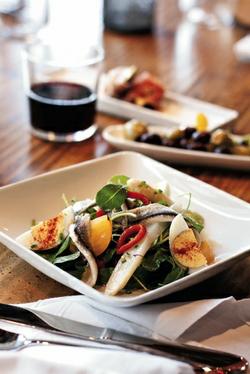 District
Biergarten Haus. Aaron McGovern and Arturas Vorobjovas, owners of the Russia House in DC's Dupont Circle, are behind this German-style beer garden, which has 300 outdoor seats and features live oompah bands on weekends. To go with the all-German beer list are wursts, Bavarian pretzel rolls, and sauerkraut.
Estadio. Bullfighter murals and rustically ornate wooden chairs form the backdrop at Proof owner Mark Kuller's second restaurant, which focuses on pintxos (tinier tapas), sandwiches made with house-baked breads, and Spanish wines. Proof fans will recognize the Enomatic wine dispenser and Adam Bernbach's quirky cocktails, which here include spiked slushies.
Panas. This order-at-the-counter joint is devoted to Latin American empanadas. Assembled ahead of time, the turnover-like pastries are cooked in tabletop ovens. Except for the beef-based carne option, filled with green olives and hard-boiled eggs, the menu strays from tradition with such fillings as Brie, pesto, and shredded coconut. Good bets are ham-and-Parmesan and the Popeye, stuffed with spinach, goat cheese, and golden raisins.
Thunder Burger & Bar. Down the street from its sibling, the Spanish restaurant Bodega, this family-run 100-seater in Georgetown gets its name from the rock-and-roll decor and the long list of burgers made with such meats as venison, Kobe beef, and buffalo.
Virginia
Maple Ave. Xpress (twitter.com/maple_ave_147). The minds behind the Maple Avenue Restaurant in Vienna—where shrimp and grits shares menu space with potstickers and Thai-style mussels—have rolled out a roving food truck for lunch and a planned late-night service. Some dishes are from the restaurant, while others—such as maple-bacon cupcakes and a bul goki bánh mì—are unique.
Nourish Market. This family grocery with an eco-chic sensibility is the brainchild of Karen Sherwood, who wanted an all-organic store in her neighborhood. Shelves hold gluten-free and vegan products, and a chef is behind such items as chicken salad (made with local birds), split-pea soup, and ginger-molasses cookies.
Ray's Hell-Burger Too. It's as if Michael Landrum sifted through a suggestion box when he opened this neighboring offshoot of his Obama-approved burger place. He's added table service as well as beer and Cabernet, and he takes credit cards. You'll find Ray's familiar lineup of beef burgers—such as the American-cheese-topped Mack and the spicy Big Punisher with jack cheese and jalapeños—and there are new additions, such as a wild-boar burger topped with a Vietnamese-inspired mix of pickled carrot and daikon with cilantro.
Maryland
Againn Tavern. The British-themed Penn Quarter gastropub Againn gets a suburban twin. Look for mainstays from the original such as fish and chips, banoffee pie, and Pimm's Cup cocktails. Whether the $500-a-year nameplated Scotch lockers will sell in a suburban strip mall remains to be seen.
Frosting—A Cupcakery. Cupcake shops continue to spread like Starbucks, but this airy bakery tries to separate itself from the pack with such offbeat flavors as the "G" Man—gingerbread cake iced with lemon buttercream—plus breakfast cupcakes, doughnuts, and whoopie pies.
Mussel Bar. For his first foray into Maryland, chef Robert Wiedmaier—owner of Brasserie Beck, Marcel's, and Brabo—is serving five types of steamed mussels, from the standard (white wine and garlic) to the unusual (mushrooms, pancetta, and Parmesan). Even more unexpected are the doner kebabs on the menu, a nod to Belgium's Turkish immigrants.
This article appears in the August 2010 issue of The Washingtonian.
Subscribe to Washingtonian
Follow Washingtonian on Twitter
Follow the Best Bites Bloggers on Twitter at twitter.com/bestbitesblog
More>> Best Bites Blog | Food & Dining | Restaurant Finder