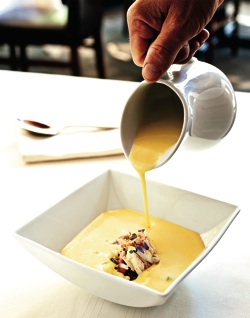 Equinox, the seasonal American restaurant near the White House, has been a mainstay since chef Todd Gray and wife Ellen opened it 11 years ago. So when a December kitchen fire shuttered it for six months, foodies knew it could weather the storm and perhaps come back stronger. So far, that's been the case. Todd Gray often can be seen showing patrons around the dining room, freshened with a textured granite wall and new marble bar. And while his frequent absence from the kitchen may account for pacing issues, the cooking seems to be as invigorated as the new space.
Excellent starters include barbecue shrimp over creamy grits; a velouté of sweet corn speckled with lump crab; and crispy crab spring rolls. A few selections from the new "for the table" section of smaller snacks didn't turn out as well: Truffled risotto fritters lacked any truffle oomph, and blue-cheese "potato tots" were mostly devoid of the cheese's flavor.
Among main courses, especially good was gnocchi with trumpet mushrooms, asparagus, and Boucheron cheese. Also successful were seared scallops with caramelized artichokes and a perfectly crisp-skinned Arctic char. Desserts tend toward the fussy (raspberry white-chocolate mousse with meringues, whipped cream, sorbet, jam, and a few other extraneous elements), and the results don't always make them tastier. Fortunately, some indulgences from the old Equinox remain, such as the truffled mac and cheese—as good as ever.
This article appears in the August 2010 issue of The Washingtonian.
Subscribe to Washingtonian
Follow Washingtonian on Twitter
Follow the Best Bites Bloggers on Twitter at twitter.com/bestbitesblog
More>> Best Bites Blog | Food & Dining | Restaurant Finder