It's a city of interesting neighborhoods, and here are good ones to explore—whether you like history, antiques, science, or sports.
For Little Ones: Inner Harbor
Filling their heads and tiring them out—isn't that the goal of any outing with the kids? Do it all at the Inner Harbor. Children will have fun in a dragon-shaped paddleboat on the waterfront or on the three-story climbing structure inside Port Discovery Children's Museum (35 Market Pl.; 410-727-8120). The National Aquarium (501 E. Pratt St.; 410-576-3800) has jumping dolphins, and the Maryland Science Center (601 Light St.; 410-685-2370) has towering dinosaurs.
Insider tip: Plan to do it all? Buy a money-saving Harbor Pass online or at the Baltimore Visitors Center (401 Light St.; 877-225-8466).
Have lunch: Kid-friendly eateries abound in Harborplace, home to such chains as the Cheesecake Factory and Five Guys.
While you're in the area: Older kids who are into superheroes and comic books might like nearby Geppi's Entertainment Museum (301 W. Camden St.; 410-625-7060), which celebrates both. Baby boomers should enjoy the nostalgia trip as well.
For History Buffs: Locust Point
In this waterside neighborhood, you can learn about Baltimore's two great glories: victory in the War of 1812 and the city's years of industrial innovation and might.
After the British burned Washington in 1814, Baltimoreans repelled British attacks from the water at Fort McHenry (2400 E. Fort Ave.; 410-962-4290), birthplace of the national anthem. And did you know that Baltimore gave birth to the bottle cap, Noxzema, and the ice-cream business? The nearby Baltimore Museum of Industry (1415 Key Hwy.; 410-727-4808) tells tales from the city's smokestacks-a-go-go days.
Insider tip: Don't skip the orientation film at Fort McHenry's visitor center.
Take a break: Homey J. Patrick's Irish Pub (1371 Andre St.; 410-244-8613) is arguably the Mid-Atlantic's most authentic Irish joint, known for traditional music.
While you're in the area: Water taxis can whisk you to the Inner Harbor, Fells Point, and other cool Baltimore neighborhoods.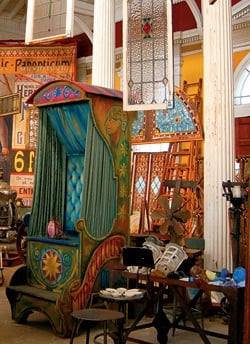 For Antiques Lovers: Caroll-Camden
This warehouse district in the shadow of M&T Bank Stadium is home to two architectural-salvage operations offering anything and everything for people whose tastes run to the old or unusual. Nonprofit Second Chance (1400-A Warner St.; 410-385-1101) spreads across four warehouses brimming with furniture, housewares, and building salvage such as claw-foot tubs and wooden shutters. Housewerks (1415 Bayard St.; 410-685-8047), in what was once a gas works, offers an even funkier assortment of cast-off oddities and antiques.
Insider tip: Visits to Housewerks outside of its Friday-to-Sunday hours can be arranged by appointment.
Have lunch: A short drive takes you to Federal Hill, where eateries abound. Ryleigh's Oyster (36 E. Cross St.; 410-539-2093) does bivalves and everything else from beneath the sea.
While you're in the area: To keep browsing, try Baltimore's fading Antique Row, along the 800 block of North Howard Street, or head to the Hampden neighborhood, where craft and antiques shops bloom along 36th Street, the main drag.
For Sports Fans: Ridgley's Delight
Oriole Park at Camden Yards is here, and it offers daily tours, from the dugout to the press box (410-547-6234). The Sports Legends Museum (301 W. Camden St.; 410-727-1539) celebrates Maryland greats such as Unitas, Ripken, and the newest hero, Michael Phelps, while also highlighting lesser-known tales, such as those from the old Negro Leagues. From here, follow the baseballs painted on the sidewalk a few blocks to the Babe Ruth Birthplace and Museum (216 Emory St.; 410-727-1539), a temple to the Sultan of Swat.
Don't miss: The Sports Legends Museum is housed in 150-year-old Camden Station, where a restored "gentleman's waiting room" off the lobby offers displays recounting the station's role in the Civil War.
Have lunch: Quigley's Half-Irish Pub (633 Portland St.; 410-539-9052), around the corner from Babe's house, offers decent bar chow in a convivial setting.
While you're in the area: If lax is your game, check out the Lacrosse Museum & National Hall of Fame (113 W. University Pkwy.; 410-235-6880 ext. 122), up near Johns Hopkins's Homewood campus.
For Black History: Fells Point/East Baltimore
In the early 19th century, slave ships called at Fells Point, even though Baltimore counted more free blacks than slaves among its citizenry—and they were practicing trades and establishing churches and institutions. This dual legacy makes the city a rich place to examine African-American history.
The Reginald F. Lewis Museum of Maryland African American History & Culture (830 E. Pratt St.; 443-263-1800), just west of Fells Point, takes visitors through centuries of the black experience in a sleek setting. The handsome Frederick Douglass–Isaac Myers Maritime Park (1417 Thames St.; 410-685-0295 ext. 487) focuses on a pair of black men who worked the waterfront: slave turned abolitionist/author Douglass and Myers, who overcame the times to run his own dry-dock business.
Insider tip: Guided African-American-themed history walks leave the Fells Point Visitor Center (1724-26 Thames St.; 410-675-6750) Sunday afternoons at 3; phone ahead for reservations
Have lunch: 21 Duda's Tavern (1600 Thames St.; 410-276-9719), near Douglass-Myers Park, does pub grub right. For a drink amid jazz music, hit Bertha's (734 S. Broadway; 410-327-5795).
While you're in the area: Vocal legend Billie Holiday spent much of her girlhood at two houses on the nearby 200 block of S. Durham Street. While neither is marked, you might hear someone humming "God Bless the Child" as you drive or stroll this stretch.
This article appeared in the August 2010 edition of The Washingtonian.