DRESSING UP
Daddy & Son
This Italian chain moved from DC's Dupont Circle to Bethesda earlier this year; it's the only Daddy & Son store in the United States. The men's shop stocks house-brand classic and European-fit dress shirts, including extra-slim cuts. Ties—all standard width—come in a wide array of colors and patterns; they're displayed on wall-mounted racks for easy browsing. And if you need help tying a European knot, owners Roberto and Francesca Inferrera happily give tutorials. 4836 Bethesda Ave.; 301-652-0595.
Daisy Too
The stylish clothes at this women's boutique can go easily from work to date night. Look for basic dresses, blouses, and slacks plus all the accessories you could need to dress them up. If your wallet's feeling light, check out the consignment corner—a recent visit turned up a Tory Burch jacket for $150 and a Nanette Lepore strapless dress for $120. 4940 St. Elmo Ave.; 301-656-2280.
Denim Bar
With more than 40 designer brands for men and women, this boutique caters to serious denim lovers. The prices aren't cheap—you could pay $300 for a pair of jeans—but the helpful staff will work with you to find the right brand, size, wash, and style. Denim Bar offers alteration services, but for an even more custom look, try a pair made from raw denim ($150 to $300), an unwashed fabric that molds to your shape after about six months of unlaundered wear. 4939 Cordell Ave.; 301-986-5260.
Ginger
Cute cocktail dresses and stylish office-ready ensembles are the draws at this Bethesda Row women's boutique. Eco-friendly touches show up in everything from bamboo hangers to clothes made with organic fabrics. Owner Gretchen Hitchner carries pieces from established and up-and-coming designers. Look for jackets, tops, shoes, and accessories from Wendy Mink, Calypso St. Barth, White & Warren, and more. 7114 Bethesda La.; 301-664-9242.
J. McLaughlin
Prepsters like the madras and gingham prints, ribbon belts, and pastel accents at this cheery storefront. But you can also find more updated looks: We like the pencil skirts and slim-cut trench coats for women and the hipster-style button-downs for men. A sale rack downstairs has basics from this season at a discount. 4851 Bethesda Ave.; 301-951-5272.
Lucy
Trade those shapeless sweats and tees for more stylish workout clothes from Lucy. This activewear retailer has clothes and accessories for all kinds of movers, from yogis to runners to outdoor types. Fans love the store's "compression" pants, which pull the legs in and smooth problem areas. 7112 Bethesda La.; 301-656-3106.
Lululemon Athletica
Yoga addicts flock to this chain for well-made, durable sportswear. The secret is Lulu's preshrunk fabric, called luon, which stretches without becoming misshapen. Pants, which start around $75, come in lots of cuts and colors. Lululemon also has goods for men, including T-shirts, hoodies, running shorts, and bags. The Bethesda Row location hosts a free yoga class on Sunday, group runs on Wednesday, and Pilates on Saturday. 4856 Bethesda Ave.; 301-652-0574.
Luna
BCBG, Trina Turk, French Connection, and Citizens of Humanity are just some of the nearly 40 labels you'll find at this small, well-stocked shop. Designer denim generally runs between $150 and $250, and a wide selection of pretty jewelry starts around $20. Sign up for the e-mail list and you'll receive alerts about Luna's quarterly customer-appreciation sales, when everything is 20 percent off. 7232 Woodmont Ave.; 301-656-1111.
Pirjo
Well-dressed women swear by Pirjo Jaffe's collection of classic separates. She stocks lots of European labels, including designers from her native Finland. Clothes and accessories are unique and feel art-inspired. Stylish women of any age will like Jaffe's leather handbags and glitzy costume jewelry. 4821 Bethesda Ave.; 301-986-1870.
Urban Chic
A local chain that started in Georgetown, Urban Chic carries high-end designers such as Alice & Olivia, Juicy Couture, and Diane von Furstenberg. Displays show shoppers creative ways to pair designer separates, and racks are well maintained by helpful staff. Looking for wallet-friendly options? Head to the sale rack. A recent visit turned up in-season Nanette Lepore and Milly dresses for 30 to 50 percent off. 7126 Bethesda La.; 301-657-0290.
Wear It Well
This tiny women's boutique is brimming with sophisticated separates. The style appeals to a fashionable 35-and-over set, with jackets, slacks, and casual weekend wear by Gerard Darel, Babette, and more. Check out the jewelry, handbags, and gloves for an easy way to glam up an outfit. 4816 Bethesda Ave.; 301-652-3713.
Next >> Shoes, Accessories, and Gifts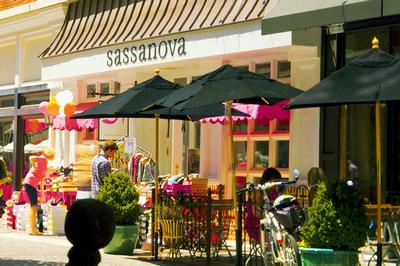 SHOES AND ACCESSORIES
Amethyst
Jewelry from this tiny boutique feels more like art than accessories. That's because owners Amy Hugo and Angela Malkin stock handcrafted pieces by artisan designers, including lots of precious and semiprecious gemstones—both cut and uncut—and hammered gold and silver settings. Pieces by New York–based designer Suzy Landa and Istanbul native Lika Behar are favorites. Hugo, who sells her own line at the shop, will work with customers to create custom pieces. 4806 Bethesda Ave.; 301-907-6871.
Lou Lou
Need to punch up a tired work or date outfit? Check out the whimsical accessories at Lou Lou. The tiny shop can feel chaotic when busy, but it's worth a stop for a flirty flower-topped headband or a sparkly cocktail ring. Most pieces are less than $20, but a few higher-priced items, such as Ray-Ban sunglasses and a few designer wallets, have found homes here, too. 7125 Bethesda La.; 301-652-0048.
Sassanova
The shoes at this cutesy-mod boutique would make Carrie Bradshaw swoon. With outposts in Georgetown and Baltimore's Harbor East, the shop caters to label lovers looking for high-end brands such as Tory Burch and Oscar de la Renta. The selection runs from adorable work-friendly flats to sky-high heels in pink suede. A new kids' section includes such brands as Puddle Jumper Shoes, Jack Rogers Kids, and Primigi. Don't miss the shelves of jewelry along the walls; we love the vintage-style studs and drop earrings. 7134 Bethesda La.; 301-654-7403.

ShoeFly
Reasonable prices are the draw at this shoe shop—many pairs are less than $100. Look for popular brands such as Toms, Frye, and Camper alongside a range of accessories from sunglasses to handbags. Need rain boots? This store has them. 4731 Elm St.; 301-656-7463.

Zelaya Shoes
Tony Zelaya knows shoes, and it shows. A former buyer for Nordstrom, he fills his boutique—tucked inside the back of Daisy Too—with shoes by talented, little-known designers and household names. Styles range from conservative wood-heel wedges by Michael Kors to a pair of sculpture-inspired pumps made from hand-molded carbon fiber. You'll find everything from Fit in Clouds ballerina flats for $20 to Chie Mihara heels for $389. 4940 St. Elmo Ave.; 301-656-8550.
GLASS, STATIONERY, AND MORE
The Blue House
It's hard to see into the windows of this jam-packed gift emporium—a good sign if you're on the hunt for the perfect present. This place is all frills and ruffles, so expect to find cute gifts for moms, brides, and hostesses—even cat lovers. We like the Paddywax candles, which come in a variety of scents and colors, and the precious printed onesies for babies. 7770 Woodmont Ave.; 301-656-6088.
Creative Parties
This stationer makes custom wedding invitations, save-the-dates, thank-you cards, and more. But brides-to-be aren't the only customers—Creative Parties also sells calendars, wrapping paper, notepads, and gift items. Brands include Anna Griffin, Kate Spade, and Crane. You can also stock up on party supplies, including pretty printed napkins and plates. 8011 Woodmont Ave.; 301-654-9292.
Waygoose Fine Crafts
Arts-and-crafts aficionados might like something from Waygoose. Part gallery of American handcrafts, part gift shop, this store sells functional and decorative pottery, silver jewelry, colorful glassware, and handmade wood pieces. Sign up for the Birthday Club and you can treat yourself: The shop will send you a $10-off coupon during your birthday month. 4848 Bethesda Ave.; 301-656-1768.
Next >> Home & Kids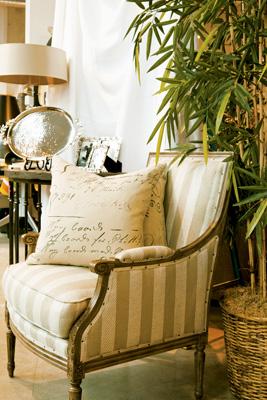 FOR THE STYLISH HOME
Design Within Reach
Mad Men wannabes like the sleek midcentury furniture at this popular home retailer, which specializes in modern design. The prices aren't inexpensive—a Danish-style couch with spindly wood legs might run nearly $4,000—but you can find less costly accent pieces. Although the small showroom displays a limited selection of the company's merchandise, any of the items it carries can be ordered and shipped to your home. 4828 St. Elmo Ave.; 301-215-7200.
Le Creuset
French cookware manufacturer Le Creuset opened this Bethesda store in 2008. It carries the same durable cast-iron pieces you find online, but with the added benefit of knowledgeable staff that takes the time to answer questions and explain proper maintenance to ensure that your pieces last. Also in stock are stainless-steel and nonstick cookware, kitchen utensils, aprons, and bar accessories. 7116 Bethesda La.; 301-718-1885.
Urban Country
This large furniture store specializes in updated classics. You might find a few overstuffed sofas, but more ubiquitous are low-sitting club chairs in colorful fabrics and glass-top coffee tables with industrial legs. A member of the Sustainable Furniture Council, Urban Country carries a selection heavy on pieces made with environmentally friendly components. Need help revamping a room? The store offers in-home design services. 7117 Arlington Rd.; 301-654-0500.
CUTE FOR KIDS
Daisy Baby & Kids
Give Junior's nursery a spruce-up at this furniture shop for kids and babies. Owner Dana Evans helps parents pick the right bedding, cribs, rugs, and accessories from a selection of designer pieces. The shop carries lines by John Robshaw Textiles, Dwell Studio, the Doodle Store, and more. You can also find some gift items, such as stuffed animals, picture frames, and memory books. 4912-A Del Ray Ave.; 301-654-7477.
Tugooh Toys & Yiro
Part toy shop, part clothing boutique, this two-in-one kids' store focuses on eco-friendly pieces. It's dominated by well-made toys and books, many of which have an educational slant. In the back, you'll find a collection of organic clothing and formaldehyde-free nursery furniture. 4823 Bethesda Ave.; 301-654-2412.
Next >> Vintage, Thrift, & Consignment Shops
VINTAGE, THRIFT, AND CONSIGNMENT SHOPS
Capital Consignment
This furniture store specializes in traditional and midcentury furniture. Most pieces are in pristine shape, but ones that show wear are priced accordingly: On a recent visit, a Danish-style teak coffee table with a few small water rings was just $95. Prices drop by 10 percent after 30 and 60 days. 4909 Cordell Ave.; 301-986-1414.
Montgomery County Thrift Shop
It's all about the thrill of the hunt at this secondhand shop. It has everything from housewares to vinyl records to clothing, but you have to dig to find the treasures. We found a crystal decanter for $15 and a funky gold belt for $4. Go on a Sunday to get 50 percent off almost everything. 7125 Wisconsin Ave.; 301-654-0063.
Mustard Seed
Twentysomethings flock to this small shop for stylish new and secondhand clothing, shoes, and accessories. The place is mostly for women, but men can find a rack of jeans, button-downs, and belts. Items run from Target dresses to 7 for All Mankind jeans, and most secondhand pieces are no more than two years old. If you're lucky, you'll find a vintage gem, such as the '60s-era leather pumps we spotted. 7349 Wisconsin Ave.; 301-907-4699.
Reddz Trading
A newcomer to the Bethesda resale scene, Reddz has found an audience among teens and twentysomethings looking for mall brands on the cheap. The shop has lots of clothes from J. Crew, H&M, Forever 21, Free People, Guess, and Abercrombie; most are in good condition. It also carries shoes, sunglasses, and accessories. 7801 Woodmont Ave.; 301-656-7333.
Second Chance Boutique
This 37-year-old consignment shop deals in designer labels such as Armani, Burberry, Chanel, Dolce & Gabbana, Stella McCartney, and Versace. With the exception of vintage pieces, all items are less than two seasons old. Join the customer e-mail list and staffers will alert you when your favorite labels and sizes are in stock. 4920 Fairmont Ave.; 301-652-6606.
Wiggle Room
Why pay retail prices for clothes your child will quickly outgrow? That's the thinking at Wiggle Room, a consignment shop for children's and maternity clothes. Kids up to age eight can be outfitted in brands such as Baby Gap, Gymboree, Lilly Pulitzer, and Talbots Kids. Moms-to-be can find Noppies, Cadeau, and Gap labels; even high-end brands such as Diane von Furstenberg and Citizens of Humanity have cropped up. Other items and accessories are also available, including books, DVDs, bassinets, and rockers. 4924 Del Ray Ave.; 301-656-5995.
Subscribe to Washingtonian
Follow Washingtonian on Twitter
More>> Shop Around Blog | Style | Find a Spa