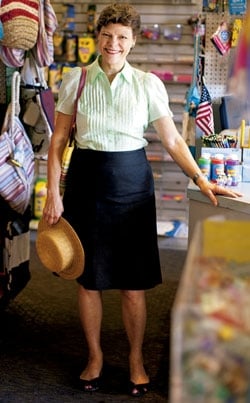 COKIE ROBERTS
Roberts is a news analyst at NPR and a political commentator for ABC News who has won three Emmy Awards. She's also a best-selling author whose books include "We Are Our Mothers' Daughters."
In Bethesda you can see change and continuity at the same time. The Bradley Shopping Center has been in Bethesda as long as I have. It has a wonderful bakery, Breads Unlimited; Kae Robin, a nice gift shop; and Bradley Care Drugs, a full-service drugstore with a great pharmacist. Fortuna's is one of the oldest stores in Bethesda. It's a shoe- and luggage-repair shop, and they do a fabulous job.
The Bethesda Public Library is a wonderful resource. I went there as a kid, my kids went there, and my grandkids go there now. It's kept up with the times in terms of computers, but it still has old-fashioned librarians who are very helpful. It also serves as a community center—they have events there, and on any given day there'll be enormous numbers of notices on the wall.
Round House Theatre is also a wonderful resource. We used to have to schlep out to Rockville to go to theater, but now we have one right here. And Imagination Stage is great for children's theater. When my kids were little, they went to singing lessons and theater events nearby at Glen Echo Park, and now I take my grandkids there.
Bruce Variety is the best place on earth. It's like an old-fashioned five-and-dime. Everything you could possibly want is there: back-to-school items, stationery, birthday-party items, household goods, and all kinds of great fabrics and trim and buttons. They always have seasonal things for Halloween, Valentine's Day, Mardi Gras, and other holidays.
Next >> Michael Wilbon, cohost of ESPN's "Pardon the Interruption", and Thomas L. Friedman, New York Times columnist
MICHAEL WILBON
Wilbon is a sports columnist for the Washington Post and cohost of ESPN's "Pardon the Interruption." He has covered most Super Bowls, Final Fours, and NBA Finals since 1987.
To me, a neighborhood is worthless unless it has good food, and while Washington isn't always up to the standard of Chicago or New York, Bethesda has some great neighborhood joints. Cafe Deluxe is my regular hangout—it's sort of like my Cheers. I went to Redwood the other night, and it was delicious—there were five of us, and there was not a morsel of food left on anyone's plate.
I also go to Assaggi. It could definitely be described as upscale—you won't see shorts in there. It has some nice signature dishes, and it's a good Saturday-night date place. My wife's a wine-head, so it's great for that as well.
The Landmark Bethesda Row movie theater is my number-one choice in Bethesda. It's not a mall theater with 10,000 kids, because they mostly show independent films. I always love when something I want to see is showing there.
Fu Shing has the best Chinese food of anywhere I've lived. That's my late-night option—they deliver, so it's a lifeline. The Szechuan crispy beef is good, and they have the best egg rolls.
THOMAS L. FRIEDMAN
Winner of three Pulitzer Prizes, Friedman is a New York Times columnist and author of five best-selling books, including "The World Is Flat."
The thing I like about Bethesda is that the neighborhoods are all tree-lined. It reminds me of the Minneapolis area where I grew up. I bike on the Capital Crescent Trail a lot.
Our two favorite places to eat are Matuba and Bacchus of Lebanon. Matuba is a restaurant with very good fresh sushi right in the heart of downtown. Bacchus has a really nice outdoor area. It's great on a warm evening—you can almost pretend you're in Lebanon if you close your eyes and ignore the traffic.
Next >> Aurthur C. Brooks, president of the American Enterprise Institute
ARTHUR C. BROOKS
Brooks is president of the American Enterprise Institute, a public-policy think tank. He has written eight books, including "The Battle: How the Fight Between Free Enterprise and Big Government Will Shape America's Future."

Locust Grove Nature Center is a great place for kids—we go hiking and running there.
The Music Center at Strathmore is a beautiful hall with great acoustics, and they do a lot of diverse performances. My oldest son likes going to the orchestra a lot, so I take him to see the Baltimore Symphony Orchestra—recently we saw the BSO play Brahms's Third.
When we go downtown, our favorite restaurant is Jaleo. My wife is from Barcelona, so it's a place where we can get food we like. The gazpacho is wonderful.
My younger son is ten, and he says the best place in Bethesda is Ranger Surplus. He loves looking at the airsoft guns and knives and Israeli gas masks and helmets from World War II—all the things that make ten-year-old boys tick.
Subscribe to Washingtonian
Follow Washingtonian on Twitter
More>> Shop Around Blog | Style | Find a Spa