It's hard to miss the new Equinox gym in downtown Bethesda: The behemoth health club occupies four stories and more than 30,000 square feet on the corner of Woodmont and Elm streets. The club, which opens today, took a year to complete, and like other Equinox outposts—there are 48 across the country, including one in Tysons Corner—the place is replete with luxe touches.
At the new location, though, Equinox execs wanted to add something else­—sustainability—and designers took the charge seriously.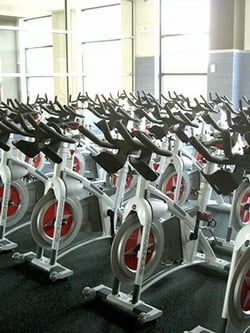 In addition to a grass-covered roof, which will help absorb water and cool the building, the architecture firm S3 Design used materials such as cork flooring in the spa and tiles made from recycled tires in the gym. The two-story windows are tinted to keep heat out, and the two-lane lap pool is filled with saltwater, eliminating noxious chlorine fumes. Towels are made from organic cotton and scented with eucalyptus extract, and lights and computer monitors have been dimmed to help control wattage. These touches are all part of the gym's bid for LEED certification.
For those more concerned with sweating than the environment, the gym offers about 80 group classes a week, including spinning, water aerobics, yoga, and group classes, such as Zumba and cardio boot camp. There's also a Pilates studio that's home to four old-school Pilates machines—the kind that look like torture instruments but that purists swear by for total-body workouts.
The main floor is dominated by weight machines—there's a mishmash of Life Fitness, Cybex, Precor, and Techogym models—while most of the cardio machines are upstairs. Those include the staples (think ellipticals, treadmills, step machines) but also some surprises, such as a pair of self-propelled Woodway treadmills that have uneven surfaces to better mimic outdoor-running conditions.
Just want to relax? Book a massage or facial in the cozy three-room spa. Nonmembers can use it, but members get discounts on treatments. You can pamper yourself in the locker room, too, thanks to a steam room, spacious glass-tile showers, free Kiehl's products, and professional-grade Solano hair dryers. Members short on time can even multitask—the gym offers twice-weekly dry-cleaning service, babysitting ($9 for two hours), and free Internet access.
What's not to love, right? Well, there are downsides. For one, many of the 80 cardio machines aren't equipped with personal TVs, so members must make do with a half dozen preprogramed units that hang from the ceiling. In a gym with a green roof, it's a surprising oversight; even run-of-the-mill gyms—including the free one in The Washingtonian's downtown DC building—have cardio equipment with their own TV screens.
Another disappointment: The gym's "cafe" isn't much of a food station at all. Though the space wasn't complete during our pre-opening tour, general manager Rachel Sernitsky said it would feature just bottled juices and health bars. Compared with Results Gym's Capitol Hill cafe, which serves hearty sandwiches and salads among other items, calling Equinox's version a cafe feels like an overstatement.
Then there's the price. A membership at this high-end gym runs $137 a month, plus a hefty initiation fee of $535—ouch. But there's some good news: If you sign up before October 1, you can score a membership for $130 per month and pay just $19 for initiation.