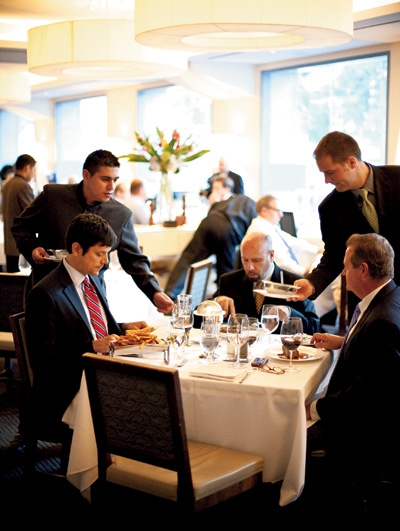 POWER DINING
With a 1950s feel, the bar at Johnny's Half Shell is stocked with House and Senate staffers looking to enjoy discounted oysters and cocktails. In the dining room, waiters in white jackets dish out chef Ann Cashion's ode to Southern waters: Cajun barbecue shrimp with cheesy grits, fried Chesapeake oysters with pickled vegetables, a killer New Orleans gumbo, and Maryland crabcakes. Desserts, including pecan and coconut pies, are a treat.
It's another dose of Southern at Art and Soul, a sleek dining room from Chicago chef Art Smith that counts Michelle Obama and Nancy Pelosi as fans. But this isn't a ladies-who-lunch spot for light eaters. The best parts of the menu—hoe cakes topped with fried oysters and rémoulade, a crabcake smothered in bacon-flavored spread, a Cinnabon-inspired pie—are caloric extravaganzas. You'll also find upscale snow cones flavored with peaches, tea, and vodka.
Charlie Palmer, the owner of Charlie Palmer Steak, paved the way for a parade of celebrity chefs who have reinvented Washington's steakhouse culture. The restaurant's interior—high ceilings, glass wine rack, views of the Capitol—is tonier than the clubby standard. And despite the beefy name, executive chef Matt Hill's seafood can be as rewarding as the dry-aged red meat. The menu changes seasonally, but look for coriander-crusted Kona kampachi, oysters on the half shell, a duo of foie gras, and mushroom and gnocchi sides.
A couple of blocks away is the softly lit hotel restaurant Bistro Bis, a favorite for breakfast meetings and after-work drinks. But it's more than just a back-slapping spot. The kitchen—overseen by Vidalia chef/owner Jeff Buben—serves some of the best French fare in town, such as steamed mussels in saffron broth, hearty onion soup, and a great steak frites. The cheese cart is a reason to linger.
Across the street from Eastern Market is Acqua al 2 (212 Seventh St., SE; 202-525-4375), a cozy Italian dining room that had a loyal following even before it opened earlier this year. That's because the original location in Florence has long been a hit with American college kids studying abroad. Although much of the menu is devoted to steaks and chops, pastas are the primary reason to brave the crowds. You can sample them with a shareable five-course tasting menu; just make sure the Gorgonzola gnocchi is a part of it—it's the star of the menu.
>> Next: Cozy and Casual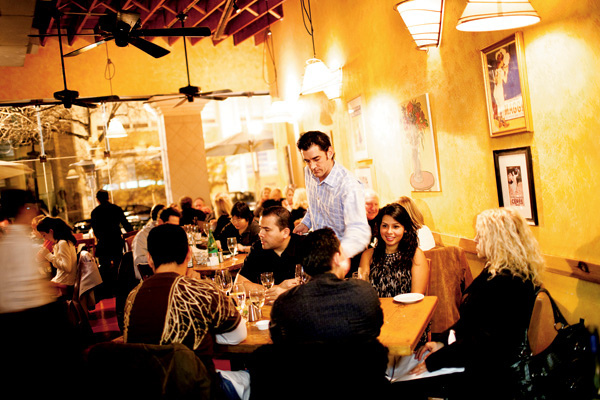 The crowded Hill bistro Montmartre (pictured above) feels as if it could have been plucked from a Parisian street corner.
COZY AND CASUAL
Washington could use more places like Zest (735 Eighth St., SE; 202-544-7171), a neighborhood restaurant that puts out satisfying food at reasonable prices. Dishes are both nostalgic (root-beer float) and familiar (penne Bolognese) but often have a creative touch. There's a good muffuletta sandwich with smoked turkey instead of ham, and hanger steak comes with great creamed spinach and yuca in place of potatoes.
Although Bistro Cacao (320 Massachusetts Ave., NE; 202-546-4737) opened in the last year, it feels decades older—in a comforting way. Chef Kemal Deger concentrates on solid renditions of classic but modest French food. At the old-school place—on our list of the 25 best new restaurants—you'll find pistachio-studded pheasant pâté and garlic-showered frogs' legs as well as simple entrées such as mustard-coated rack of lamb and well-cooked hanger steak with crisp, thin fries.
With its packed-tight tables and affordable prices, Montmartre recreates the French bistro experience. It's best to stick to the classics—steamed mussels, endive salad with blue cheese, terrines and pâtés, and an excellent hanger steak with fingerling potatoes. Dessert brings another winning throwback: a lovely Floating Island of meringue over crème anglaise.
There are similarly tight quarters at Granville Moore's, a cornerstone of H Street's food scene and an early player in the mussels-and-fries genre. The creaky two-story beer den is best known for its blue-cheese mussels, which won chef Teddy Folkman a blue ribbon in the Food Network's Throwdown With Bobby Flay. Other good bets include a simple but well-done wedge salad, a steak-and-cheese dressed up with braised bison and horseradish cream, and a rotating lineup of desserts—look out for cheesecake.
A couple of blocks west is Scott Hamilton and Graig Glufling's bistro, Liberty Tree, which channels the owners' ties to New England. Clams make lots of appearances: In a smoky chowder, a satisfying bowl of linguine, and on a garlicky New Haven–inspired pizza (Glufling was the opening chef at Matchbox). Beyond that, stick with guilty pleasures such as fried calamari with a cherry-pepper dip—a nod to Rhode Island's version with banana peppers—as well as hand-cut fries and a spicy meatball grinder. Fancier plates often miss the mark.
There's more pizza at Matchbox, which turns out good, slightly crisp rounds. We like the Fire and Smoke with Gouda, chipotle tomato sauce, and garlic as well as the classic pepperoni versions. The sliders here predate the burger craze of the past few years, but the mini-patties, perfectly seasoned and set on buttery brioches, withstand the competition.
The Capitol Hill spinoff of Rockville's Cava pulses with urban energy. Wine bottles line the exposed-brick walls, and servers are dressed in black shirts and jeans. The menu's small-plates format means you can try lots of dishes. That's a good thing, because it's hard to choose between "crazy" feta with jalapeños and thick taramasalata, both dips for pita, or lamb in the form of souvlaki or sliders. Finishing with Greek doughnuts—called loukoumades—ensures a sweet ending.
Another grazing-friendly option is Sonoma, where an impressive 44 wines by the glass are matched with charcuterie boards, American-made cheeses, and nicely turned-out pastas. For those craving something more substantial, there's a satisfying burger and rustic roast chicken.
A few blocks from Union Station, Toscana Café & Catering (601 Second St., NE; 202-525-2693) serves as both a takeout spot and a sit-down restaurant. Pastas are made daily, and the quality shows in such dishes as pappardelle with a rich lamb ragu and soft gnocchi with pesto and shrimp. The daily risotto has included a winning combination of salmon and asparagus shot through with truffle. Don't miss the gooey fried risotto balls to start and the light-as-air tiramisu.
Washington has lots of Ethiopian restaurants, but the newcomer Ethiopic should be at the top of your list. Husband-and-wife owners Samuel Ergete and Meseret Bekele, who had no prior restaurant experience, put out bold dishes, including buticha—fluffy chickpea puree studded with jalapeños—and great renditions of the chicken stew known as doro wat and kitfo, beef tartare with house-made cheese.
>> Next: Weekend Brunch and Longtime Favorites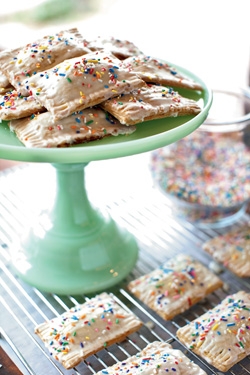 WEEKEND BRUNCH
Without fail, weekend mornings mean a snaking line around the communal table at Market Lunch, where brunchers hunker down over plates of blueberry-studded buckwheat pancakes and Southern-breakfast accessories: grits, whiting, and crabcakes.
Equally satisfying are the generous plates of diner-like brunch staples at Tunnicliff's Tavern (222 Seventh St., SE; 202-544-5680). Young professionals soak up last night's party with such dishes as eggs Benedict, chocolate-chip pancakes, and an omelet stuffed with mashed potatoes, cheddar, bacon, and sour cream. There's also a filling breakfast burrito with scrambled eggs, sausage, and peppers; a salt lover's corned-beef hash; and butter-soaked French toast.
Another place to nurse a hangover: Ted's Bulletin, an old-time diner from the makers of Matchbox where you can live it up over alcoholic milkshakes at night, then recover over breakfast. The lineup of house-made pop tarts, "walk of shame" burritos stuffed with sirloin and green chilies, and egg sandwiches on Texas toast is served all day.
If you scoff at the idea of a diner's bottomless cups of coffee, visit Peregrine Espresso (660 Pennsylvania Ave., SE; 202-629-4381), where fair-trade beans come from the North Carolina–based roaster Counter Culture and milk is sourced from Trickling Springs Creamery, a darling of Washington locavores. Java is also top-notch at Sidamo Coffee & Tea, where beans are roasted in-house every day. The cozy space, washed in a moss green and accented with exposed brick, is home to a traditional Ethiopian coffee ceremony every Sunday at 2; the free event includes a coffee-roasting demonstration, cups of coffee, and lessons on how Ethiopians drink it.
LONGTIME FAVORITES
Well before celebrity chefs began opening spiffy steakhouses in Washington, the Monocle (107 D St., NE; 202-546-4488) was serving meat and potatoes to such customers as JFK and Jackie. If Cheers had been filmed on Capitol Hill, it would look something like this 50-year-old restaurant: walls covered with politicos' framed photos and a bar packed with regulars. While the menu can feel dated, there are very good renditions of such dishes as crab imperial, kicked up with a sprinkle of red-chili flakes; buttery potato gratin; and a Flintstonian pork chop amped up with a flavorful mustard sauce. If you have room for dessert, get a slice of the custardy—but refreshing—lemon-curd pie.
Older still is Mangialardo's (1317 Pennsylvania Ave., SE; 202-543-6212), a pinhole of a storefront where four generations of the Mangialardo family have been stacking Italian meats between sub rolls since 1953. Regulars know to pay (cash only) after getting their sandwiches—ordered at the back counter, where faded signs list the few breakfast and lunch options: egg and cheese, tuna- and egg-salad sandwiches, and our favorite, the G Man, a classic Italian sub spiked with spicy pepperoni and fontina cheese. The hard rolls are from another DC Italian institution: Catania Bakery, in business since 1932.
>> Next: Quick Bites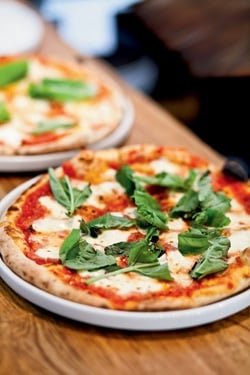 QUICK BITES
One of the first things Spike Mendelsohn did after getting booted from Top Chef was to open the burger joint Good Stuff Eatery. Although his television manner isn't all that appealing, we continue to be won over by his creatively topped patties (try the one with chili and sour cream), Old Bay– and Sriracha-accented mayos, and extra-thick milkshakes. This summer, Mendelsohn opened his second place, We, the Pizza, and it's another hit—we think it's one of the top 25 new restaurants in town.
There are more good pies from the French owners of Montmartre, who went Italian with their next-door property, Seventh Hill, a sunny, pint-size pizza shop that opened last fall. Pizzaiolo Anthony Pilla theatrically tosses dough in the air before crisping it to a thin but sturdy consistency in a wood-burning oven. The pies, named after local landmarks, come with such toppings as smoky Toulouse sausage, which dominates the excellent Navy Yard pie, or a bevy of vegetables (artichoke hearts, zucchini, and portobellos) on the Lincoln Park.
Philadelphia natives Casey Patten and David Mazza also turned to streets and parks when naming sandwiches at their industrial-chic Taylor Gourmet. Born from a longing for Philly's overstuffed specialty, the sandwiches are built on sesame-seed-dotted Sarcone's bread trucked in daily from the owners' hometown. The 9th Street Italian—our favorite—is a layering of Italian meats and creamy provolone; the Callowhill Street, overflowing with spicy meatballs, is made with a recipe from Patten's grandmother. Also good are fried, cheese-filled arancini, dusted with salt and dried herbs.
Nearby is Dangerously Delicious Pies (1339 H St., NE; 202-398-7437). A decade ago, Rodney Henry made the unlikely transition from playing in a rock band to opening a Baltimore pie bakery, and in April he opened this location in Northeast DC. The selection of chess, fruit, and savory pies and quiches changes by the day, but look for crusts holding creamy Key lime, pecan, steak and Gruyère, and hot chili. Henry is doing his best to keep some rock-and-roll edge: The logo features a pie with crossbones.
This article first appeared in the October 2010 issue of The Washingtonian.