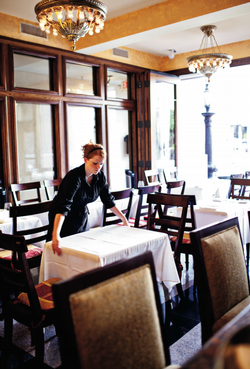 There's a famous photograph of Richard Nixon walking on a beach in Southern California, his face grave, the surf breaking beside his wingtips. Intend-ed to give a glimpse of the man away from the pressures of the Oval Office, the photo unwittingly exposes the President as incapable of relaxing and having a good time.
I thought of that picture while dining recently at Bistro Provence, a restaurant that wants to be seen as embracing the relaxed values now in vogue in the restaurant culture but that can't seem to let go of the old attitudes and assumptions.
The proliferation of gourmet food trucks in the area has brought a gate-crashing energy to Washington's streets, and the emergence of ambitious midlevel restaurants has shown that what's "good" is no longer tied up with tablecloths and crystal. The lines are being redrawn in ways that promise more variety and more value.
But for chefs who served apprenticeships in the world's finest kitchens and now find their work eclipsed by that of less formally trained talents who have focused their expertise on perfecting burgers, pizzas, and fries, the changing scene has brought about something of a gastro-existential crisis. Some chefs have compartmentalized, spinning off a moderately priced bistro to complement their starchier establishments, while others have exchanged formal spaces for casual ones.
Trading down involves more than switching one setting for another; it entails changing approaches—no easy task for chefs for whom fine dining means executing a specific system.
Central Michel Richard succeeds in part because the chef it's named for possesses both a great wit and a keen understanding of the American palate. Likewise, Frank Ruta recognizes that the elegant pastas, soups, and burgers at his Palena Cafe are supposed to be soul food.
Then there's Gerard Pangaud, a two-star Michelin chef who failed in reconfiguring his elegant Gerard's Place as a bistro because he never intuited the simplicity, accessibility, affordability, and fun that the new style of dining demands.
To dine at Bistro Provence is to be reminded that it's just as hard for a minor talent to attempt a four-star experience as it is for a major talent to keep it simple.
The major talent is Yannick Cam, one of the most celebrated names in the business. Nearly every night in the dining room at Bistro Provence, you'll hear a tableful of oldsters regaling one another with reminiscences of meals past, of feasting on frogs' legs or seared foie gras at Le Pavillon, where Cam plied his trade three decades ago, or at Provence, where he spent much of the late 1980s and '90s.
Cam commanded the kitchen most recently at Le Paradou, a restaurant with grim-faced waiters, a formidable—and formidably expensive—wine list, and cooking that ranged from thrilling to indifferent, sometimes in the same meal. The dining room was seldom full and looked to be a dinosaur in an age of more interesting options.
Opening the small Bistro Provence in downtown Bethesda is the veteran chef's attempt to make peace with the new casualism. Gone is the sometimes haughty service that defined Le Paradou, replaced by the hurried style for which bistros are known.
Absent, too, are the intricately designed dishes in which grace notes were sometimes given grace notes. The dishes at Bistro Provence look stripped down by comparison, such as the crispy fish cakes set amid an orange-colored pool of bouillabaisse that accentuates their golden exterior—no chef harmonizes colors as well as Cam—or the crabcake, whose only accompaniment is a dab of rémoulade. These were among the highlights of my first visit and suggested that Cam had found a way to translate his classical style to a simpler setting.
Subsequent visits revealed the same unevenness that dogged Le Paradou. For every preparation that reaffirmed Cam's mastery—a vibrant tartare of diced branzino, a seafood risotto in which the rice is the star, each grain penetrated by a rich lobster stock—another dish was marred by sloppiness: a "purse" of lobster-mousse dumplings undone by overcooking, a roast chicken lacking either crispy skin or succulent meat. The fish cakes that had dazzled now disappointed; their texture put me in mind of microwaved frozen croquettes.
The simmered green lentils I'd loved on my second visit, gently flavored with minced carrot and a few splashes of vinegar, were missing on my third trip; in their place was a buttery, mushy imposter.
One night's special, cucumber soup, was as cool and refreshing as the sweet shucked oysters that garnished it; another night, digging into a bowl of lobster bisque, I found a sludgy texture, reminiscent of New England clam chowder, with chewy bits of lobster meat and a salty residue.
Butter and salt are more than enhancements at Provence—they're foundational elements. An otherwise excellent plate of delicately sweet filets of branzino with seared scallops and clam sauce was so rich I had to order an extra glass of wine, and even then I was unable to finish the dish. The inch-thick veal chop was gorgeously seared, and it cut and ate like a dream—until halfway through when my friend was worn down by the too-salty jus and concentrated on finishing the exquisitely carved baby potatoes.
Does Cam believe that calling his place a bistro relieves him of the burden of having to be more careful and detailed? In a variety of ways, he seems oblivious to the goal he has set himself, of delivering a more streamlined, more accessible version of his previous restaurant.
The veal chop cost $36. Of the three appetizers from the list of specials I ordered on my final visit, the least expensive was nearly $15. These prices are comparable to those at Le Paradou, which offered a serene setting. At Bistro Provence, the eight tables in the front room are jammed so close together that you might find yourself, as my wife did, doused with water as harried waiters whiz by. Eavesdropping is unavoidable. If you don't relish hearing about other people's brilliant daughters who just made partner and second homes in the Outer Banks, the alternative is a table in the covered patio.
It's not much of an upgrade. Surveying the charmless space one night, a friend said, "I feel like I'm in one of those wedding-reception tents."
The staff can be graceless and perfunctory—and sometimes worse. One night, a waiter screwed up our dessert order, delivering an excellent baba au rhum and a plate of crepes with passionfruit sauce; we had asked for a baba au rhum and a chocolate mousse.
"Are you enjoying them?" the waiter asked, indicating the crepes.
"Yes," I replied.
"Voilà."
Another night, a different waiter twice neglected to ask the only woman at the table whether she wanted a glass of wine while he was taking drink orders from the men.
Cam may claim to have embraced the moment. But at best, that embrace is like the hug I saw him offer an old customer one night in the dining room: stiff and slightly obligatory.