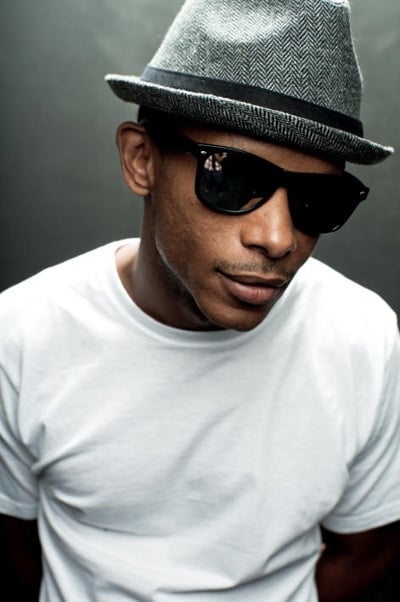 DC rapper Tabi Bonney wears many hats. When Washingtonian.com caught up with him, he was busy editing the music video for his new single, "Galaxy," continuing work on his clothing line, and preparing for the release of his third album, Fresh. Bonney has gained a loyal fan base in the Washington area and, following the tradition of fellow local rappers Rasi Caprice and Wale, consistently and proudly represents his hometown as he expands his audience.
You were born in Togo, West Africa, and you've lived all over the world. In what way has living in Washington influenced your music?
"All of it has influenced me. The environment, the transient culture, being in the capital, and the diversity of it."
You're also a clothing designer. How did you begin designing?
"I really like to make what I would wear. I started out because I couldn't find anything I wanted. Everything was XXL, and I'm a small guy. I started with a thermal from Kmart and sewed patches on it, and people were like, 'Where'd you get that from?' "
What inspires you visually?
"Whatever I feel like at the time. I go for simplicity, and I love the Euro look. I partnered with my cousin, who's based out of London. We're starting to mass-produce stuff and really trying to get it off the ground now."
Describe your sound in four words.
" 'Jetsetter music for dreamers,' because my music takes you to different places."
When you're not working, what do you like to do in Washington?
"Chill out and go to the movies. Usually I'm a homebody, and I like to lounge in the house and watch music videos."
What was it that made you be a musician?
"In middle school, I just started getting into hip-hop. I just knew that I loved it and wanted to be involved with it somehow."
Your father, Itadi Bonney, is also a musician. Did he inspire or influence your career in any way?
"I've always liked my father's music. I grew up listening to Bob Marley, Prince, and James Brown, but his influence came more after I started performing and reflecting back on him in the studio."
What are you listening to right now?
"I can't wait for Kanye West's new album. I like Cee-Lo Green's album right now, and Kid Cudi, Santigold, and the Ting Tings. It's a pretty broad range."
You're releasing your new album, Fresh, on November 22, the same date as Kanye's. Was that intentional?
"Yes, just from a traffic standpoint. People will be in the stores, and there's a greater likelihood of picking up my album, too, if they already are looking for Kanye's."
How is this record different from the last?
"I'm just in a freer creative space. I've been doing a lot more traveling. I just started to press the envelope, and I'm stepping out and trying to expand from just rapping. I am always in pursuit of the new sound."
How would you describe your performing style?
"I try to bring energy and entertainment, I know one of the things I didn't want to do was what the majority of hip-hop artists do, just go on a stage with a mike in their hands and move back and forth. I want people to be engaged and bring them into my world really quick. I'm about 50 percent there with the style of show I want. I want to make it more like a play. But I have to get bigger and bring in more money to put on that type of show."
What's 2011 look like for you?
"A lot of touring. More music. More videos. I eventually want to go into indie film work and then build up to bigger motion pictures."
Tabi Bonney is performing with Raheem DeVaughn November 18 at University of the District of Columbia's homecoming concert, which is open to the public. Tickets ($10) can be purchased at the UDC cashier's office. Call 202-274-5350 for more information.
Subscribe to Washingtonian
Follow Washingtonian on Twitter
More>> After Hours Blog | Arts & Events | Happy Hour Finder | Calendar of Events